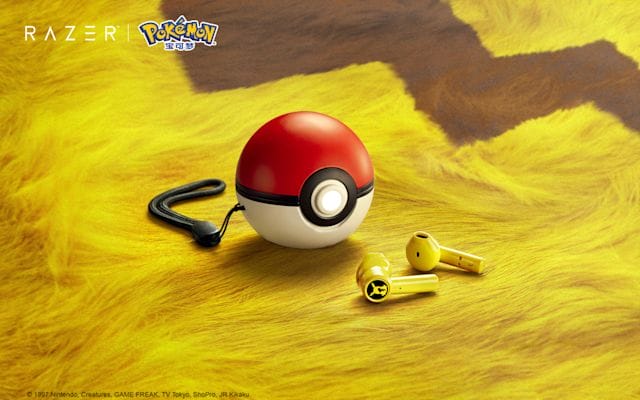 For the diehard Pokémon fan, Razer unveiled a special Pokémon-inspired set of wireless earbuds and charging case.
The wireless earbuds are actually Razer's Hammerhead True Wireless Earbuds coloured yellow and is appropriately named the Pikachu True Wireless Earbuds instead. The Razer logo on the touchpad is also changed to the Pokémon mascot.
As its basically a reskin of the Hammerhead, these Pikachu buds will feature a 13mm driver each, IPX4 water resistance and Bluetooth 5.0.
It also comes with the same low latency mode, reducing as much as 60ms for competitive gaming. It also has Hammerhead's voice prompts, though these earbuds will feature Pikachu's voice instead.
I think that's kind of weird but maybe to a diehard Pokémon fan, it can come off as cute and encouraging.
It comes with a mere 3-hour battery runtime, an hour less from the Hammerhead. It's really not a very good battery life but it has something that helps negate that.
These Pikachu earbuds come with its own charging case, though it's faithfully designed as a PokéBall instead. The earbuds will snap to its charging case magnetically, just like its counterpart.
The charging case provides up to five recharges for the earbuds. So, in total, one could technically get up to 15 hours of battery life from the earbuds with the case.
The charging case also has a wrist strap, so one can go about showing off their brand new PokéBall that contains earbuds inside. Its button in the middle also lights up to show battery level.
While the original costs $99.99 (RM459.00), this version will cost $120.00 (~RM519.00) instead.
Unfortunately, though, it seems that these earbuds will only be made available in China, starting 16 April. It's possible Razer will decide to release it worldwide once the current situation gets better.