The Enermax OSTROG series has received a lot of positive feedback from users and reviewers since its launch in 2012. With the elegant design, the high manufacturing quality and outstanding functionality, OSTROG stands out easily from its peers.
Now Enermax introduces the OSTROG Lite, a new compact mid-tower chassis for entry-level gaming rigs. Featuring a low-profile hairline surface front panel, OSTROG Lite is not only beautifully built, but also includes the features that are expected in a modern case.
PSU-tunnel Design to Make Rigs Neat and Clean
OSTROG LITE uses a PSU-tunnel (aka PSU Shroud) to not only provide a spacious interior for system installation but also hides the power supply and cables nicely, which makes the build neat and clean.
This not only makes the rig look better but helps minimise the cable clutter to improve airflow inside the case and keep the system running at a comfortable temperature.
Modern, User-friendly Features
OSTROG Lite can accommodate up to 6 fans for effective cooling, along with support for a 152mm high CPU cooler, 390mm long VGA card, and 180mm long ATX PSU.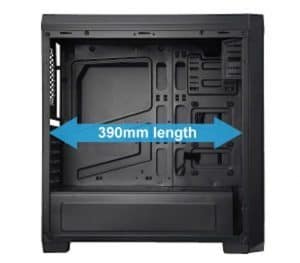 Meanwhile, two standard USB 2.0 and one high-speed USB 3.0 are included to give users easy access to external hard drives or flash drives as needed. The case is also equipped with removable dust filters to prevent dust accumulation and make cleaning easy.