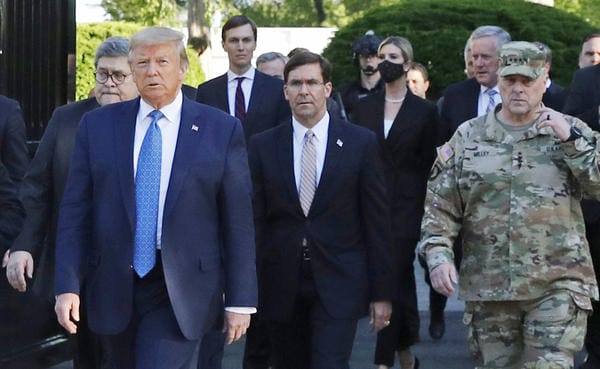 Remember when Donald Trump green lit the move to fire tear gas, flashbangs and rubber bullets into a crowd of peaceful protestors outside the White House to disperse them?
Well, the highest-ranking and most senior military officer in the United States Armed Forces, Gen. Mark Milley, has come out and apologised for appearing in a photo-op with the president right after that took place.
"As senior leaders, everything you do will be closely watched. And I am not immune. As many of you saw, the result of the photograph of me at Lafayette Square last week. That sparked a national debate about the role of the military in civil society," Milley, said in a pre-recorded speech to a group of graduates from the National Defense University.
"I should not have been there. My presence in that moment and in that environment created a perception of the military involved in domestic politics. As a commissioned uniformed officer, it was a mistake that I have learned from, and I sincerely hope we all can learn from it," he added.
The general also touched on the recent killing of George Floyd, saying that he was "outraged by the senseless and brutal killing" and that "his death amplified the pain, the frustration, and the fear that so many of our fellow Americans live with day in, day out," conceding that the ongoing protests represents "centuries of injustice toward African Americans."
Milley didn't actually pose for photographs with the president, but was captured on camera walking behind Trump as he moved from the White House to the church.
Given the fact that he was wearing his combat uniform, just being there drew criticism from lawmakers and several senior former military officials. The army has generally been apolitical and the photo-op might have sent out the wrong message regarding the military's role in a contentious domestic political situation.
Defence officials talking to CNN have also said that Milley had actually tried to lobby Trump against using active duty troops to quell the protests, but as you can probably tell, that fell on deaf ears.
It'll be interesting to see what Trump has to say about this on his favourite platform in the whole wide world, Twitter.