By Gregory Kong
It's often said that a good craftsman never blames his tools; however, I don't think any craftsman would deny that good tools can be beneficial. At the very least, most gamers, whether casual or professional, would definitely get a significantly better experience from a dedicated gaming monitor.
The BenQ MOBIUZ EX3415R is undoubtedly one of the better ones out there, and if this is your first experience with a dedicated gaming monitor, you're in for a real treat. At least, I was.
Part of BenQ's MOBIUZ range of gaming monitors, the EX3415R ticks all the right boxes when it comes to enhancing your gaming experience (more on that later), with some party tricks of its own.
The MOBIUZ EX3415R is an ultrawide curved 34-inch monitor using an IPS panel with a native resolution of 3440×1440 (basically, 1440p ultra-wide quad high definition or UWQHD) running an aspect ratio of 21:9 at 144Hz.
With a gross weight of 13.2 kg, or just under 30 lbs, and given its engineered monitor stand, it will remain stable even during the most intense gaming session. It does support the standard VESA mounting brackets, so you can wall-mount the monitor should you so choose, or you have limited desk space.
And you will most likely have limited desk space. This monitor is gargantuan! It spans basically the length of my entire desk, so if you were planning on nabbing yourself one of these monitors, it's worth measuring your work area to see whether it will fit, or consider one of its smaller brothers, the EX2510S or the EX2710S.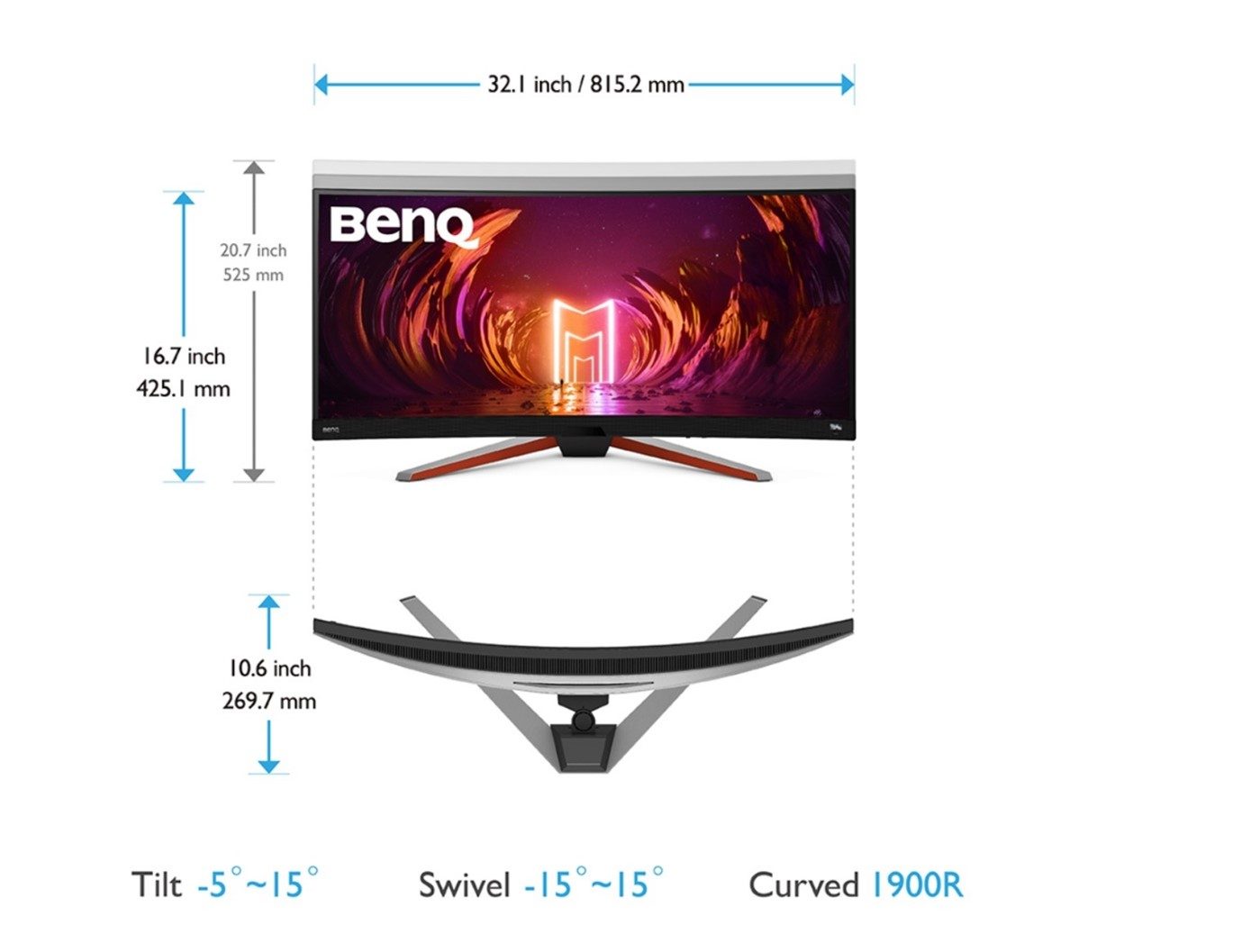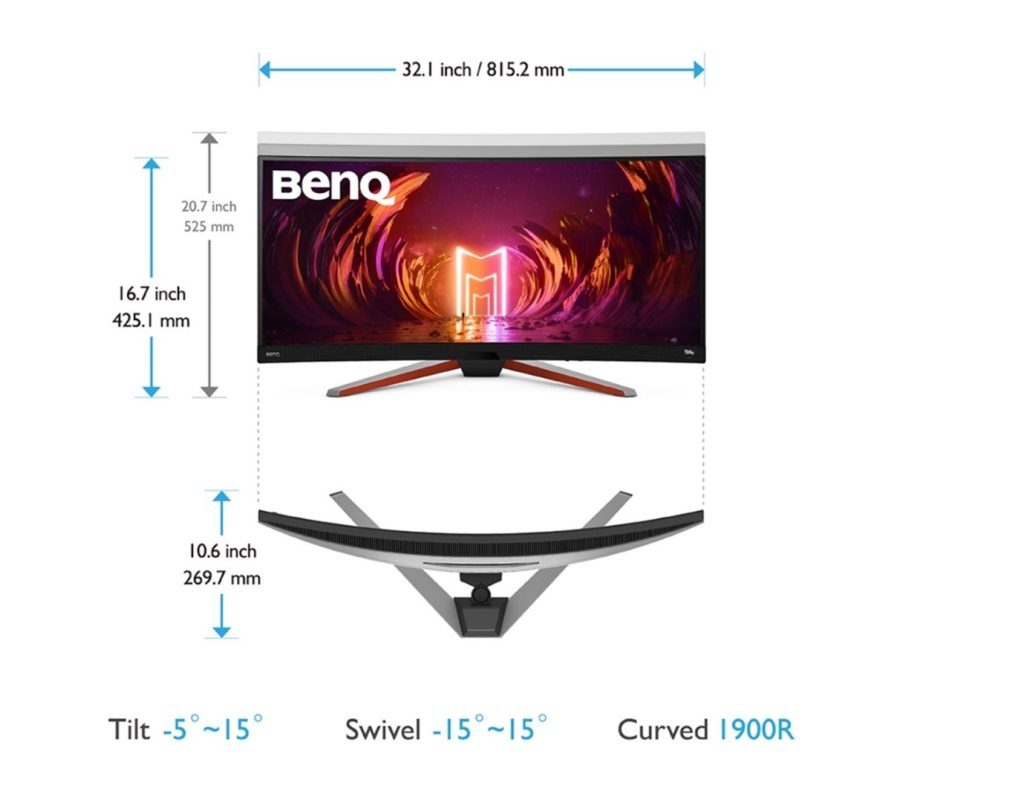 Aside from the standard tilt adjustment, the monitor is also height-adjustable, so it can be set up to perfectly suit the needs of whoever is using it.
Inputs/Outputs
The BenQ EX3415R comes with several display input options, including x2 HDMI 2.0 ports and x1 DisplayPort 1.4 port. The built-in USB 3 hub provides 2 additional USB Type-A ports.
These inputs are located at the rear of the monitor towards the bottom, so if you want to use the USB ports for connecting other devices such as external HDDs or flash drives, you should consider hooking your own USB hub to one of them like I did. I was able to get an average transfer rate of 40MBps when copying files across to an external 3.5" HDD.
The HDMI ports are there more for hooking up game consoles or other consumer-grade hardware, in my opinion.
To get the full benefit of this feature-packed monitor, I recommend using DisplayPort, which is what I did for the rest of my testing. This allowed me to drive the monitor at its maximum resolution, colour bit depth, and refresh rate, as well as pass the audio on to the built-in speakers.
I have always thought that most monitor speakers are there just for show; fine for everyday use, but surely, gaming enthusiasts would have a much better sound setup, with 7.1 surround speakers and so on. Well, BenQ has done a stellar job with the EX3415R's 2.1-channel 2Wx2 + 5W woofers, designed and calibrated by treVolo. These speakers are actually very decent, with good bass, no distortion at high volume, clear stereo separation, and several 'equaliser modes' (again, more on that later).
BenQ attributes the surprisingly good sound from these built-in speakers to the inclusion of DSP chips that augment depth, clarity, definition, presence, and stereo field imaging, and I have to admit that the monitor speakers do perform quite well.


Monitor calibration
The review unit does not specify whether it was factory-calibrated in terms of colour accuracy (DCI P3- 98%) . In any case, the monitor was designed for automatic brightness and contrast adjustment, given its unique Brightness Intelligence (BI) Plus feature. However, if you prefer to adjust the colour/brightness/contrast settings manually, the On-Screen Display (OSD) allows you to do so – at least in some of the modes (refer to the user manual for more details).
Forget about using the buttons on the bottom of the EX3415R to navigate the OSD. Use the included remote control instead. You do get access to all the features of the monitor that way; there are separate volume controls, multi-input controls, controls for the different HDR modes – you can even switch the monitor to standby independent of the OS.
General work/home usage
Like other monitors in BenQ's range, the EX3415R implements various proprietary eye-care™ technologies, including BI (BI) Plus, Low Blue Light Technology, Color Weakness mode, and Flicker-free technology. These technologies have been certified by TÜV Rheinland and Eyesafe (for more information, check out BenQ's whitepaper online).
The pixel density of 110 pixels per inch (PPI) hits the sweet spot, allowing you to use the full native resolution without having to use display scaling and allowing text to remain sharp and legible even at smaller font sizes.


Graphics professionals
The monitor is also VESA certified, sporting the DisplayHDR 1.1 and DisplayHDR 400 certifications, with a peak brightness of 400 nits for HDR content. The EX3415R boasts excellent colour accuracy and reproduction even on the stock Display HDR setting. The EX3415R also includes multiple-input features such as PBP/PIP (picture-by-picture/picture-in-picture).
Video/gaming performance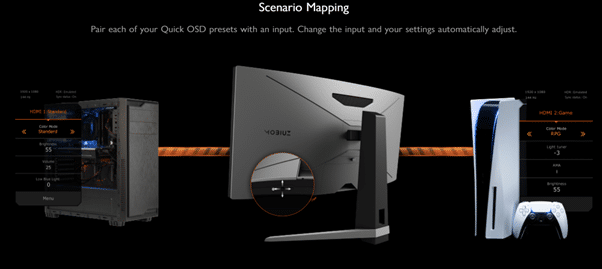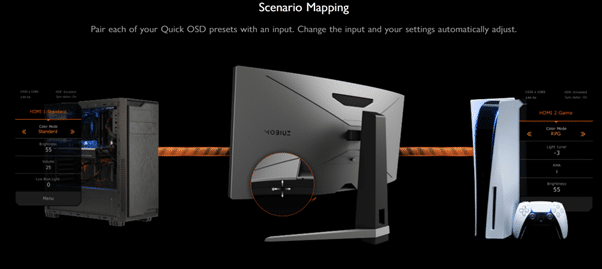 This is what the EX3415R is designed for, and it really shines in this arena. Boasting blazing-fast response times of 2ms (GtG) and 1ms (MPRT), the ultra-wide form factor of the monitor allows for the most immersive gameplay experience I've had thus far.
Variable refresh rates and adaptive sync comes in the form of AMD's FreeSync™ Premium, and while the EX3415R is not specifically validated as an NVidia G-Sync Compatible display, it nevertheless does support it (see below). Combining both adaptive sync and those speedy response times provides for buttery-smooth gaming visuals, with no screen tearing and little stuttering even at very low framerates. The monitor does support overdrive (what BenQ calls AMA, or Advanced Motion Accelerator). You can set this to Off, High, or Premium (so 3 settings of overdrive), depending on your specific gaming requirements.
HDRi ( HDR + Brightness Intelligence Plus )
HDRi stands for High Dynamic Range Intelligence, and it enhances viewing experiences in a variety of ways. We all appreciate movies and games that keep us entertained, and we don't want to waste time figuring out what we're looking at because of bad image quality. This is when HDRi comes into play. Instead of unresponsive HDR that remains the same no matter where you are or what content you're watching, HDRi improves the HDR effect based on lighting conditions in your location, thanks to a sensor attached on the monitor and specialised processing algorithms. This improves viewing quality, which is aided by specialised HDRi modes for gaming and cinematic content. A neutral HDR setting is also available, which effectively disables HDRi. Importantly, HDRi has the ability to enhance non-HDR images with high dynamic range without exaggerating brightness or dark areas. Everything appears to be in order. HDRi transforms your viewing experience from ordinary to spectacular.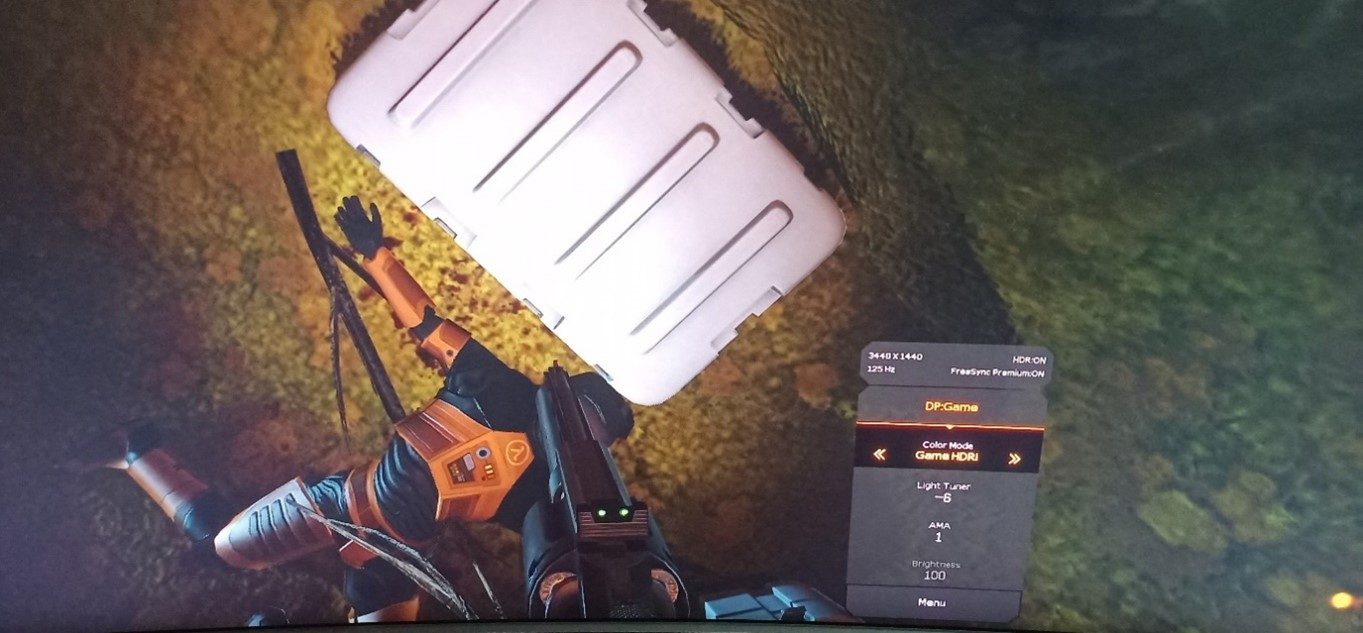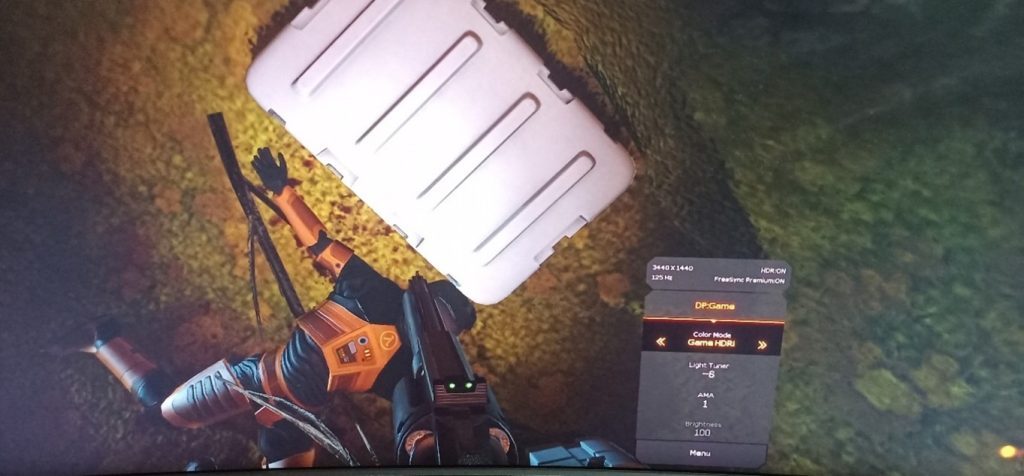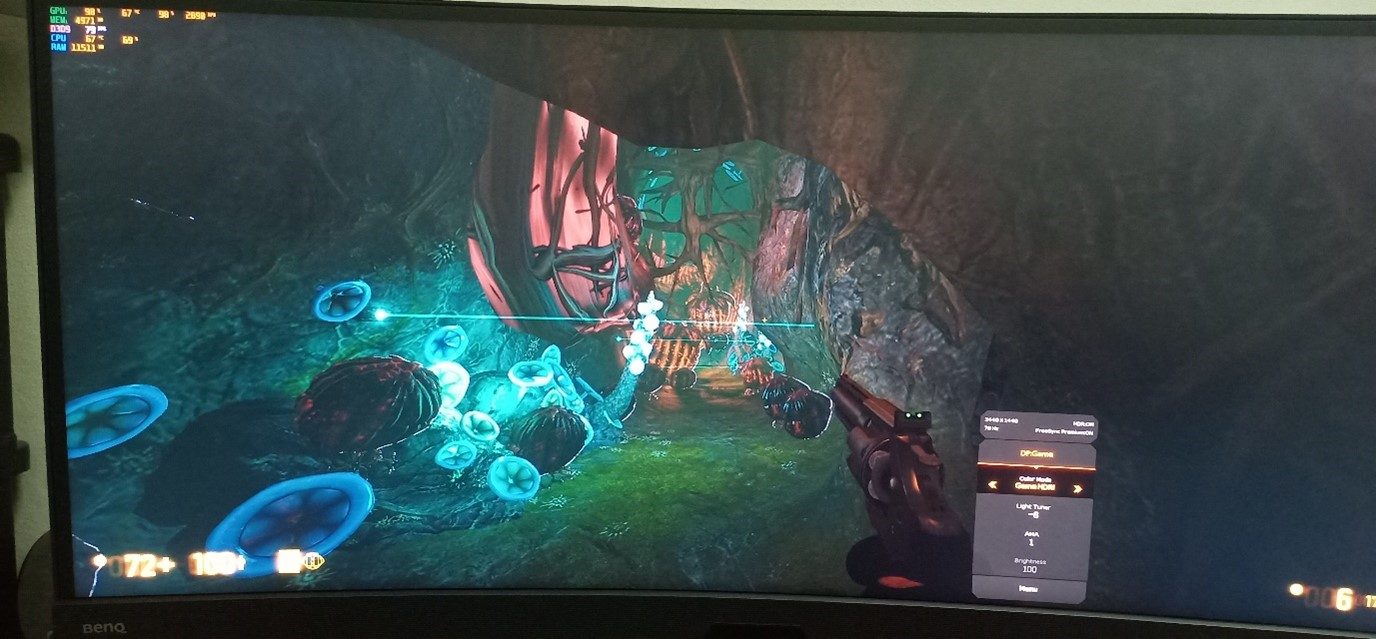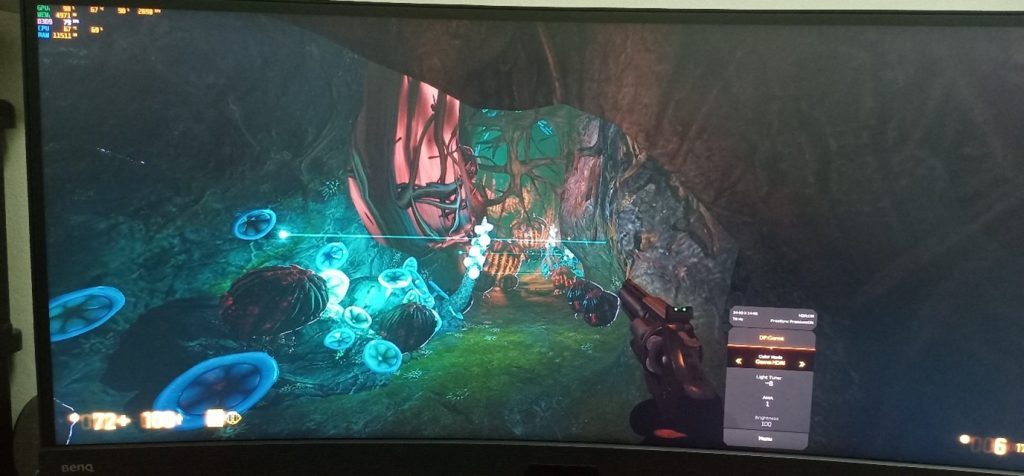 BenQ has set the EX3415R up with several sound and visual modes, depending on the game being played (or content being viewed). Sound modes include FPS, RCG (racing games), SPG (sports games), Cinema, and Pop/Live, each with its own characteristics. When in SDR, visual presets include FPS, RPG, Racing game, as well as a customisable mode and non-game-focused modes. In HDR, the monitor allows you to select between Game HDRi, Cinema HDRi, and Display HDR. HDRi is BenQ's proprietary technology that – amongst other things – can enhance SDR content by emulating HDR when viewing such content.
Gamers using consoles are not left behind – each of the display inputs can be set up with a different scenario, and each scenario can be customised to fit your specific needs for that input.
Power consumption
BenQ notes that the EX3415R consumes a maximum amount of 85W, with a typical power consumption being closer to 38W, while standby power consumption is below 0.5W. My power meter bears those figures out, with standby consumption of 0.2W or less, and an average power consumption of 30W-40W. I was not able to get the monitor anywhere close to the maximum draw of 85W, even when playing back a music video while transferring files via the USB hub to an external HDD.
Choosing and buying the right MOBIUZ monitor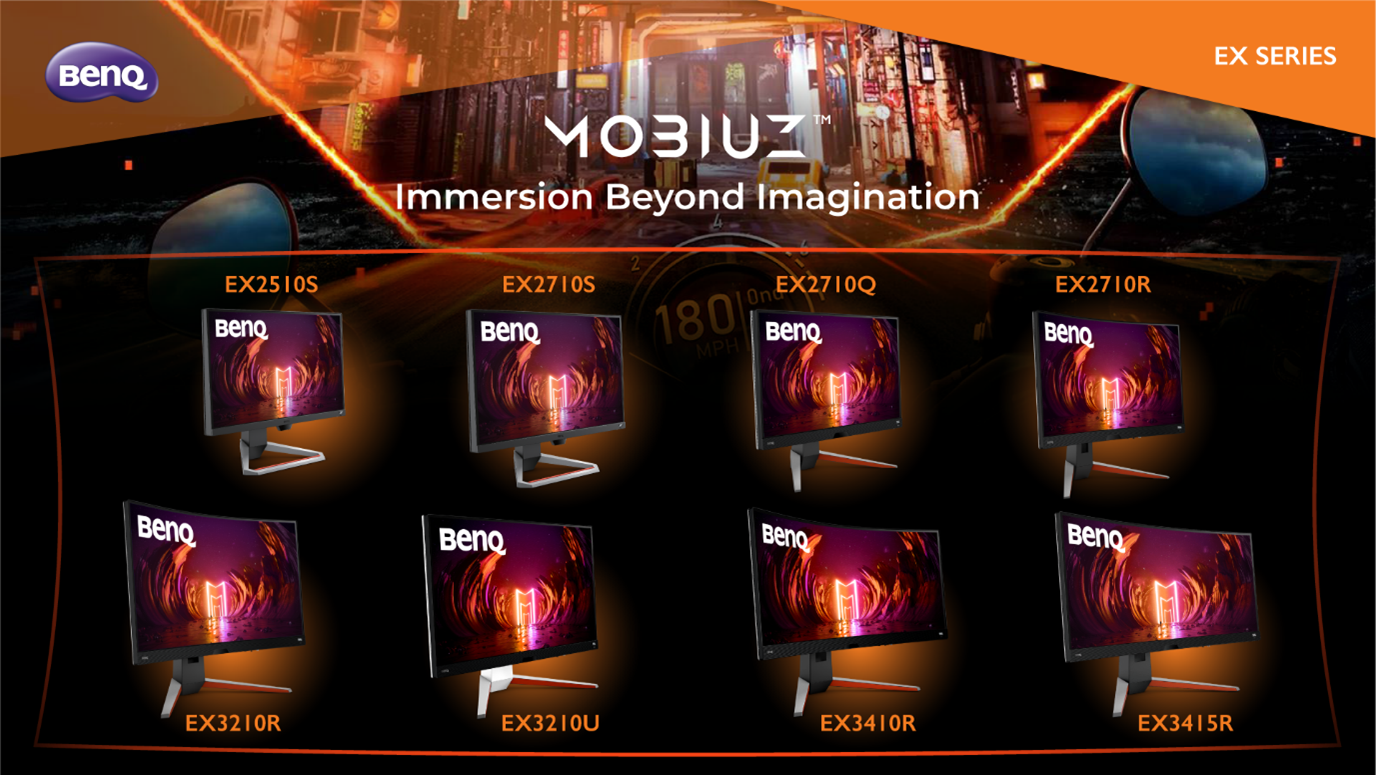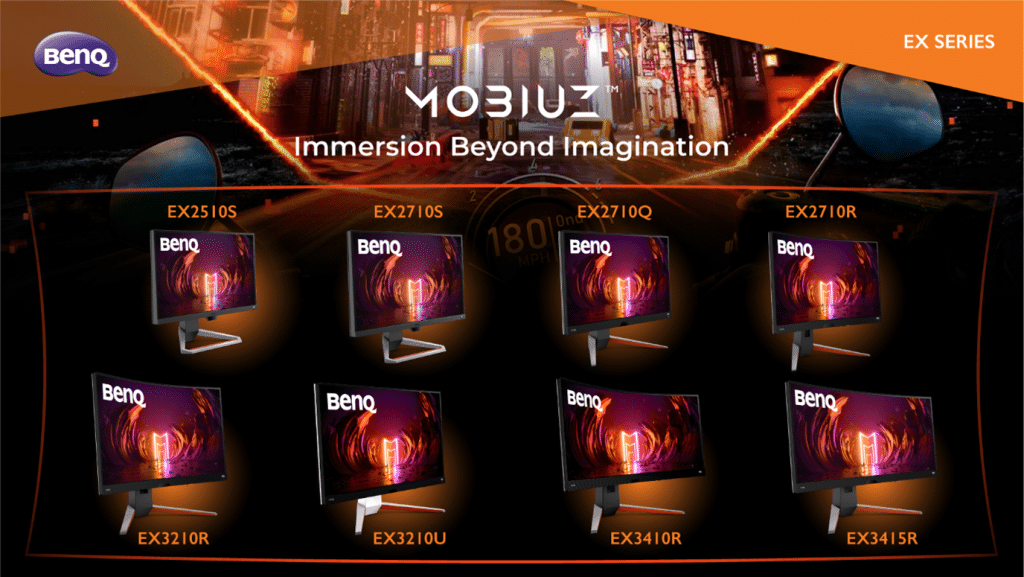 EX2510S & EX2710S – 25″ & 27″ FULL HD IPS 165Hz 1Ms
EX2710Q – 27″ 2K IPS 165Hz 1Ms
EX2710R – 27″ 2K VA 165Hz 1Ms 1000R Curved
EX3210R – 31.5″ 2K VA 165Hz 1Ms 1000R Curved
EX3210U – 32″ 4K IPS 144Hz 1Ms
EX3410R – 34″ WQHD VA 144Hz 1Ms 1000R Curved
EX3415R – 34″ WQHD IPS 144Hz 1Ms 1900R Curved
BenQ MOBIUZ EX3415R – https://bit.ly/3C8RUNp
Shopee – https://bit.ly/35hkNuQ
Lazada – https://bit.ly/3hz4ADv
The monitors can be purchased online from BenQ's official stores on both Lazada & Shopee. They also come with a 3-year manufacturer's warranty, offering on-site pickup service, so you don't have to send it to a service centre yourself.