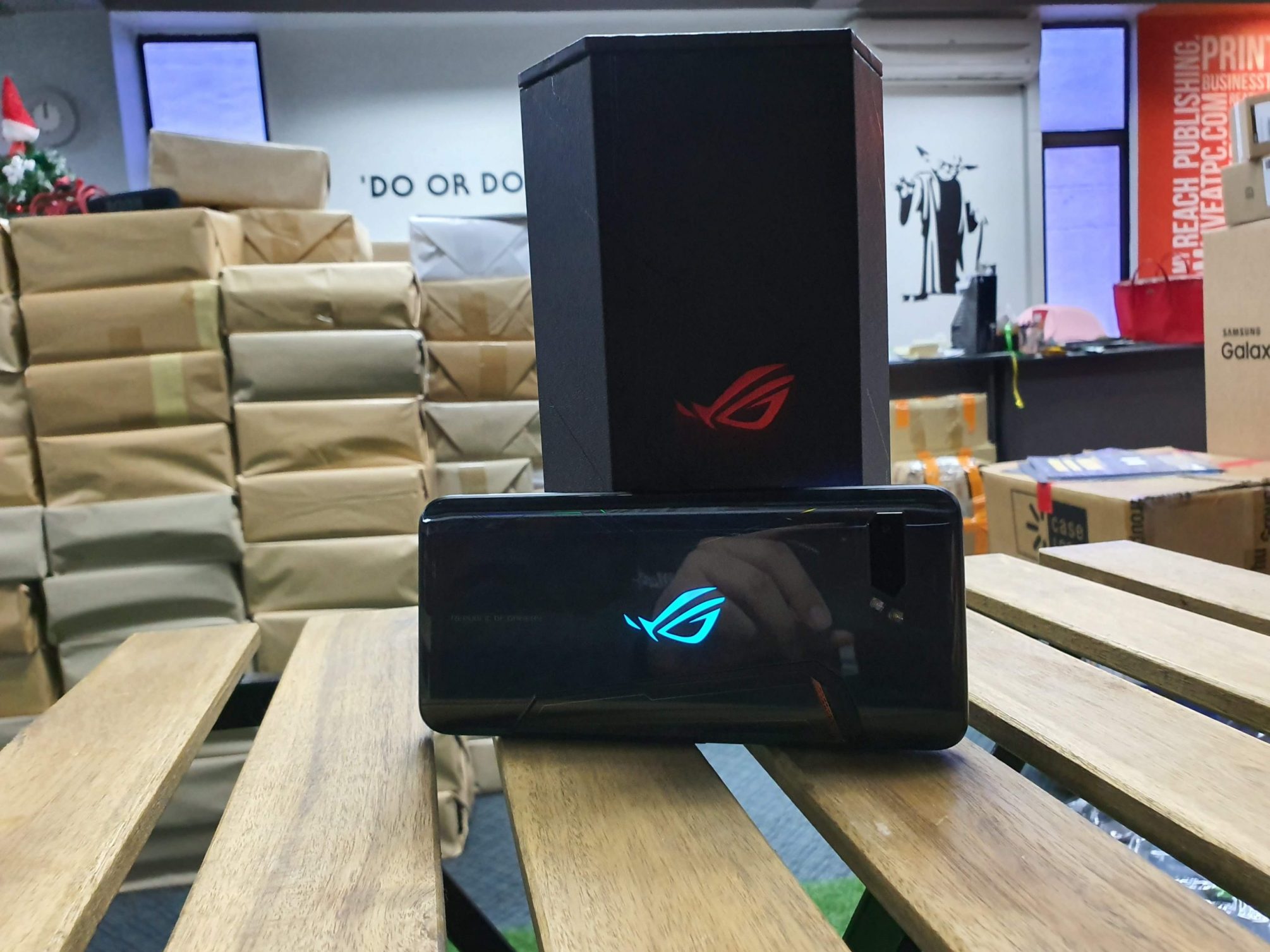 The ASUS ROG Phone 2 is literally one of the most specced out devices on the planet right now, with a top notch gaming processor, a huge battery, and a crisp 120Hz refresh rate to boot. This thing will literally handle anything you can, and will throw at it. But is it more than just a gaming phone? Can it work as a day to day smartphone? Well that's what we're here to find out, and with that, let's get straight into the review, of the ASUS ROG Phone 2!
Design and Aesthetics; For The Uber Gamer
The phone screams gamer aesthetics, with a flashy back design, accompanied by the RGB lit logo. Besides that, the phone features a 6.59″ AMOLED display, which has a 80.3% screen-to-body ratio which I'm sure doesn't sound great to you. But trust me, the screen will do its job, and more. This is can be attributed to ROG wanting to put in dual front facing speakers on the phone, so I think it was worth sacrificing some screen real estate. The display also has a 19:5:9 ratio, which is pretty on par with many devices out there at the moment, but the kicker about the display is that it has a 120Hz refresh rate, so everything you do on the phone looks silky smooth.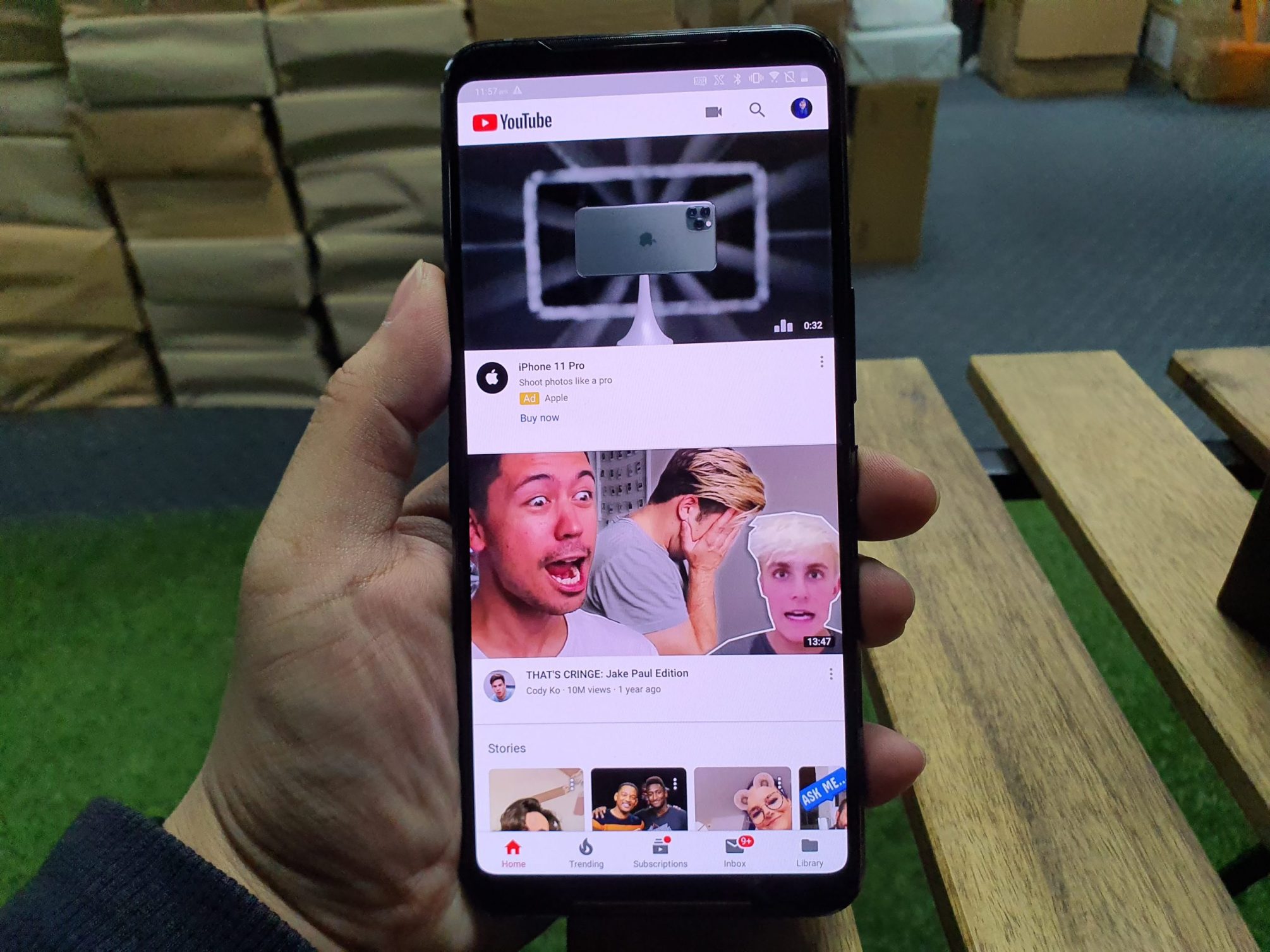 I'm not even joking, once I got used to the 120Hz refresh rate, it was hard to go back to any other device. It just looked that good. Not just gaming, but even scrolling through screens, the app drawer, or browsing. It was smooth.
A major downside to the device and the huge screen, is its dimensions. It comes at 171 x 77.6 x 9.5 mm, and weighs 240g. If you can't tell, that's a pretty big phone. And because of the extra screen size, and thicker bezels for the dual speakers, it makes it a bit longer than I'm used to. Which made for an uncomfortable/tiring experience gaming after about 10-15 minutes. But maybe that's just me.
Performance; Super Performer
What can I really say about the performance of this beast? The ROG Phone 2 features a Qualcomm SDM855 Snapdragon 855+, a base spec of 8GB RAM, and ranges from 128GB to 1TB of storage! What?? That's literally insane! The 1TB part that is. Who needs that much on a phone? Well if you did, ROG has got you covered. I didn't notice any lag, or any sort of slowing down even with multiple apps on, and gaming heavily.
But that's not the only thing overpowered about the phone. It comes with a massive, whopping, 6000mAh battery, which I personally, just loved. The battery could last me 3 days on low-moderate usage and gaming. But that's with barely any usage besides gaming a bit, a few videos, and that's it. Otherwise, I'd get about a day and a half's worth of battery, but that was honestly excusable because of the 120Hz screen. I didn't really have much of a problem in that regard.
Gaming Features; Gaming On Another Level
Gaming on this thing was amazing. It just all felt great, and paired with the embedded gaming features, even more so. My favourite of course, being the AirTrigger II tech. This just differentiates a smartphone from a gaming phone, and the ROG Phone 2 is a prime example. Mostly because it just changes the way you game, because you're essentially equipped with an easier way to control what's on your screen.
The best part was that I had the phone just when Call of Duty Mobile came out and it was great playing it on the ROG Phone 2. The game essentially changed because the AirTriggers sort of gave you and advantage over the others. It was easier to aim and shoot, and you could control how sensitive the AirTriggers are in the settings. So that's cool.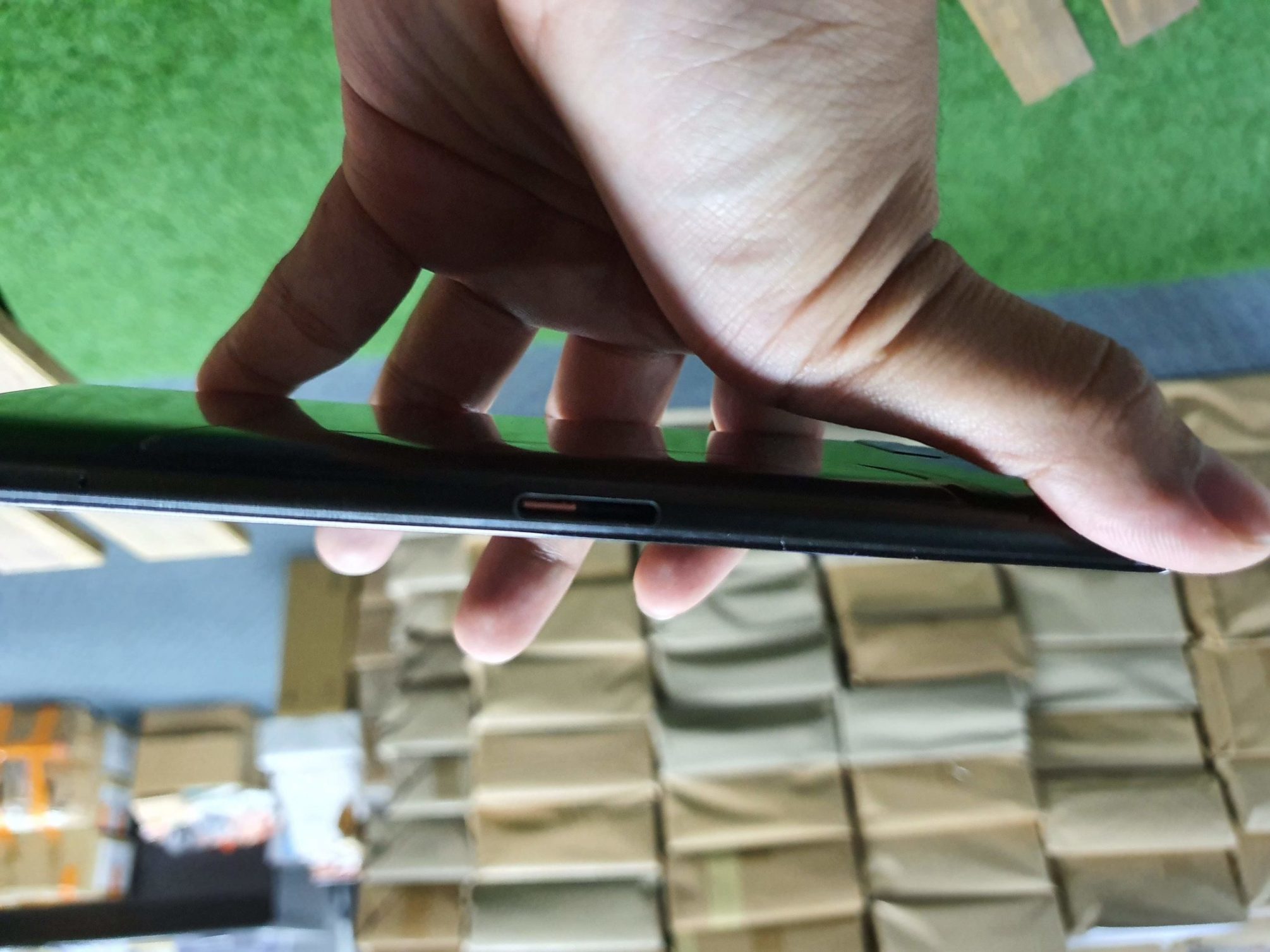 That paired with the side charging basically means that you're gaming even when you're charging, with not much stopping you from doing both at the same time. There's two ports to charge your phone with the USB-C connection, one on the bottom to the left, and one on the left side. The side charging port is also where you connect the included fan, and other accessories. Not sure about the accessories part, because we didn't get any to test out, besides the fan inside the box. Speaking of fans and cooling, I do have a tiny gripe with the device.
Even though there's the GameCool II vapor-chamber cooling systems, I did notice some heat, which wasn't unbearable, but it was bordering on that line. And yes, I know there's a fan to help it cool, but it's really troublesome when you just want a quick game on the loo, or basically anywhere else. I don't want the fan protruding out of my pocket, but maybe that's just me.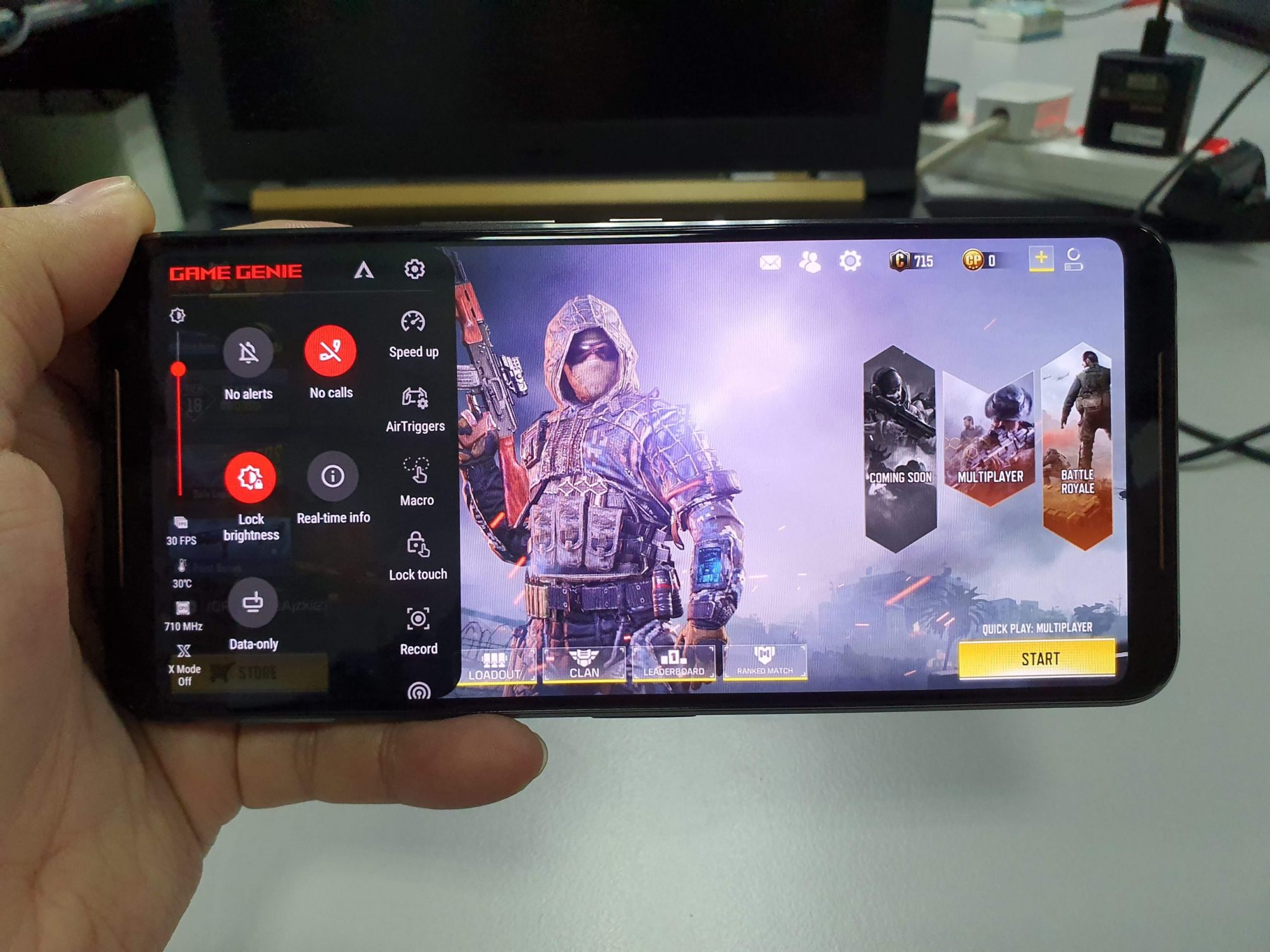 There's also the in-built software that makes gaming a breeze on the device. There's ROG Armoury Crate and ROG Game Genie, which both help to optimise your gaming experience. Armoury Crate is where you control basically everything, and run your all your games directly from there. Game Genie  is the quick and easy access menu, by swiping in from the left side of the screen while in game. From there, you can optimise performance, switch notifications off, display game info, and more. It's really well integrated, and gaming on this thing was just beastly.
Camera; Surprisingly Good Cameras
The cameras on the ROG Phone 2 was actually pretty good. I feel like I'd be confident enough to take this phone out and use it as my daily shooter, without a problem. The phone features a dual rear camera setup of a 48MP wide camera, with a 13MP ultrawide, which did the job it needed to. The pictures were clear, and honestly more detailed than I thought it'd be. The zoom was pretty decent too, but not too much, because you'll end up picking up a lot of noise. On the front there's a 24MP shooter, which took decently enough selfies, and that was good enough for me.
Videos were okay too, and we basically found the camera to be arguably the best on a gaming smartphone yet, and that's a plus. This is mainly because, smartphones in this day and age are multifunctional tools, and they're supposed to be able to do anything. And the ROG Phone 2 so far, including the camera performance, shows that it's pretty much capable of that.
Final Thoughts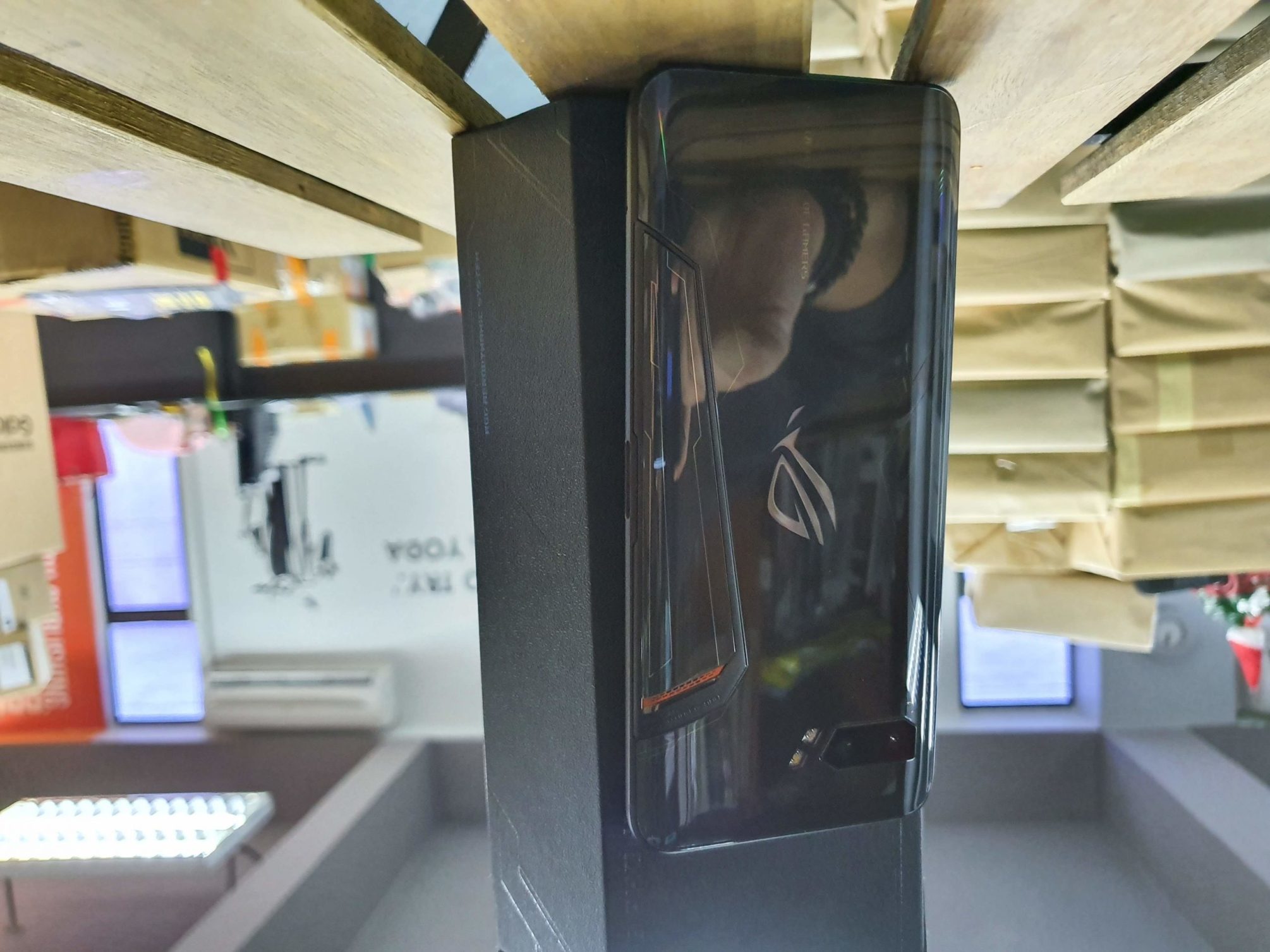 What else can I really say about the ROG Phone 2? If you're really into mobile gaming, and needed a powerhouse, this is it. This is the phone you should get. But even then, even the general population can get into the device, because of the 120Hz refresh rate, pretty good cameras, and awesome entertainment experience. Not everyone is a gamer, but everyone consumes some sort of entertainment. Why not do it with a beast?