By Gregory Kong,
With the country's push towards digitisation, people spending more time in front of computer screens is pretty much an unavoidable scenario. Therefore, getting a good monitor is a worthwhile investment. Unless you are a graphics professional, chances are a 24-inch or a 27-inch monitor would be the largest size you'll likely need.
Part of BenQ's 'Stylish Monitor' range, the BenQ GW2785TC is a 27-inch monitor using an IPS panel that sports several nifty features. With a gross weight of just under 10kg, it is by no means a lightweight, which means that it should be quite stable when placed on a desk. It does support the standard VESA mounting brackets, so you can wall-mount the monitor should you so choose, or you have limited desk space.
Aside from the standard tilt and swivel adjustments, the monitor is also height-adjustable, so it can be set up to perfectly suit the needs of whoever is using it.
Inputs/Outputs
The BenQ GW2785TC comes with several display input options, including HDMI and DisplayPort, as well as USB-C for connecting to laptops and smartphones/tablets. These inputs are located on the rear of the monitor at the bottom, and the monitor can be tilted to the side to allow for easier access to the ports.
The HDMI connector works flawlessly, and allows audio to be passed through to the monitor, which you can then connect to speakers or headphones via the 3.5mm headphone jack, which also works flawlessly.
Even my Samsung smartphone connected smoothly to the display's USB-C connector via HDMI Alt Mode, and everything worked the way it should – bringing to life an immersive experience that simply 'wow'-ed the eyes! It may be a good idea for people using the USB-C to connect the GW2785TC to their devices to double-check and see whether either this or DisplayPort Alt Mode is supported by the machines in question.
You can alternatively use the DisplayPort connectors to daisy-chain monitors together, making for an easier multi-monitor setup as opposed to connecting both monitors to your GPU directly.
The BenQ GW2785TC also comes with a built-in microphone with integrated noise cancellation, so you can use it for voice calls and video-conferencing. The feature is most useful when paired with a modern laptop that comes with a built-in Web-cam, or tablet/smartphone.
Monitor calibration
The review unit does not specify whether it was factory-calibrated in terms of colour accuracy. In any case, the monitor was designed for automatic brightness and contrast adjustment, given its unique Brightness Intelligence feature (more on that later). However, if you prefer to adjust the colour/brightness/contrast settings manually, the On-Screen Display (OSD) allows you to do so. I found it relatively easy to navigate the OSD; the layout was intuitive and logical, and the buttons to interact with the OSD were sufficient large and spaced apart to make it easier to use.
The BenQ GW2785TC also has preset 'learning' modes, which means greater agility for the monitor's display to suit specific circumstances. The 'coding mode' presents more contrasting colours to increase working efficiency; the 'care mode' reduces brightness and saturation for children; and the 'reading mode' filters out harmful blue light.
General work/home usage
The BenQ GW2785TC is targeted at young professionals and those working from home, as well as students who are using e-learning. Given the COVID situation globally, this means that people are spending more and more time looking at displays and screens – whether monitors or smartphones/tablets.
As such, a great deal of effort was put into its implementation of BenQ's various eye-care™ technologies, including Brightness Intelligence (BI). The idea behind BI is that the ambient light sensor will sense the amount of ambient light and automatically adjust the screen brightness to match.
Other proprietary BenQ eye-care technologies included in this monitor are Low Blue Light Technology, which filters out the blue light to reduce eye fatigue and irritation; Flicker-free technology; and Color Weakness mode, which is meant to help those with colour blindness. These technologies have been certified by TÜV Rheinland and Eyesafe (for more information, check out BenQ's whitepaper online).
All in all, the BenQ GW2785TC can help students and professionals to be more productive and effective, by ensuring better eye-care and optimum lighting conditions, thus allowing them to be more focussed.
Desktop Lighting: An Option Worth Considering
The optional ScreenBar monitor light makes this monitor even better for students and professionals working from home. Traditional desk lamps cause glare on monitor screens – even through the matte finish – and the lighting can be inconsistent, from too dark to too bright. They also occupy a bit of your desk's real estate, and finding the right angle so that it doesn't glare on your screen but still allow you to read paper-based documents can be tricky.
This LED monitor light does not glare off the screen at all, thanks to its unique design, and provides sufficient illumination onto your desk to make reading books and paper documents a breeze. It too comes with an ambient light sensor to automatically adjust the reading light's brightness and colour temperature to reduce eye strain. Under normal conditions, it outputs 500 lumens of brightness – as recommended by the American National Standard Practice for Office Lighting. In darker conditions, the ambient light sensor detects less than 50 lux of light, it will reduce the output to 300 lux.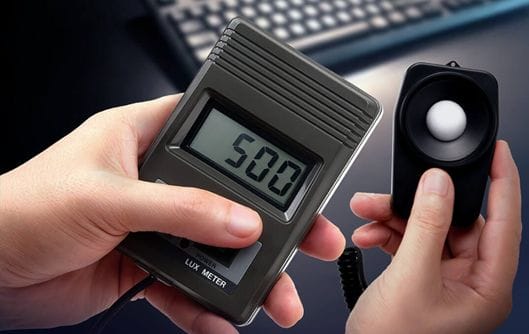 I like the design of the ScreenBar. It fits other monitors as well, and not just BenQ's range. It clipped onto both the BenQ as well as my primary monitor (not from BenQ) with no issues. Because it's USB-powered, if you had a monitor with USB connectivity built in like I did, you can easily power it that way. The controls are all accessible from the top, and you can choose from 8 colour temperatures and 15 brightness levels if you want to adjust it manually instead of the letting the 'set-and-forget' ambient light sensor do the work for you.
Graphics professionals
The BenQ GW2785TC is meant to be a monitor for general-purpose usage, and graphics professionals who need to use wide colour gamuts (such as Adobe RGB or DCI-P3) or HDR capabilities would be better served by a monitor from BenQ's Designer Range.
Video/gaming performance
The BenQ GW2785TC is not targeted at the gaming market, and its specs bear that out. Its response time of 5ms won't impress gaming enthusiasts, and many would recommend 1440p resolution on a 27-inch monitor, rather than the maximum 1080p that the GW2785TC supports. The monitor also does not support HDR. BenQ of course has a wide selection of gaming monitors that have all the features that PC gamers are looking for, while still including the company's eye care technologies.
Power consumption
LCD monitors these days don't really use all that much power, and the BenQ GW2785TC positively sips electricity. On startup, and during normal use, I measured anywhere between 15W and 18W, never topping 20W in any case. During sleep mode (when the computer is off, for instance), it only drew 0.2W, and in fact, power consumption was so low later on that my meter could not detect any usage at all.
A point to note is that the BenQ GW2785TC is entirely capable of charging your smartphone while it is plugged in via the USB-C connector, and the monitor drew about 23W of power to quick-charge my smartphone. The USB-C port is capable of delivering up to 60W of power via USB-PD, so in theory, you can run (and charge) any device supporting USB-PD that requires up to that amount of power to function.
The BenQ GW2785TC has an RRP of RM1,349 and GW2485TC at RM1,199 and can be purchased online from BenQ's official stores on both Lazada & Shopee. The monitor come with a 3-year manufacturer's warranty, offering on-site pickup service, so you don't have to send it to a service centre yourself – a nice touch that I for one appreciate.