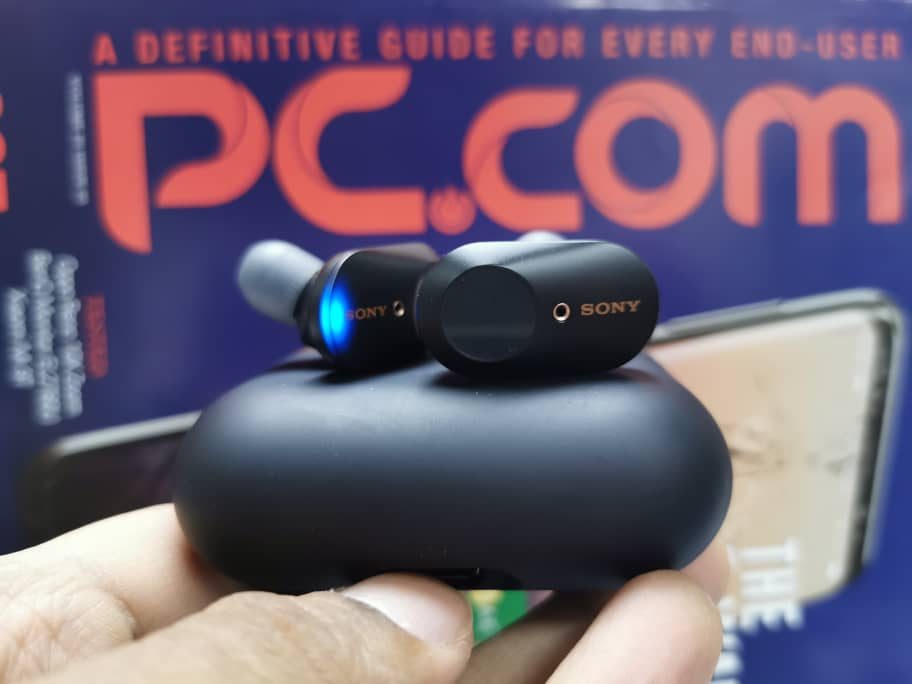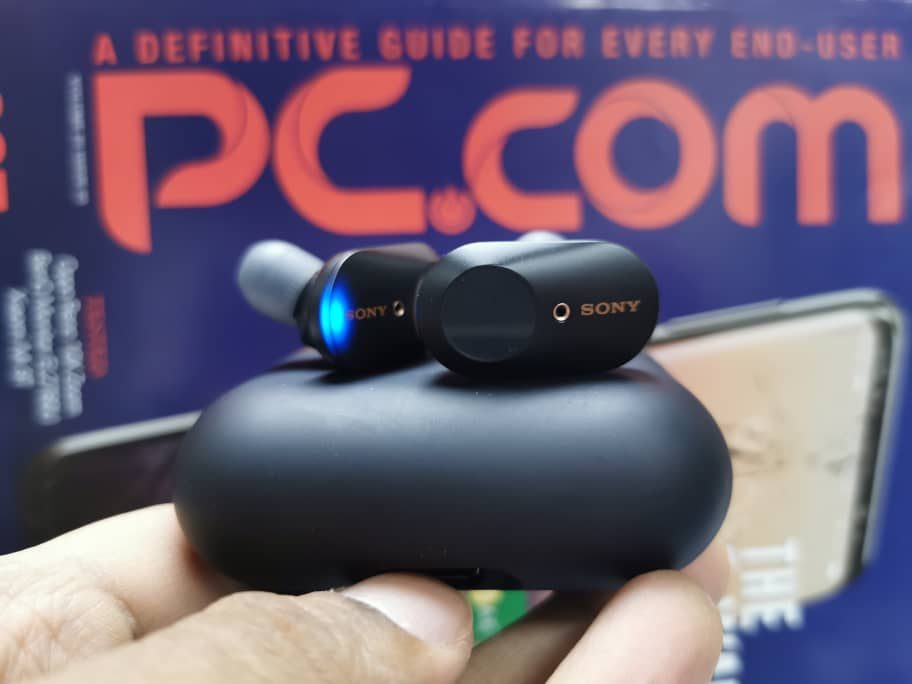 Let's face it. Wired earphones are slowly becoming a thing of the past. I know, it's sad. But it's the reality of the market right now. People are opting for the extra freedom and mobility that comes with your audio device being truly wireless, and it seems like they don't mind sacrificing the quality of audio to achieve that.
Here at LiveatPC.com, we judge true wireless ear buds based on 5 criteria: How it looks, How it feels, How it sounds, What it offers and Price. Let's get to it then, shall we?
How It Looks
The design of the WF-1000XM3 is certainly an acquired taste. They're certainly not the best looking option on the market right now. In fact, I can think of at least two or three other brands with better looking true wireless options. The ear buds pill design pays homage to the early 2000s era bluetooth headsets except a lot more compact looking, of course. What I do appreciate about the design is the fact that it looks well made and comes in two great colourways.
Sony's decision to use touch pads instead of buttons brings up a whole set of issues on its own, but i'll get to that later.
As for the charging case, It's a case of hit and miss for me. On the one hand, it has a nice premium look with its matte black body and copper cap (that isn't hard to open at all). As is standard these days, it features a magnetic interior which secures the earbuds onto the charging pins. It even charges via USB-C! On the other hand though, it's rather large compared to other cases. And by rather large, I mean a lot bigger than most other cases. The build quality isn't the best either, but again, we'll get to that later.
How It Feels
While the bluetooth headset pill design may not be for everyone, there is one major plus point that comes out of it and thats comfort. Weighing just 8.5 grams per bud, The WF-1000XM3s are really comfortable and unintrusive.
The problem that most other brands have with their designs is that most of the time, its hit or miss when it comes to whether or not it fits well in all types of ears. I have friends who have bought great sounding true wireless ear buds only to have to resort to selling it off because it simply does not fit their ears.
Odds are, you will not have this problem with the Sony WF-1000XM3. I found that the buds fit just like any other wired in ear earphones and I didn't have to worry about them falling off. This is largely thanks to Sony's new 'Tri-hold structure' design which is basically an ergonomic three-point fit for better support.
Of course, at the end of the day, how well the tips fit into your ear play a key role and in this department, Sony actually gives you a selection that outdoes most of its rivals. The WF-1000XM3 comes with seven different types of tips; four 'hybrid silicone' tips and three foam tips, all but ensuring that you find the right pair for you.
The inclusion of foam tips for me, is amazing. Everyone knows that foam tips sound way better than silicone ones given how it fits into your ear..hole? better.
Another small issue is the fact that there is no volume control on the buds. You'll have to control the volume on the device it's connected to, which would be your smartphone. Now this could either really annoy you or not bother you one bit. In my case, I was really annoyed at first because why would I want to constantly take my phone out of my pocket to adjust the volume?! Eventually you get used to it though.
The touchpad on each ear bud is actually more of a nuisance than a convenience, for me. I would've preferred physical buttons because at least that way, I wouldn't constantly press pause or change my listening mode by accident.
It's also worth noting that the WF-1000XM3s are not waterproof nor sweatproof, so they're not exactly the most versatile true wireless ear buds in the market, so you might want to avoid hitting the gym with them (but then again the Apple AirPods aren't either and yet you see those at gyms everywhere). 
Okay the build quality of the ear buds are great, it feels premium and sturdy enough without being too intrusive on your ears (as mentioned before, they're rather light). I've not actually dropped them yet but they do feel like they could take a fall or two without any real damage.
I wish the same could be said for the charging case though. While the case feels premium, the copper coloured cap does scratch rather easily, which is a real shame.
How It Sounds
Now, as i've mentioned before, the sound quality on wireless earbuds are always going to be subpar when compared to wires earphones. The Sony WF-1000XM3 however, is probably the best sounding true wireless ear buds on the market right now. The bass is punchy and well balanced, so well balanced in fact that the mids and highs sound clean, without actually having to worry about a lack of bass. Treble is clear and crisp, and songs in general sound like they actually have depth. With a lot of wireless ear buds, you tend to get audio that sounds rather hollow. You don't have that problem with these Sony's.
Sony's controversial decision to remove aptX support in favour of its proprietary DSEE HX engine seems to have paid off. It does a fantastic job rendering clear audio. Seriously, play any genre of music and you'll be pleasantly surprised at just how well it does across genres. One thing I really liked about these earphones especially is the fact that I didn't need to mess around with the EQ for different types of tracks.
If sound quality is the most important factor to you when it comes to buying true wireless ear buds, then the Sony WF1000XM3 is without a doubt the ear buds for you.
What It Offers
The Sony WF-1000XM3 comes jam packed with features. One of it being Google Assistant, which to be honest, I barely use. In fact, i reprogrammed the touch pad on the left bud to alternate between noise cancelling mode, ambient sound , and ambient sound control off. Which leads me to the noise cancelling feature on these things.
The ear buds do a great job at blocking out sound and this is thanks largely to Sony's QN1e noise-canceling chip. I think what's so fantastic about the noise cancelling on these ear buds is not that they're particularly THAT good. They're as good as the noise cancelling capability of the Jabra Elite 65t. It's the fact that you wouldn't really expect it to cancel out environmental noises as well as it does given its size and shape.
In terms of it's ambient sound mode, to be honest, it's not that great. The Jabra Elite 65t's hearthrough technology is better but then again, this is just a small issue.
Another thing the Jabra's do better is call quality. The call quality on these ear buds are good, but the person on the other line can still kind of tell you're using a hands free kit.
Probably one of the most important aspects of true wireless ear buds is the battery life. Sony claims that the WF-1000XM3 can last you up to 6 hours on a single charge with noise cancelling on and 8 hours with noise cancelling turned off. Trust me, you're not going to be listening to music with noise cancelling turned off, so 6 hours is the time we're looking at here. The case on the other hand, can carry up to 3 charges so essentially, you're supposed to get a total of 24 hours of playback time with noise cancelling turned on.
Unfortunately, that wasn't the case for me. I got about 4 and 11 minutes of continuous playback time with noise cancelling turned on. While the battery life may not be as advertised, the 4 hours of playback is made okay by the fact that the case comes with a fast charging feature that gives you an additional 90 minutes of playback with just a 10 minute charge. It really is a life saver.
Price
Who It's For & Final Verdict
I'll get straight to the point. At RM 949, these ear buds are not cheap. For the most part however, you get what you pay for. Of course, we have to take its price into account, so..
Are the WF-1000XM3s good all-round true wireless ear buds? Sort of.
Are they suitable for those with an active lifestyle? Not really (The ear buds don't have an IP rating).
What the WF-1000XM3s really excel at is what it's meant to do, which is to provide you, the listener, with top notch audio quality combined with the mobility of a true wireless design. Easily one of the best sounding true wireless ear buds in the market right now.