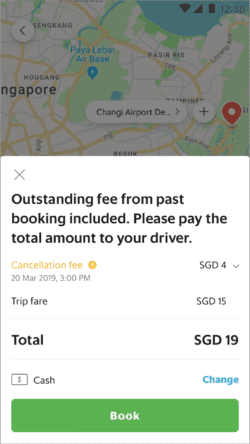 As we talked about when I first covered the story, I was sure this would be a bad idea. Ever since the news broke out, Grab users in Singapore have been up in arms about it. The policy change was supposed to happen on the 11th but has been delayed to the 25th of March. Grab says this wasn't because of the backlash they faced after announcing the change, but rather to get people accustomed to it.
The new cancellation policy will be S$4 (RM 12) for cancelling a Grab car after 5 minutes. There are other contingencies to this policy but that's the gist of it. RM 12 for cancelling a car seems a bit steep. It takes me RM 7 to get to the LRT in the morning. Safe to say I'd be pretty annoyed at getting charged RM 12 if the driver took his own sweet time.
There are too many variables not being taken into account.
What if the driver decides to run the clock and drive around and claim there was a jam or they took a wrong turn. Or if the system malfunctions and charges you the cancellation fee without you even cancelling the Grab. I can see there being a surge in cases of drivers just waiting for Grab users to cancel and getting the money.
While I understand from the driver's side it's inconvenient for them if a passenger decides to cancel. The way this is going about might not fare so well for the ride hailing service. But with no solid competitor after Uber being bought out, we might not have a choice.
No news on the policy being adopted yet in Malaysia, but if it does, you'll know how I'll feel about it.