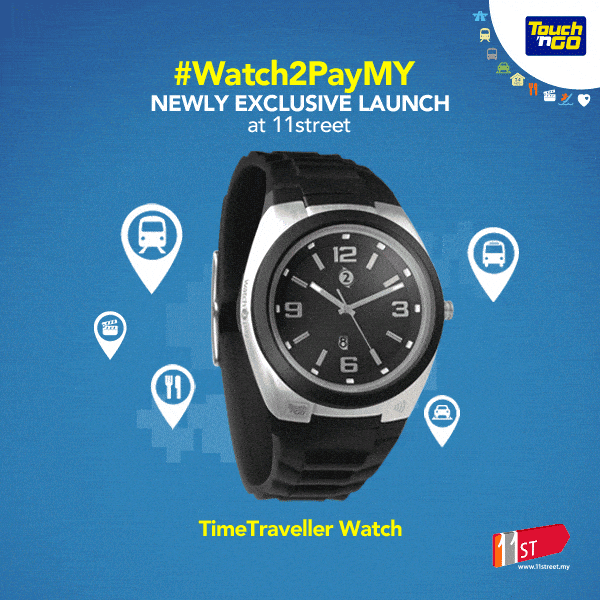 Offering ultra-ordinary functionality, "TimeTraveller Watch" allows users to shop, travel, dine and even stay with just a tap with this revolutionary wearable fashion. With a "watch card" enabled with Touch 'n Go function, users could visit over 2,000 Touch 'n Go merchants' outlets 1 in Malaysia.
Bringing "TimeTraveller Watch" online, Hoseok Kim, Chief Executive Officer of 11street said, "Convenience plays a major role nowadays when it comes to online and in-store shopping, as more people are looking for a hassle-free experience. By providing consumers with the option of purchasing "TimeTraveller Watch" on 11street, they can conveniently place their order for the 2-in- 1 watch, right at their fingertips. This matches 11street's core value perfectly – helping consumers find what they love, at a fraction of the time and price."
"Over the years, Touch 'n Go has been rapidly expanding the usage and touch points by collaborating with most of the giant retail outlets, such as Watsons, Tesco, Mydin, Baskin Robbins and many more….to allow cashless payment services. And now, "TimeTraveller Watch" creates another accessible platform for users to bring Touch 'n Go card out of the car and shop in a more convenient and stylish way. This is Payment Reimaging," said Syahrunizam Samsudin, Chief Executive Officer of Touch 'n Go Sdn Bhd.
The stylish and convenient watch is now on sale with a reasonable RM222 price tag. You can head over to http://www.11street.my for more information.