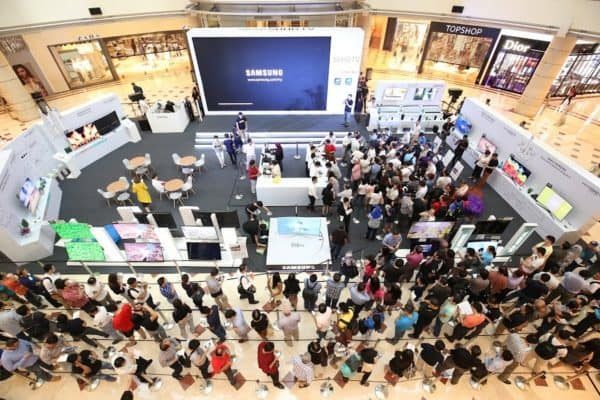 Just within one day of its launching to Malaysians, Samsung Malaysia Electronics transformed the concourse area of Suria KLCC Shopping Centre into an exhibition of the brightest and most stunning displays to date, allowing shoppers and supporters of the brand to personally experience the wonders of the brand's 2016 range of SUHD TVs.
With spectators being met with such a fantastic deal, it comes as no surprise that all 200 units were sold out in less than five minutes after the lanes were officially open for purchase at 10.00am. Excited about this never-before- seen offer, customers started the queue as early as 6.00am just to be one of the lucky 200 to get the new 55-inch 2016 Samsung UHD TV at half price.
"As TV screens get bigger and picture quality improves, expectations for TV picture quality are at an all-time high. This is where we bring you the 2016 Samsung SUHD TV with Quantum dot display. At Samsung Malaysia Electronics, the experience of our consumers and fans are of utmost importance. This roadshow is an opportunity for us to connect with our consumers and to showcase the very best of Samsung's innovation," said Mr Jimmy Tan, Head of Consumer Electronics, Samsung Malaysia Electronics.
For those who missed the fantastic deal, fret not as Samsung is also offering a special roadshow promotion, running from 3 June to 6 June throughout the duration of their roadshow at Suria KLCC Shopping Centre. This four-day roadshow offer is limited to the first 30 customers where a purchase of the 65KS9000 SUHD TV (RRP RM21,999) entitles the buyer to a free RM5,000 travel voucher.