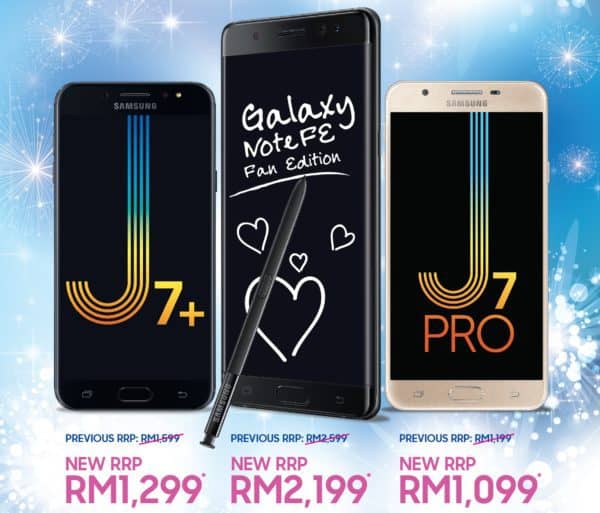 With the new year upon us, Samsung have dropped the pricings to some of its smartphones, particularly the Samsung Galaxy J7 Pro, Galaxy J7+ and the Galaxy Note Fan Edition (FE). Although the price drops for both the Galaxy J7 Pro and J7+ aren't that significant, the Galaxy Note Fan Edition gets a considerable drop.
Both the Galaxy J7 Pro and Galaxy J7+ were priced at RM1,199 and RM1,599 respectively. Now, the Galaxy J7 Pro is priced at RM1,099 while the Galaxy J7+ is retailing at RM1,299. While the Galaxy J7 Pro is running the Exynos 7870 octa-core processor with 3GB of memory and 32GB of internal storage, the Galaxy J7+ features the MediaTek MT6757 with a slightly larger 4GB memory and 32GB of internal storage.
What's great about these two devices is that they both support microSD up to 256GB, giving you greater storage capacity. Of course, both devices carries Samsung's signature Super AMOLED touchscreen in a 5.5-inch display. In terms of camera, the Galaxy J7 Pro features a 13-megapixel rear shooter with f/1.7 while it's secondary front-facing camera is also 13-megapixels with f/1.9. Meanwhile, the Galaxy J7+ carries a dual camera system on its back, featuring a 13-megapixel RGB sensor paired with a 5-megapixel Mono sensor. The front-facing shooter is 16-megapixels with f/1.9 as well. The battery lives on both smartphones are also decent, with the Galaxy J7 Pro carrying a 3,600mAh pack and the J7+ carrying 3,000mAh.
But, the biggest decrease from its original price goes to the Galaxy Note FE. It drops from RM2,599 to RM2,199! Released only a few months ago, the Galaxy Note FE is essentially a refurbished Galaxy Note 7 with a largely improved 3,200mAh battery. Other hardware for the Galaxy Note FE includes the Exynos 8890 octa-core processor with 4GB memory and 64GB of storage. It's display screen is a 5.7-inch Quad HD edge Super AMOLED and features a home button, much like the Galaxy Note 7.
There is only a single camera on its back, a dual pixel 12-megapixel shooter with OIS and f/1.7 aperture while the front shooter is a 5-megapixels with f/1.7. The Galaxy Note FE also features an S Pen, as well as updated security features like iris and fingerprint recognition. Bixby is also available to the Galaxy Note FE as well as an IP68 rating, making it resistant to dust and water.
All three smartphones are now available at its attractive prices and what better way to ring in the new year, than with a new smartphone!