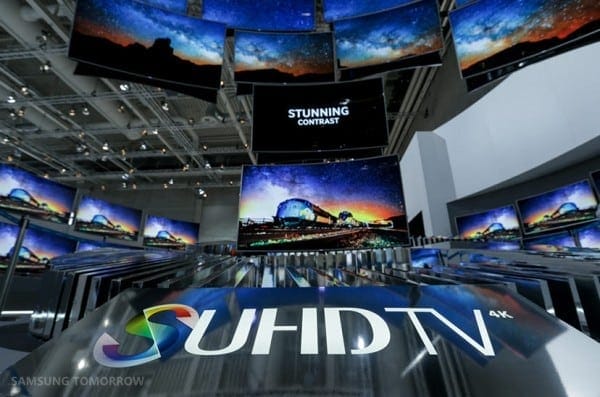 Samsung is expanding the UHD ecosystem by partnering with companies including Gamefly, Amazon, Netflix, Wuaki, Chili, Strefa VoD, Videoland, and Videoload, as well as regional broadcast partners across Europe, including Canal Plus, British Telecom and HD+, to deliver UHD content to its global consumer base.
The partnership with these entertainment streaming aggregators will soon bring major games and also  TV programs and movies in ultra high definition to Samsung TV's. At IFA Samung launched 28 types of TVs, ranging from 32 inches to 105 inches, Samsung can now boast it has the right TV for every home, from the smallest apartment to the biggest home. The curved screens of the latest UHD and SUHD TVs were also in display.
With UHD and SUHD TVs offering four times the resolution of traditional HD TVs, people are going to need content at that resolution, too, which is why Samsung is working with the UHD Alliance to create standards for the industry—and they say final certification is nearly ready. In the meantime, Samsung also announced Gamefly, a streaming service that offers the latest and hottest games in UHD, as well as agreements with many partners to offer movies, TV shows and other content in the stunning, UHD format.
Samsung also has partnered with Gamefly to launch Gamefly Streaming – a subscription service that brings the favorite games into peoples' living rooms – without the need for consoles, cables or discs. Gamefly works by streaming popular titles over the Internet, with games including Batman: Arkham Origins, Lego Batman 3, GRID 2 and HITMAN Absolution which are all available directly on Samsung Smart TVs.