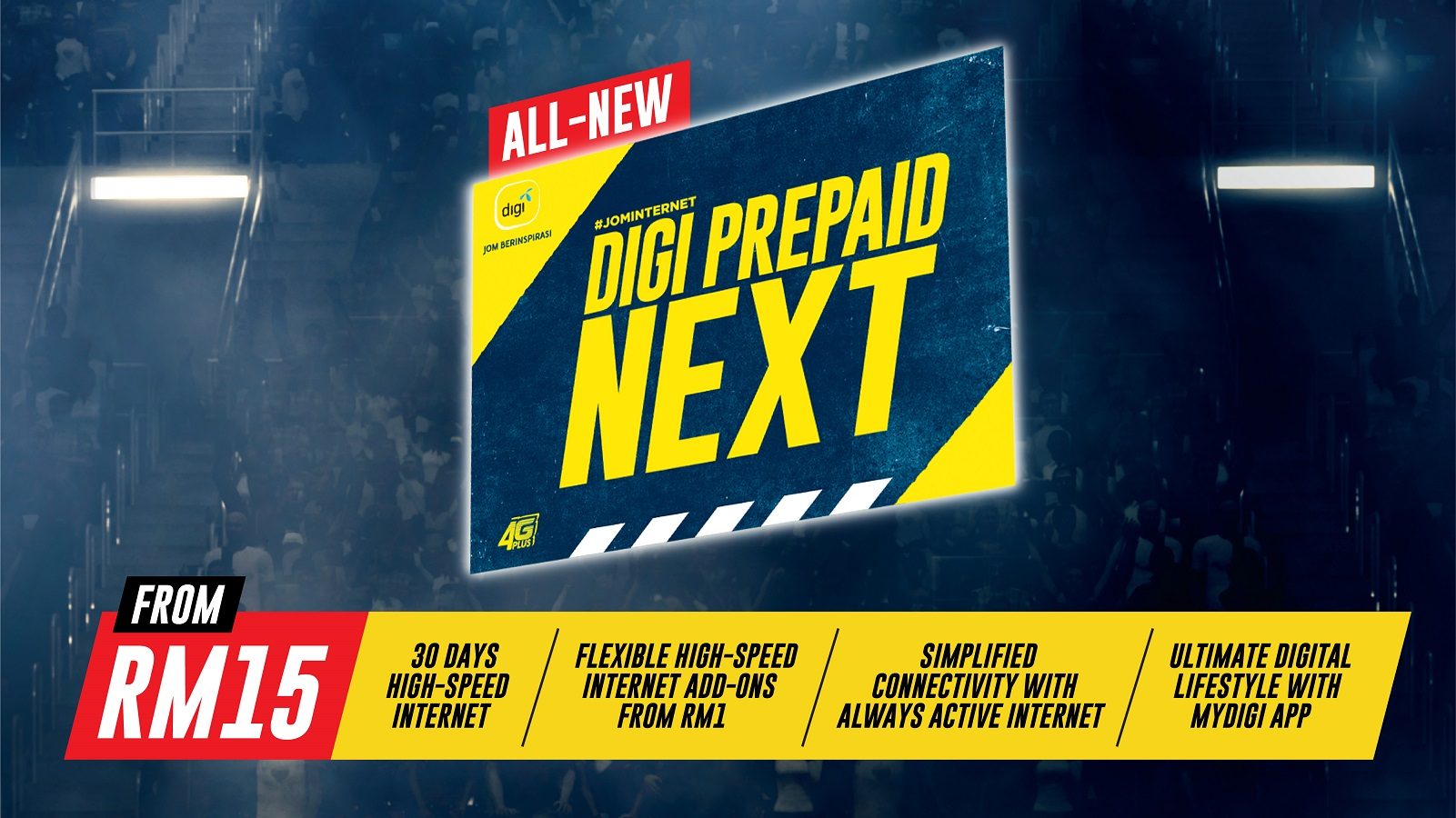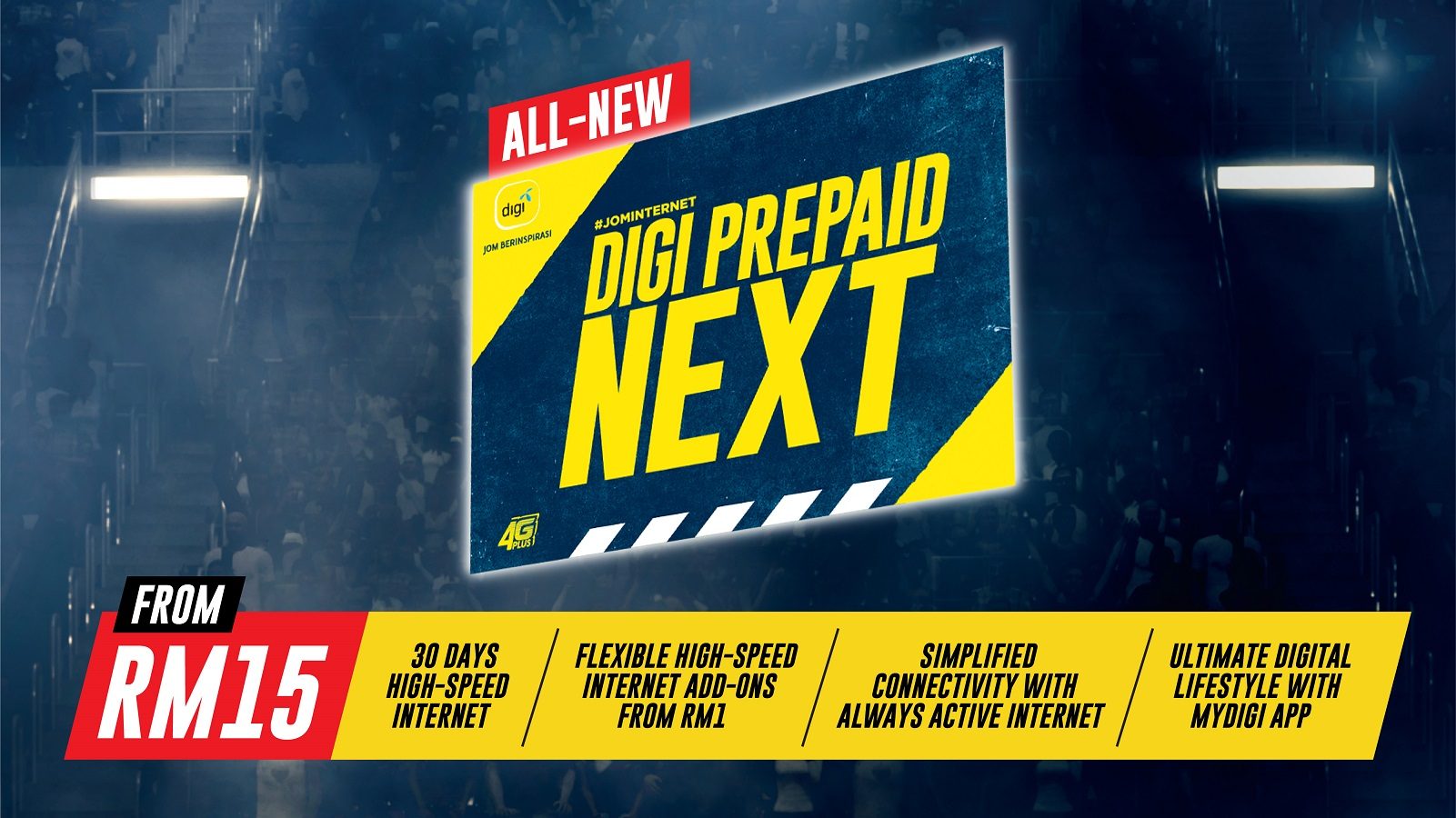 U Mobile's days of being the undisputed king of unlimited prepaid plans may just be over. The unlimited prepaid segment has pretty much been the telcos strongest plus point, up until about two weeks ago that is.
Maxis and Celcom's announcement of their own unlimited prepaid data plans blew the race wide open and with both those telco's arguably offering better coverage, Malaysians were spoilt for choice. Of course, U Mobile responded in probably the best manner they could but the big question on everyones mind was where on earth was Digi?
Well, it seems like we finally have our answer.
Digi today finally introduced it's entry into the unlimited prepaid race with its all new Digi Prepaid NEXT, which according to them, is the only prepaid starter pack in the market preloaded with a 30-day high-speed internet plan starting from RM15. That's freakin right! RM15 for a month's subscription to high-speed internet. Perhaps Digi were just saving the best for last, eh?
The principle is easy: for the price of RM15, you can enjoy 30 days of high-speed internet that keeps your line active for the same 30 days. You need only pay the same price of RM15 to renew the high-speed internet plan monthly. If you want more internet in the month, high speed internet add-ons can be purchased from RM1.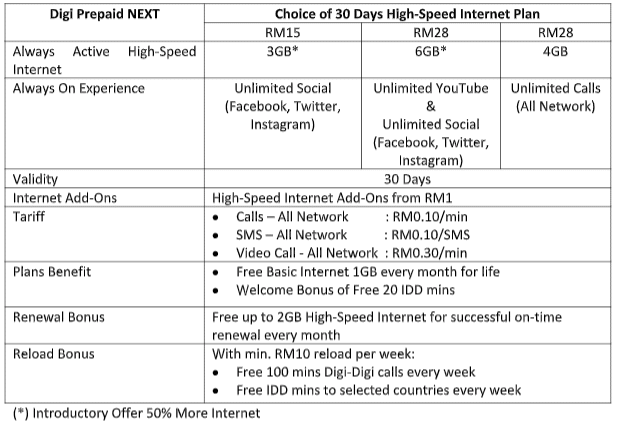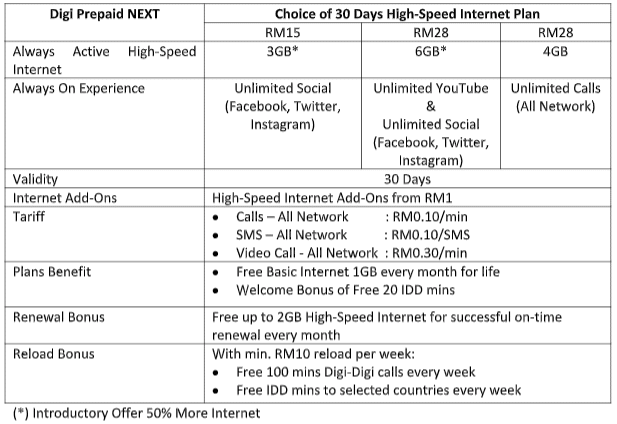 Digi's Prepaid NEXT plan actually offers users the choice between three really wallet friendly options. So if you don't need the free calls, then you can opt for either the RM15 or the RM28 option. If you're the type who for some strange reason still makes phone calls, then the RM28 4GB option is the plan for you!
As you can see you see, there are a bunch of add on's for you to choose from as well. Now while all that is great and all, it's worth noting that the RM15 for 3GB and RM28 for 6GB options are merely introductory offers, with the plans originally giving 2GB and 4GB respectively.
We reached out Digi to find out when exactly this introductory offer ends, but according to them, there's no end date for now.
What do you guys think of Digi's new plan? Let us know in the comments.
Digi's Chief Marketing Officer, Loh Keh Jiat said, "We are introducing this simple, innovative solution
at a time where we understand customers are prioritising their spend while balancing their need to
consistently stay connected. This all-in-one pack gives our customers a lot more value and flexibility
in the form of affordable high-speed internet plans that control line validity with a single reload, and
access to a truckload of benefits from high speed add-ons, easy payments to a variety of rewards
and deals with MyDigi. The entire solution is convenient from the start, and this will give customers
the freedom to focus on the things that matter to them during this time."
2 in 1 pack that offers great value and a simplified connectivity experience
Digi Prepaid NEXT comes with a few 30-day high-speed internet plans customised for different
customers' internet access, social media and call usage preferences. Available from RM15, these
plans are bundled with either high-speed internet plans or unlimited calls with internet plans.
To keep the line active for a subsequent 30 days, customers will only need to renew their high-speed
internet plan by paying the same price as their starter pack or can opt to upgrade to any of the other
plans to suit their needs at that point of time. Renewals are a rewarding experience, offering great
value to customers with perks such as loyalty bonuses starting from 500MB up to 2GB, growing the
longer you stay and renew with Digi.
One stop gateway for the ultimate digital experience
Powered by the MyDigi app, Digi Prepaid NEXT customers will have full access to a wide range of
benefits on the app to power their digital lifestyles. Benefits include having full control of reloads
and subscriptions at their fingertips, to personalised internet offers via the Box of Surprise, access to
more rewards and deals from all your favourite brands on MyDigi Rewards, Republic GG gaming
credits, and much, much more.