In terms of gaming hardware, there are only that handful of renowned brands. New boy, COUGAR, seeks to rock the boat with the new releases of its latest gaming peripherals – the 600M Gaming Mouse and 700K Gaming Keyboard.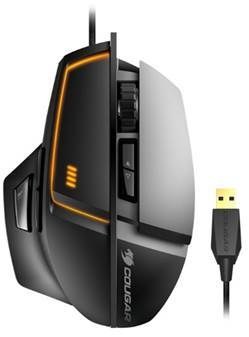 The 600M is COUGAR's second attempt at a gaming mouse after the success of the 700M. Designed to offer gamers a state-of-the-art gaming experience, it comes packing with the latest technology that do not call out for any compromise in aesthetic features.  The mouse is made mainly to suit gamers that favour the claw grip.
Premium components on the 600M include OMRON switches, ADNS-9800 Sensor, and a premium quality soft touch surface. Powering this mouse is a 32-bit ARM processor that is paired with 512kB on-board memory. The mouse can store up to a maximum of 3 profiles. Extra features thrown in are eight fully configurable buttons, a 45-degrees sniper button, and finely tuned high-precision scroll wheel.
The COUGAR 600M will be made available nearing the end of 2014.
As for the COUGAR 700K, it is a straight up aluminium gaming keyboard. Being a recipient of the inaugural 2014 iF International Design Award, it is made to be a premium mechanical gaming keyboard that is specifically aimed at Massive Multiplayer Online (MMO) gamers. The unique design of the 700K pulls its inspiration from stealth warship technology and selected geometrical shapes.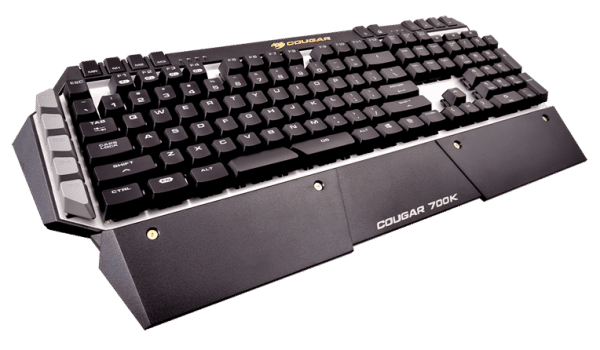 The mechanical keys (German Cherry MX switches) used are mounted on an exposed aluminium structure with premium anodised surface treatments and a plastic frame that wraps the bottom to create a stylish, sturdy, and durable device. Wrist support points are also available for the keyboard, giving users a faster, more precise and comfortable keyboard experience.
Thrumming within is a 32-bit ARM processor and enough memory to store three user profiles. Additional features include full LED backlights, N-key rollover, 1000Hz polling rate, six programmable G-keys, and an FPS magnetic soft touch palm rest that provides ergonomic support for WASD key controls.
Users can customise the 600M and 700K with the COURGAR UIX System and COUGAR FUSION. Local availability and pricing is not known as yet