Cooler Master are launching the brand new MasterBox K500L. It is the latest case in the MasterBox K-Series lineup of computer cases. The Cooler Master MasterBox K500L comes with illuminated accents, fine mesh, and red lighting, emphasising gaming while staying in budget.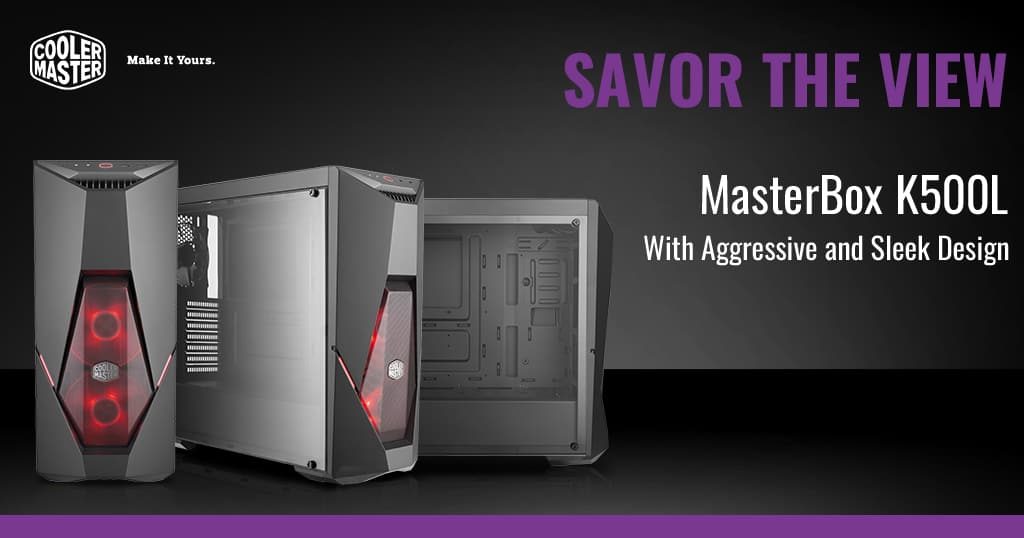 The Cooler Master MasterBox K500L has a mesh front panel with 400mm of graphics card space as well as support for six 120mm fans. There's also front and rear water cooling support with plenty of room for performance gaming components. These versatile cooling options means you never need to compromise performance when the heat rises.
The two lighted accents on each side of the mesh add to the aesthetics of the red LED fans and power button. This makes your rig stand out in a sea of plain black office towers. The mesh panel also provides ventilation, giving the internals better thermal performance. A PSU cover and 19mm width space behind the mainboard tray gives you plenty of cable management options to keep your build nice and clean too.
The Cooler Master MasterBox K500L is first in a lineup featuring 3D mesh shaped to match the front panel and change lighting depending on the angle. Cooler Master developed a finer, single layer mesh to achieve this. Before this new mesh, dust filters had an aesthetics-only layer with another layer to filter dust. The Cooler Master MasterBox K500L integrates both layers into one, providing finer mesh construction. Filtered ventilation below the I/O complement the thermal performance of the case.
Cooler Master's new case if out now, and is priced at RM239. For more information on the Cooler Master MasterBox K500L, you can click here.