Disappointed but are we surprised, though? WhatsApp who claimed that the security of its users are taken for priority surely did not live up to that responsibility. It has been recently reported that the users' data are once again outed to the public to see.
Last year, an issue like this has occurred and while it seems like WhatsApp didn't take lesson for it, it happened again. Basically, your phone numbers and the chats can be read simply by Googling it.
As scary as it may seems… Yes it is scary as it seems. Let's recap to what has happened last year.
In June last year, you could just Google the phone number via WhatsApp wa.me domain. Such a thing happened this year only for that it can be done via the web.whatsapp.com domain instead. This was found out by security researcher Rajshekhar Rajaharia who then shared it on Twitter.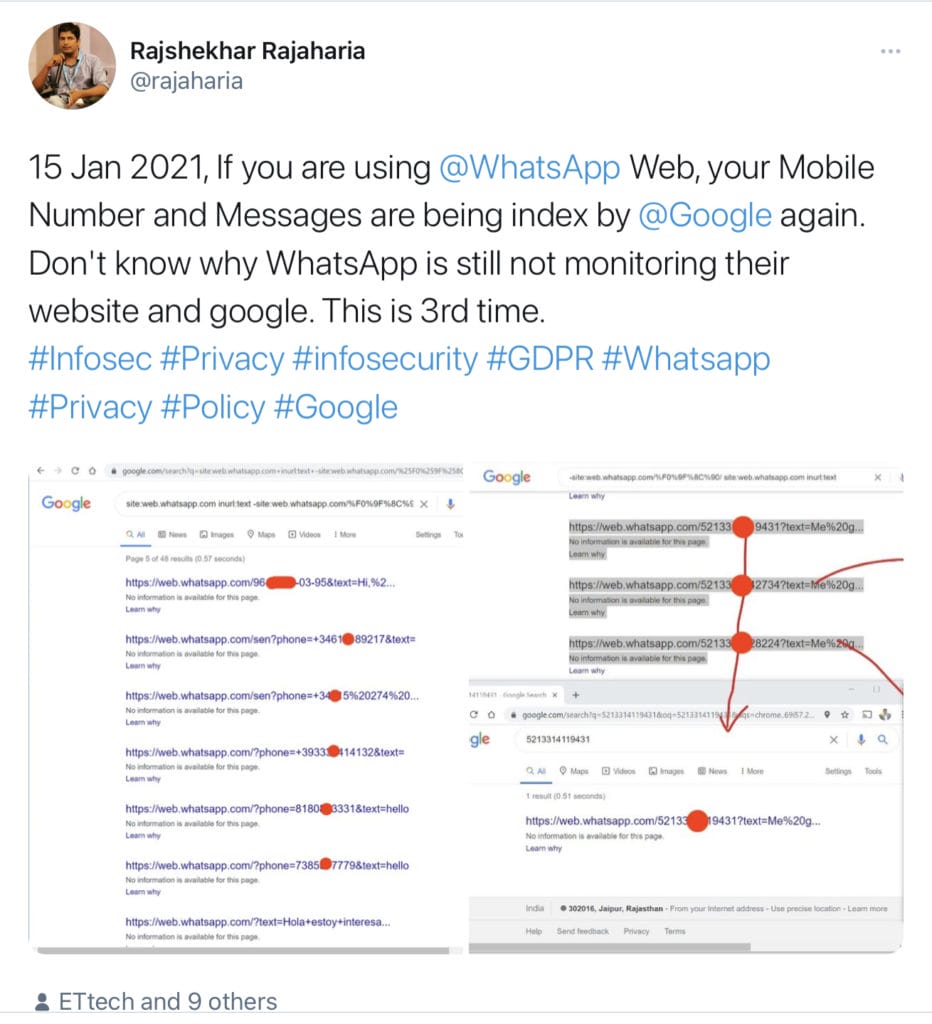 Rajaharia also mentioned that WhatsApp has a text file that should be stopping Google from indexing the websites. The file is named "Robots.txt." and apparently, the file is not working the way it should be as the data has been breached.
"Since March 2020, WhatsApp has included the "noindex" tag on all deep link pages which, according to Google, will exclude them from indexing. We have given our feedback to Google to not index these chats. As a reminder, whenever someone joins a group, everyone in that group receives a notice and the admin can revoke or change the group invite link at any time.
Like all content that is shared in searchable, public channels, invite links that are posted publicly on the internet can be found by other WhatsApp users. Links that users wish to share privately with people they know and trust should not be posted on a publicly accessible website." – WhatsApp Spokesperson
A source also reporting that WhatsApp has another website which apparently generates verification codes which allowing you to generate your own verification code. Imagine how bad it can goes as it paired with searchable phone numbers? Surely it can't do much but scamming will be slightly more convenient.
In case this confidential data breach scares you, there are always choices for you to pick, assuming you change your mind to another messaging apps, Telegram and Signal could be the best choice. 
All the allegations over WhatsApp have gained a surge in terms of downloads for Signal. Don't forget to check on our previous articles on comparing WhatsApp and Telegram. Hopefully it will give you different insights on both of the applications.
Privacy is very much needed to someone hence the act of this breach is totally unacceptable. As a key player, hopefully WhatsApp will find a way to fix this issue. But seriously, aren't we shocked though?