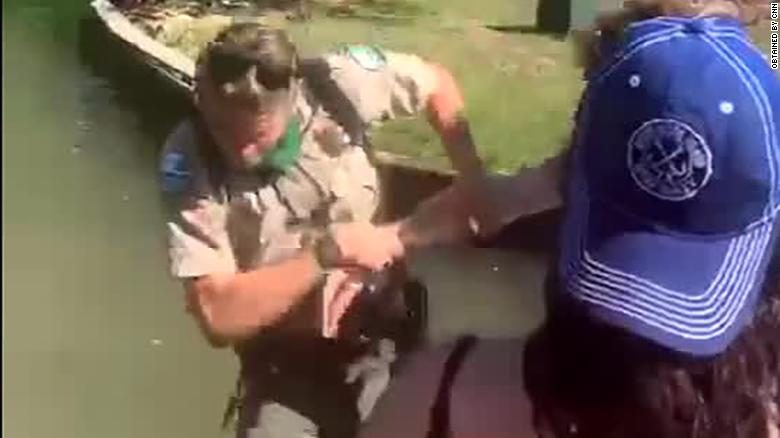 As the world adjusts to this new normal, front liners have been working tirelessly during the Covid-19 pandemic whilst most of us stayed at home. For the most part, their hard work has generally been met with a sense of respect and adoration. Unfortunately however, it looks like not everyone shares the sentiment.
A video that's gone viral shows a park ranger in Commons Ford Ranch Metro Park, Texas being shoved into a lake while he was explaining to a crowd the need for social distancing. The man who pushed the park ranger, Brandon Hicks, 25, faces a charge of attempted assault on a public servant.
A park ranger was pushed into a lake in Austin for trying to enforce distancing requirements.

These thugs need to respect authority. We need law and order back in America. Blue Lives Matter. And when is Trump going to stop this white-on-white crime?pic.twitter.com/ts2zU474fr

— Keith Boykin (@keithboykin) May 5, 2020
The ranger, Cassidy Stillwell, was talking to a crowd of people who had been "unlawfully drinking and smoking," on a dock near Lake Austin. In the video, Stillwell can be heard telling the crowd to disperse because they were not maintaining the recommended social distancing distance of six feet.
While some responded by saying "Will do" and "I got you, man", the ranger was then interrupted by Hicks seemingly appearing out of nowhere to push him into the shallow, murky lake water. The only consolation here is that the ranger managed to hold on to Hicks arm and pulls him in as well.
According to Hicks lawyer, Mark Hull, his client "is embarrassed about his actions and has the utmost respect for law enforcement, particularly during these unprecedented times."
It's sad to see the utter disrespect for the people who are just trying to keep us all safe. It's not like the park ranger was being rude or anything. It's videos like this that give people the impression that something in our society is broken. Here's to hoping he's punished appropriately.