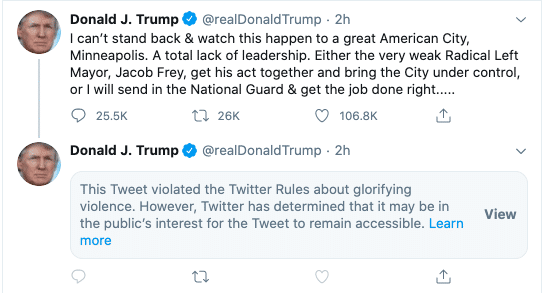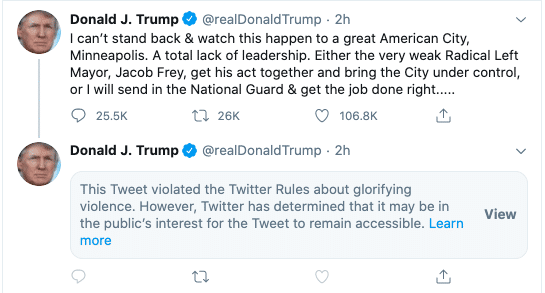 "When the looting starts, the shooting starts. Thank you!"
Donald Trump is spiralling out of control and in the worst way possible. After throwing a tantrum because Twitter put a fake news label on his tweets, the president put money where his mouth is by actually drafting up an executive order targeting social media platforms such as Twitter and Facebook that is removes some of the legal protections given to social media platforms.
In light of the police murder of George Floyd, riots have broken out across America and Donald Trump has taken to Twitter to do what he does best: Politicise it. The president called out Minneapolis mayor Jacob Frey, calling him very weak and radical left and urging him to get his city under control before threatening to call the national guard.
But he wasn't done just yet. In his subsequent tweet, he made it known that the military is available for use and ended the tweet by threatening to shoot those who are causing chaos. If you've ever needed anymore proof that a petulant child is running America, you're looking right at it.
https://twitter.com/realDonaldTrump/status/1266231100780744704
As entitled as he is to his opinions, a world leader should not be promoting violence and especially not on a platform such as Twitter. And Twitter shares this sentiment. The micro blogging site has since hid Trump's tweet behind a notice that they incite violence and go against Twitter's rules about violence.
He's yet to respond but I assure you, he's not going to be happy about it. My money is on another rant.