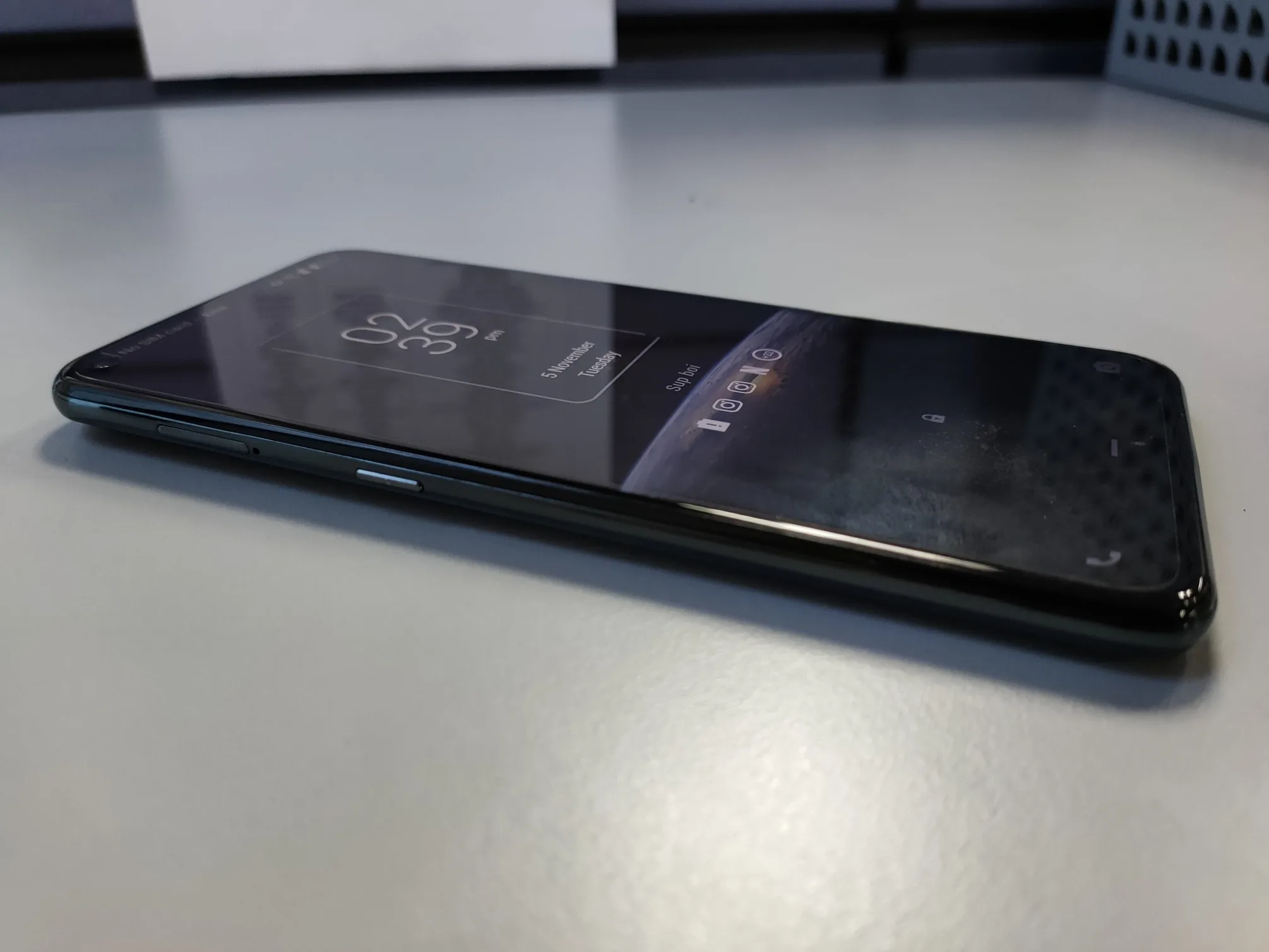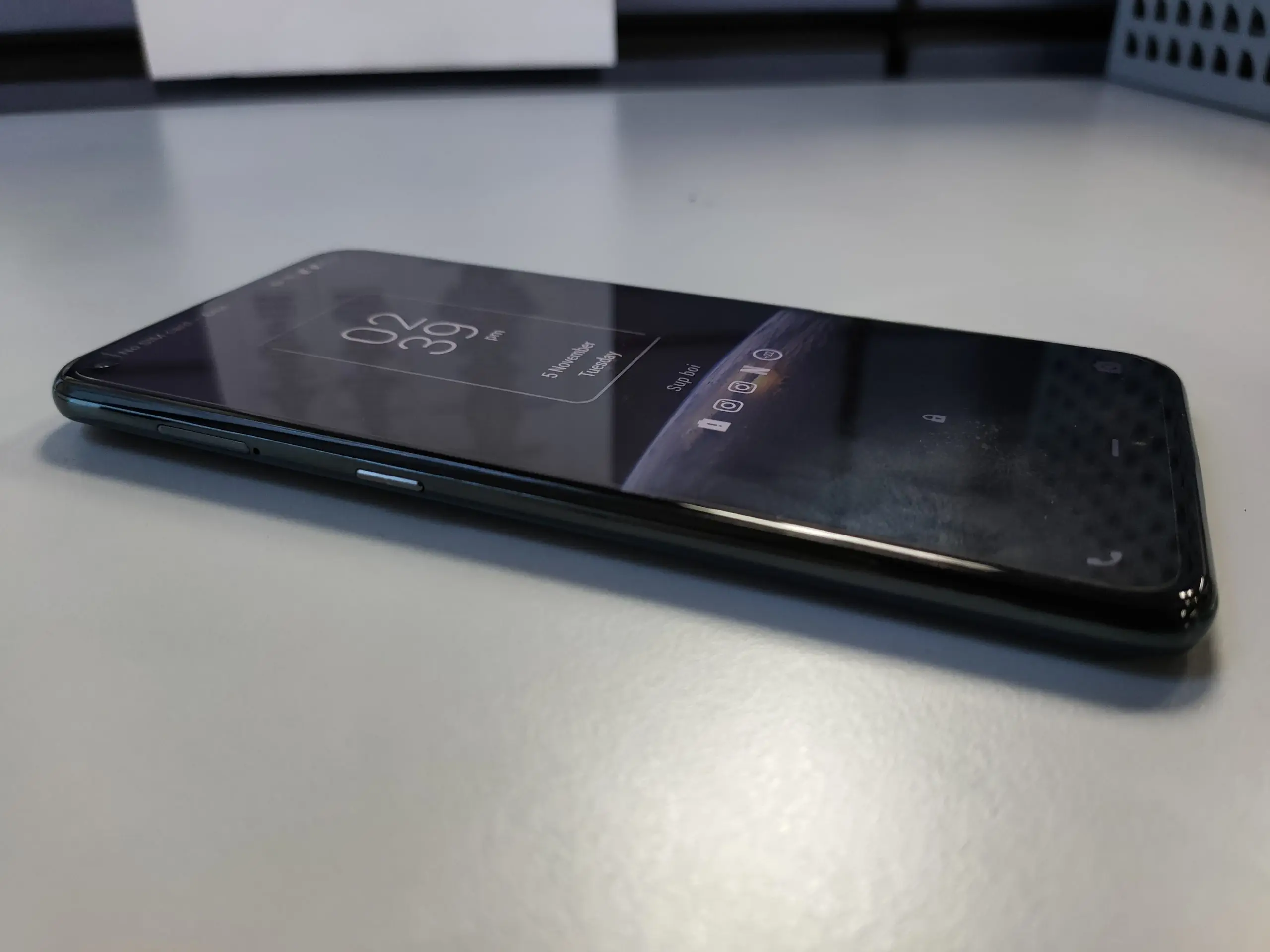 TCL is more widely known for the T.Vs and displays and other electronic gadgets. But most notably, their T.Vs. With that, they're now going into the smartphone market, and are expanding their operations with their first smart phone, the Plex.
And they say they've brought their expertise from the displays and sound and implemented it into their phones. That still remains to be seen, but with that being said let's get straight into the review of the TCL Plex!
Design & Aesthetics; Sturdily Built, But Kinda Weird
In terms of build quality, safe to say I was impressed. This didn't feel like a phone that cost RM 1399. It felt more premium than I thought it'd be as it has a glass back, a heft to it, and and overall aesthetically pleasing design. The only thing I didn't like too much about it's design at a glance, was the triple rear camera on the back. It was just.. weird? It looked like that alien from Toy Story. I mean, look for yourself!
But enough of that. The phone features a 6.53″ LCD 'Dotch' display, which is essentially a pin drop display, with the front camera to the top left side of the phone. The display has a 90% screen-to-body ratio, along with a 19:5:9 aspect ratio. And to be honest, it really is a good looking display. Colours were sharp and vibrant, content looked good, be it gaming, or video streaming, and overall, I enjoyed it. The fact it has the 'dotch' display makes it better for me, because I do like form factor in comparison to big notches. The only thing that beats it in terms of uniformity, is a pop up camera, but that's a whole different ball game.
The Plex has 162.2 x 76.56 x 8.06mm dimensions, and weighs 192 grams. It's not bad, but not entirely great either. I found my hand cramping up sometimes when I was reaching across the screen, so keep that in mind. With all that in mind, I actually kinda like the design, screen, and overall look of the TCL Plex. Except for that awful looking back design, that I really just can't get over. It really just looks too 'out of this world' to me. Haha, get it?..
Performance; It's The Little Things That Count
The TCL Plex has some pretty common sense features built in that makes it stand out from the rest. Stuff like the fingerprint sensor on the back, where you can set different fingers to unlock to different apps on your phone. I mean, that's kind of genius if you think about it. It adds another layer of complexity to unlocking your phone though, such as remembering which finger opens what, but you'll get used to it.
There's a cool little animation with the clock when you wake your screen, making it look all the more unique. Like OnePlus, you can also swipe down on the fingerprint sensor on the back to pull down the notification bar, and just stuff like that. It shows that thought was put into the the user experience, and I appreciate that.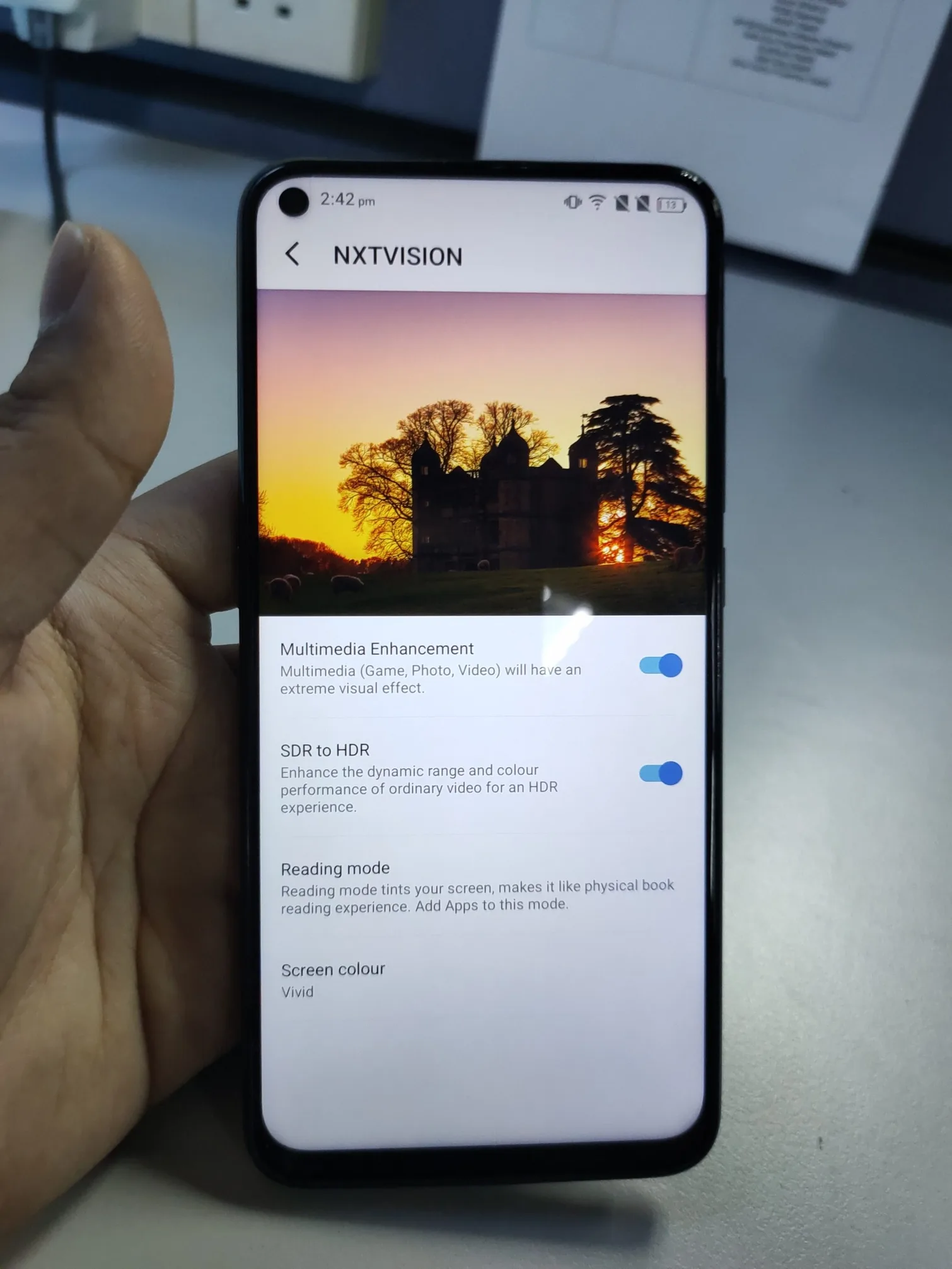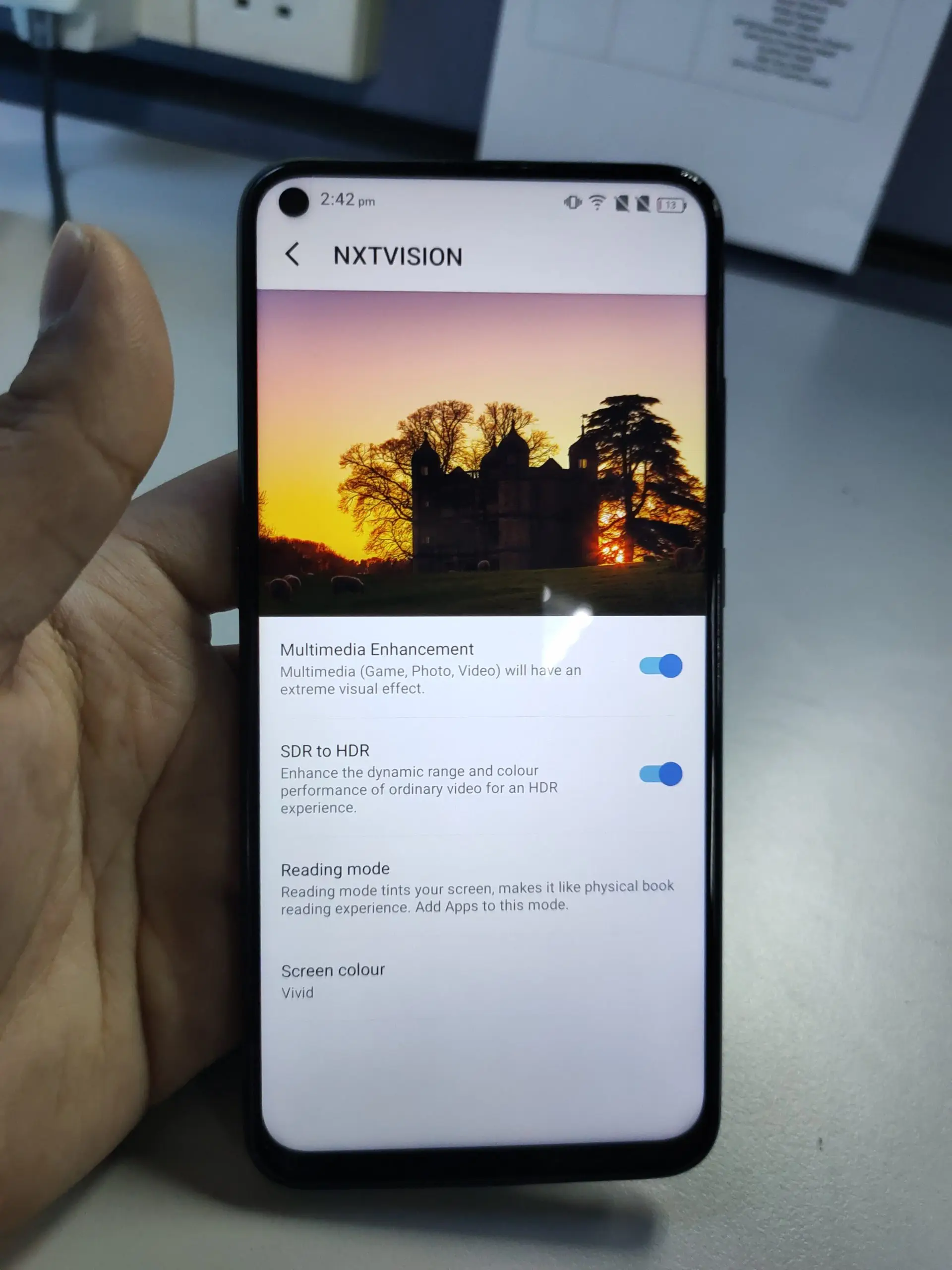 Another thing that's unique to this phone, is that it technically upscales content. That means, it converts to the best of it's capability, SDR video to HDR, among other things. You can change these settings in the NXTVISION settings, and it's pretty cool. You can also turn on 'Multimedia Enhancement', which makes visuals in photos, videos, and games better.
Their UI isn't all that bad either, as it's using the TCL UI, which is based on Android Pie. It's not bad, it's clean, not as cluttered as many other OSes out there (looking at you OPPO), so I was pretty happy with that. It did have some bloatware pre-installed, but I didn't mind too much.
Besides that, it ran relatively smoothly. It comes with a Qualcomm SDM675 Snapdragon 675 Octa-core processor, with 6GB of RAM. There's also a 3820 mAh battery, which is capable of 18W fast charging, and I didn't really have much issues with the battery. It was a pretty good battery, and I consistently got a whole day of use before having to charge up.
Check out the benchmarks below;
The similarly specced and priced Vivo V17 Pro scored just a bit higher than the TCL Plex, which was sort of surprising, but not entirely. Either way, this is a good performing first entry in the smartphone market, so I can't really talk much bad about it.
Camera; A Good Camera For Their First
The camera actually kind of surprised me, as being a very capable shooter. When I first got my hands on it, I didn't expect much being their first foray into the smartphone game. But credit where credit is due, the Plex can be your main shooter, if you wanted . The TCL Plex comes with a triple camera setup of 48MP AI Camera+16MP ultra-wide lens+2MP low light camera. They're okay, but when you take into account the price, they're good. That's the beauty of smartphones these days, even the cheaper 'budget' devices will have some pretty good specs. On the front, you've got a 24MP selfie camera, which I wasn't too hyped about. It was okay, and came with the standard beauty modes, which I'm not really a fan of.
On the other hand, the rear cameras are also capable of 960 fps video recording, which an interesting choice when they were considering what cameras to put into the phone. But I'm assuming it's because of the emphasis on the display and entertainment value. They're assuming you're going to be recording stuff on it, so might as well do some fancy stuff at the same time, and check it out on your nice display.
Final Thoughts
Considering the RM 1199 price point, I can't really fault the TCL Plex on much really. I enjoyed using the phone, and its faults (which I didn't have much to begin with) didn't matter as much to me. The display was really great, the audio was good, the cameras were alright and it had subtle features implemented in the UI and software that made things easy to use. Certain shortcuts and integrations that I hadn't seen anywhere else, came from this brands first foray into their own smartphone brand.
And not gonna lie, I was impressed TCL, I was impressed. Hopefully, we see some more, innovative stuff coming out from them in the smartphone market. Because there's no such thing as too many smartphone brands, are there?