Sony Electronics announced the launch of their new Full HD 3D home theater projector, the VPL-HW45ES, delivering superior picture quality with vibrant images for a remarkable viewing experience. The new VPL-HW45ES is equipped with the latest innovative technologies and features that enhance users' home theater experience and creates a flexible installation for dealers.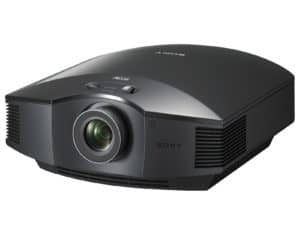 The new compact VPL-HW45ES projector incorporates Sony's praised SXRDTMpanels and advanced Reality Creation technology. These technologies offer fabulously detailed Full HD images, with improved brightness, contrast and resolution from its predecessor, the VPL-HW40ES. Viewers will notice the difference with Sony's Super Resolution processing that redefines subtle details, colors and textures, including those affected by compression, taking them a step closer to the 1080p original source.
"Sony is committed to creating the highest quality projectors," said Sunil Nayyar, Director of Product Marketing, TV and Projectors, North America. "Sony's VPL-HW45ES Full HD 3D home theater projector delivers crisp images and a stunning display with the advanced SXRD panels and acclaimed Reality Creation technology. With the compact design and forward facing quiet fan, this projector will be the perfect addition to any living room and give flexibility to the installer."
The projector, equipped with a built-in RF 3D transmitter, automatically recognises 2D or 3D content and offers a choice of picture modes to suit any content. With manual zoom and wide lens shift range, the VPL-HW45ES gives greater installation flexibility in any room size.