Value: 7/10
Features: 8.5/10
Performance: 8/10
Design:8.5/10
Usability: 7/10
Total Score: 7.8/10
Verdict:A convenient companion for your Apple devices.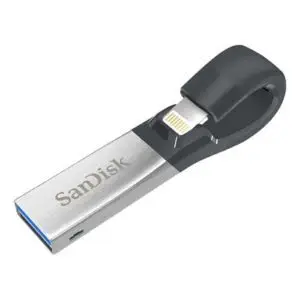 When I'm going about my day, I would prefer not to have a big chunk of hardware hanging off my device, just to increase the size of my storage. Designed to avoid such situations, the SanDisk iXpand is an ultra-portable flashdrive that is especially designed for iPhones and iPads. The unique clip-on design makes it almost invisible – you'd have to look hard to notice that there is an accessory attached to the device.
App Feature
I like the fact that SanDisk has revampedits app. Its iXpand Drive app assists in managing your storage and can act as a media player.There was a little struggle as to when I first tried to load the app. The load time was unusually long, but after closing it and reopening the app again, it was working fine. The app also allows you to utilise the fingerprint security if your Apple device has the built-in fingerprint scanner.
The app allows users to a range of Windows video format to be played on your Apple device. Though at this point of time, certain sound encoding such as AC3 is not supported. You may end up playing movies within the app without sound. I have no idea if there will be an update to address this issue or not.
Small but Speedy
This flash drive may look small and tiny; its performance is anything but. Even for its largest size of 128GB, I feel it is fast enough for reading and writing such as size.