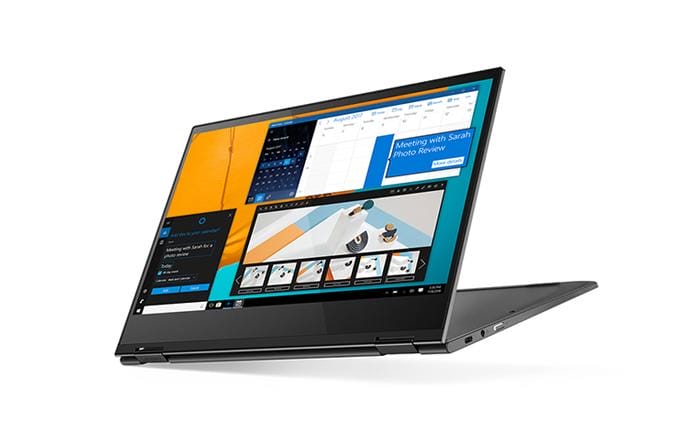 Intel is taking a backseat on this one, a true mobility notebook that runs on a mobile first chipset the Qulacomm Snapdragon 850 Mobile compute platform. The Lenovo Yoga C630 WOS (Windows on Snapdragon) will be connected 24/7 and does not need mobile hotspot or wifi once offline because this baby can connect to operator network directly.
The 2-in-1 convertible Lenovo Yoga runs on Windows 10 operating system has battery that can last up to 25+ hours and comes with integrated Gigabit LTE connectivity mainly due to the incorporation of the X20 LTE modem.  This modem supports download speeds of up to 1.2Gbps and upload speeds of up to 150Mbps.
Built in storage of 256GB should suffice any mobile warrior, and the light weight factor plays along nicely with the whole theme, weighing in at just 1.2kg however falls short of Acer's newly announced Swift 5 which comes in at 990 grams but that should not deter much. The slim profile of just 0.49 inches is worth paying attention which means you can slip into your stylish courier bag easily. As for display the 13.3-inch, wide-angle FHD IPS touchscreen and slim bezel gives more viewing angle on the C630 than what you get on a MacBook Air, means more of that movie you like to watch.
We are likely to see more manufacturers opting for Snapdragon for their slim form factor notebooks that can support mobile connectivity yet have the performance to run full Windows spreadsheet. With a data only plan the average notebook can turn into an always connected power machine. Maybe now Windows App Store will have an increase interest from developers who only focused on Android and iOS!