Curved monitors have been coming in one after another, which is great for us since we get to test it first. This time around, we've gotten our hands on the Acer XR341CK that is also a 34-inch 21:9 aspect ratio curved monitor. In this review, I'll mention what Acer has done differently compared to some of the other curved monitors, and how it performs.
Barebones
At first glance, the Acer XR341CK looks very bare to me. The stand is made of solid metal for stability, with two thin grey feet flaring out from the 'spine' to form the base, making it look like a bird's skeletal talon. Encasing the stand is a plastic housing that contains the height adjustment mechanism, with an adjustment range of about 10cm. As for the monitor's main body, it's made mostly with plastic, from the tacky looking back cover that seems to be mimicking a pyramid, to the bezels and even the screen. By using plastic for most of the monitor body, Acer was able to keep the XR341CK's weight low.
Screen Real Estate
What this monitor lacks in looks, it makes up with functionality. At the back, you'll find a number of USB 3.0 ports and plenty of display outputs (see specs for full list). That means you can connect up to five different devices to the monitor, or daisy chain it with another five monitors for a multiple monitor setup. When it's not on, the monitor looks like it has minimal bezel, but it does in fact have a regular one, just not physical. That's a bit disappointing, because when users inevitably go for that multi-monitor setup, they're going to see a lot of blank spaces in between the screens. Finally, the monitor's main body has a fun gimmick – LED lights at the bottom. You can use the OSD to customise the lights, like giving it that breathing effect. It's good for a light show if you like gaming with the lights off.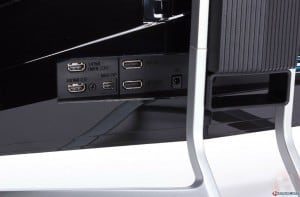 Limited Adjustments
As mentioned earlier, the XR341CK has height adjustment so users won't have to hunch over to see the screen. This helps users maintain good body posture for more comfortable viewing. Besides height, the only other option it has tilting for a maximum of 35-degrees upward. However, I never tilt my monitors if its height can be modified, so personally I don't see a use for it. There's no swivelling nor pivoting available, since a pivoting a screen of this size won't be feasible (lack of clearance from due to height).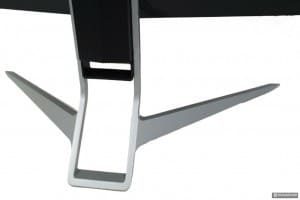 Where's the curve?
While called a curved monitor, it can be hard to tell that the Acer XR341CK is one at all, even when seen up close. The model's curve is so subtle that I almost thought it was a regular flat screen, but when you look at it from the side you'll know for sure it is in fact curved. I believe that its degree of curve contoured to my eye's natural viewing angle (or maybe it's because I wear glasses), making me think it's flat; an interesting phenomena if nothing else.
For Gamers
Though the monitor has this weird issue where the extreme edges distort slightly – due to the screen itself or the viewing angle at the time, I'm not sure – but overall I was satisfied with its performance.
Targeted at gamers, this monitor is great for games. It not only has a high refresh rate (75Hz), but also has very high resolution, so you can enjoy games in greater detail. Also, it has FreeSync, which prevents tearing and lowers input lag, very useful if you run multiple monitors. Lastly, there's profiled OSD settings so you can switch around. You can have one profile with blue-light filter and lowered brightness for reading (affects refresh rate), then hit a single button to turn into game mode so that you get the full 75Hz back. This can be handy for those who want to use it for general browsing or reading as well.
Great Option for Now
Acer has done well with its version of curved monitor. While it may not be the crazy above 100 Hz monitors that many gamers deem the best, it's still great for games and even consoles since it has a set of built-in speakers and 3.5mm audio jack if you prefer headphones. When you consider its price of RM 3,699, slightly cheaper compared to other curved monitors, the Acer XR341CK might not be a bad option at all.
Specs
Screen Size: 34-inch
Type: In-Plane Switching
Native Resolution: 3440 x 1440
Aspet Ratio: 21:9
Brightness: 300 cd/m²
Contrast Ratio: 100 million : 1 (Dynamic Contrast)
Response Time: 4ms
Refresh Rate: 75Hz
Ports: 4x USB 3.0, 1x USB 3.0 Hub, 1x audio jack, 2x HDMI, 2x DisplayPort, 1x Mini DisplayPort, 1x DC output, 1x Kensington lock
Byline: Matthew Yap