Hitachi, Ltd. has disclosed the development of the Hitachi Electronic Signature Service, which implements secure electronic contracts based on blockchain (distributed ledger) technology.
The service digitised the signatures and seals of paper documents like contracts exchanged between companies, and promoted the elimination of personal seals. The use of blockchain assures the genuineness of signature information and improves resistance to data tampering. It also provides stable system operation by using the Hitachi Blockchain Service for Hyperledger Fabric for its blockchain platform.
The Hitachi Blockchain Service for Hyperledger Fabric is suitable for transactions between multiple corporations and has also been used for traceability systems in inter-company supply chains. It will bestow the establishment of a new sustainable way of working in the age of the New Normal with supporting remote working, operational efficiency and cost reduction.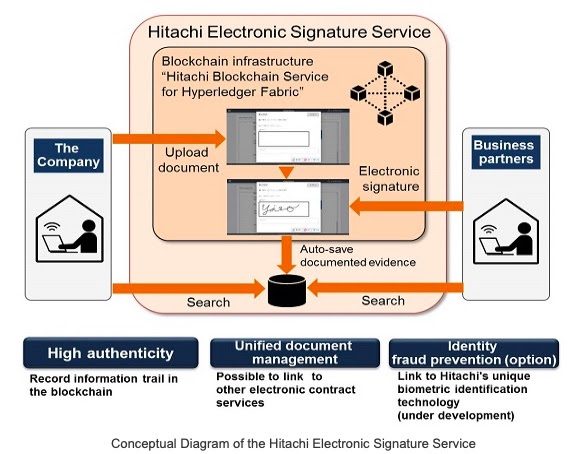 Hitachi began to operate the Service at the Procurement Department at its head office as of March 2021. After the feedback in the Service, they will launch sales to Japanese corporations after July 2021. For the future, they plan to roll out to global corporations with a focus on North America and furthered to systematic and sells a wide range of radical know-how and technology as a service to support a new work style in the New Normal.
Currently, Hitachi has used its IT expertise to develop the Service, which digitises the procedures for affixing signatures and personal seals. The features of the Service are;
1. High authenticity by recording information trails in the block chain.
2. Facilitates unified management of documents by linking to other electronic contract services
3. The ease of use reflects feedback from users
4. Prevent identity fraud by linking to Hitachi's unique biometric identification technology which identifies individuals by their biological information (option)
Hitachi is also planning to link the Service with Hitachi's TWX-21 cloud service for transactions between corporations to increase added value, and to provide the Service as a Lumada solution.