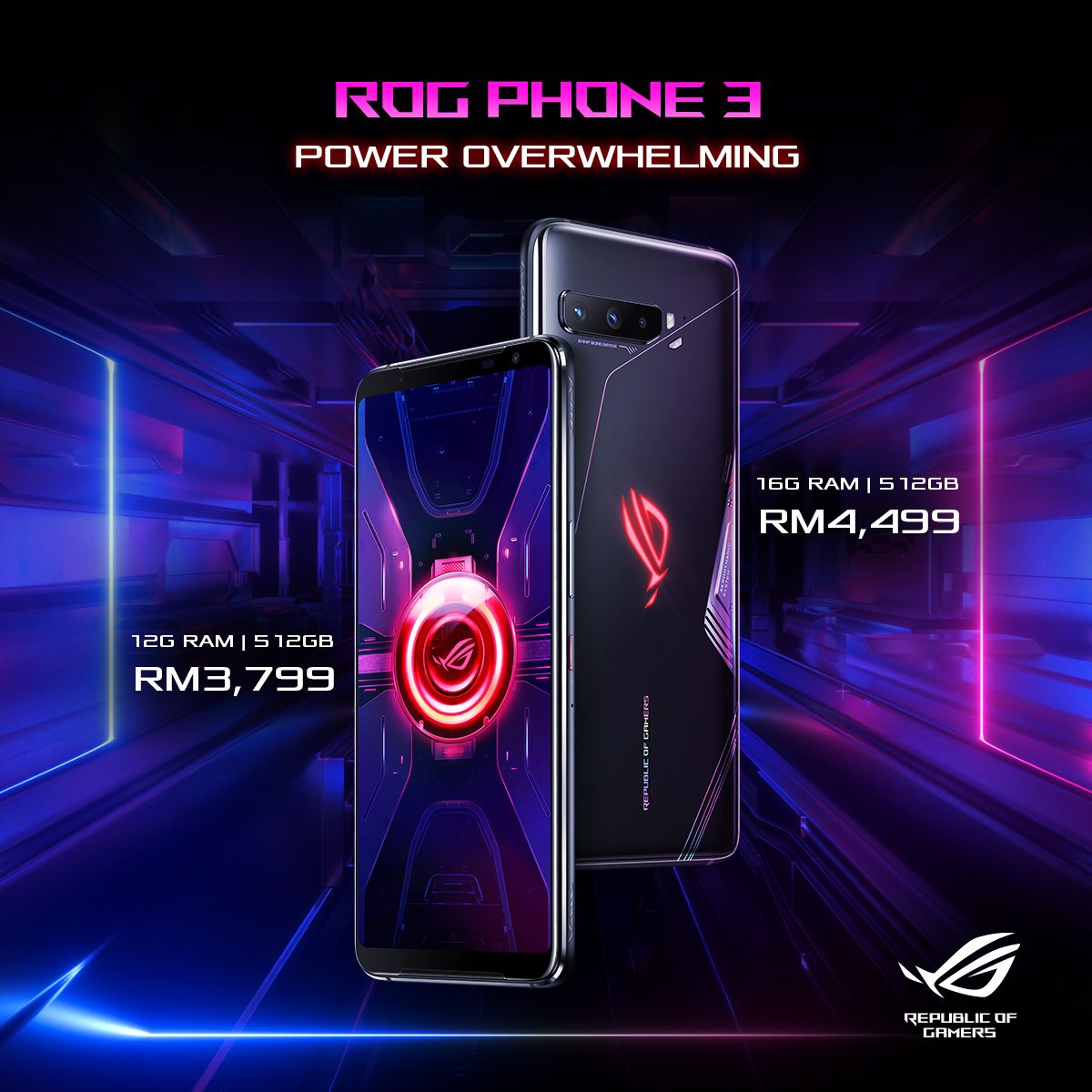 Last month, ASUS revealed the plans to finally release the new ROG Phone 3 and the company delivered just that over the weekend.
The new gaming phone comes in different variants and have been made available since September 5. Now on to the pricing! The most affordable one is the ROG Phone 3 Strix Edition which is available for RM 2999 while the standard ROG Phone 3 is being sold for RM 3799 for the variant with 12GB RAM and RM 4499 for the 16GB variant.

The ROG Phone 3 Strix Edition is powered by Qualcomm Snapdragon 865 while the standard variants of ROG Phone 3 feature the beefier Snapdragon 865+. Other than that, the Strix model has 8GB of RAM and 256GB storage while its higher-end sibling comes standard with 512GB internal storage alongside the two RAM configurations. If you don't know what means, don't worry, all you need to know the phones have pretty good storage.
Apart from the differences between their processors and storage, there is also a slight difference or variant in design on the back of the phones. The remaining main elements within both ROG Phone 3 variants, however, are the same, including 6.59-inch 144Hz Full HD+ AMOLED display, 64MP triple camera, 24MP selfie camera, and 6000mAh batteries.

The devices also come with the new AeroActive Cooler 3 as well as an AeroCase. Sweet! So where can we get these phones? The device can be purchased from all ASUS experience stores and authorised dealers across Malaysia as well as e-commerce platforms such as Lazada and Shopee.
But wait, there's more! ASUS also reveals the price of all ASUS ROG Phone 3 compatible accessories such as the ROG Ranger BC1001, Clip, Kunai, Mobile Desktop Dock, TwinView Dock 3 and the Screen Protector Lightning Armor case at RM99, RM149, RM499, RM599, RM899, and RM279 respectively.
But what about if you own the ROG Phone 2 last year? Don't worry my friend, this year's released accessories are compatible with the ROG Phone 2 so you're good to go! For more information on the product, head over to ASUS's official website