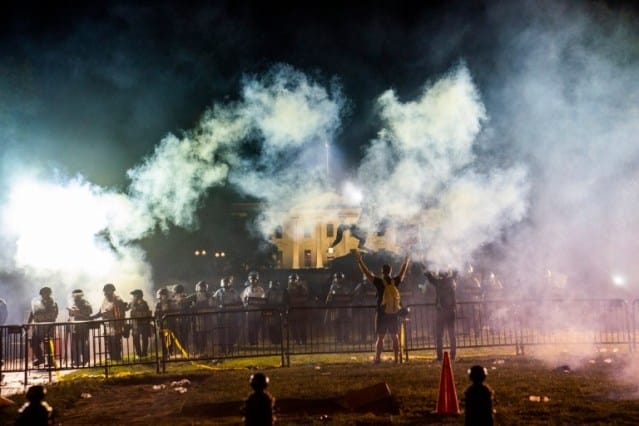 It wouldn't be an overstatement to say that the United States is an utter mess right now. It's bad enough that they're leading the world in the Coronavirus charts, but they've also got nationwide outbreaks of demonstrations, protests and riots after an unarmed black man was murdered in broad daylight by a white police officer.
You'd think that at times of great strife such as this, the commander-in-chief would step up and lead by example or at the very least not go into hiding but that's exactly what Donald Trump has done. Now, you may be wondering why or how exactly it's gotten to this point. Well, Donald Trump can only blame himself.
His response to the fatal arrest of George Floyd may have been to pledge justice for his death at first, but things quickly turned sour when he not only discouraged those who have been causing civil unrest, but also threatened to shoot them.
The president is well known for not having a filter and in spite of numerous efforts by Twitter to give him one, Donald Trump will always be Donald Trump I guess. His tweets led to hundreds of protesters gathering outside the executive mansion, with some of them even throwing rocks and tugging at police barricades.
Needless to say, Secret Service agents didn't want to take any chances and rushed Trump to a bunker normally used for potential terrorist attacks for his own safety. According to multiple sources, Trump stayed in the bunker for about an hour.
It is unclear whether or not his wife and son were with him, but the president has clearly not endeared himself to Americans with his tweets. While people were out protesting on Saturday, Trump was in Florida launching a rocket to the moon. When he returned on Sunday afternoon, it was almost like a scene from White House Down.. albeit less dramatic.
Trump has continued to politicise the issue, using his favourite platform to send a series of inflammatory tweets and deliver partisan attacks during a time of national crisis. The best part is, Trump doesn't seem to be backing down.
This isn't going to stop until the good guys are willing to use overwhelming force against the bad guys

— Buck Sexton (@BuckSexton) May 31, 2020
https://twitter.com/dbongino/status/1267106289018118144
On Sunday, he had the audacity to retweet a message from a conservative commentator encouraging the use of greater force to deal with protestors. With members of the U.S. Marshals Service and the Drug Enforcement Administration deployed to assist the National Guard, it does seem increasingly likely that Trump is going to fight fire with fire.