Even before the announcement of the 14-day movement control, people were already lining up at groceries stores, shops, supermarkets, hypermarkets and more across the nation, buying essentials and things they 'need' in the 'lockdown' as people are calling it online.
The 14-day movement control in question was announced last night, on 16th March by a televised address from Prime Minister Tan Sri Muhyiddin Yassin and is in effect from 18th March – 31st March to deal with the rising amount of COVID-19 cases. The decision was made under the Prevention and Control of Infectious Disease Act 1988 and the Police Act 1967.
"To enforce this prohibition, all places of worship and business premises must be closed except for supermarkets, public markets, grocery stores, and stores selling basic necessities," he said during the televised address on March 16th.
Muhyiddin has very clearly mentioned that stores with these necessities are going to be open. We will be able to go to the grocery store, get what we need, and continue on our day. But what was a joke to Malaysians just recently, about the people in the U.S. buying out toilet paper, and Singaporeans panic buying, has turned to reality.
It's less so surprising and more so disappointing to see accounts of people on Twitter recording people buying places out and lining up with trolleys full of stuff. Check em' out:
Come on Malaysian..

Please don't do panic buying.

Location: Tesco Cheras, 11:30 AM. pic.twitter.com/JYyYIHmctk

— Khairul Azri (@mkhairulazri) March 16, 2020
Aeon One Utama now 🤦🏼‍♀️ #COVID19malaysia #Malaysialockdown #COVID2019 #CoronavirusOutbreak pic.twitter.com/uvVsrGKJgH

— 𝐫𝐢𝐧 🏴 (@zrthzrn) March 17, 2020
This is the start of the stupid #panicbuying at #villagegrocer #1montkiara #montkiara #kualalumpur all #toiletrolls #soldout. Like most countries we now know we've a lot of #shitty #shitheads in #malaysia .
What's with the #bum #backside .
Forgot, Msia has a #backdoor government. pic.twitter.com/xTZgrPaniT

— Eugene CHUNG (@eugenechung) March 16, 2020
Panic-buying has begun. #COVID19malaysia #LockDownMalaysia pic.twitter.com/91iMhjoTTO

— Sheena (@sheenapunya) March 16, 2020
Panic buying before Lockdown

Americans : Toilet Rolls

Italians : Pasta

Malaysians :#Malaysialockdown#panicbuyers#COVID19malaysia pic.twitter.com/44oeEBqrVX

— Zaf (@zszaffy88) March 16, 2020
Partial lockdown in Malaysia begins tomorrow but oh look.People are still panic buying at 8am.Had to pick up fresh vege and usually no queue at this time but it was packed!I guess the government's statement wasn't convincing enough. #Malaysialockdown #villagegrocer #panicbuying pic.twitter.com/ijLtFNhJcV

— Lynn Choo (@lynnckl) March 17, 2020
For those who bought more soap than you need! Remember this! #CoronavirusOutbreak #CoronaVirusUpdate #COVID2019 pic.twitter.com/lNgQP5I8dR

— 🏴 Shaq Koyók (@ShaqKoyok) March 12, 2020
Even the Ministry of Domestic Trade and Consumer Affairs chimed in:
5 sebab penting kenapa perlu hentikan panic buying👇🏻#KPDNHEP #COVID19 #COVID19malaysia #panicbuying pic.twitter.com/LzvRN8TJEx

— KPDNHEP (@kpdnhep) March 17, 2020
We even reached out to our readers on Facebook for their thoughts on the whole panic buying situation: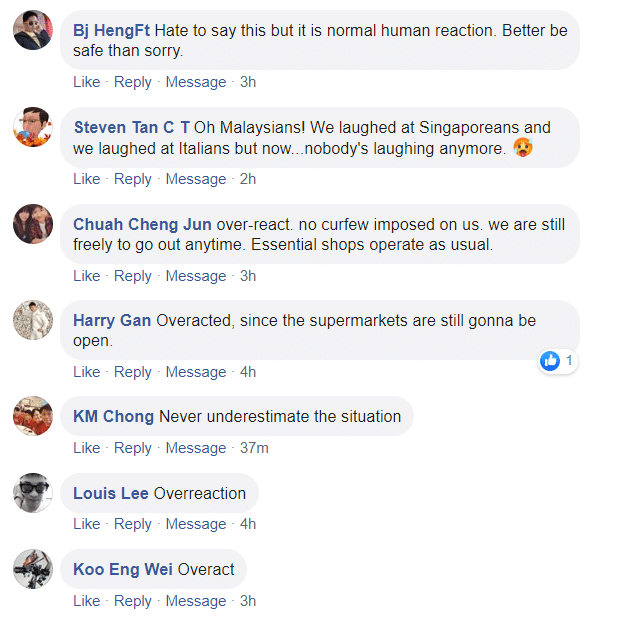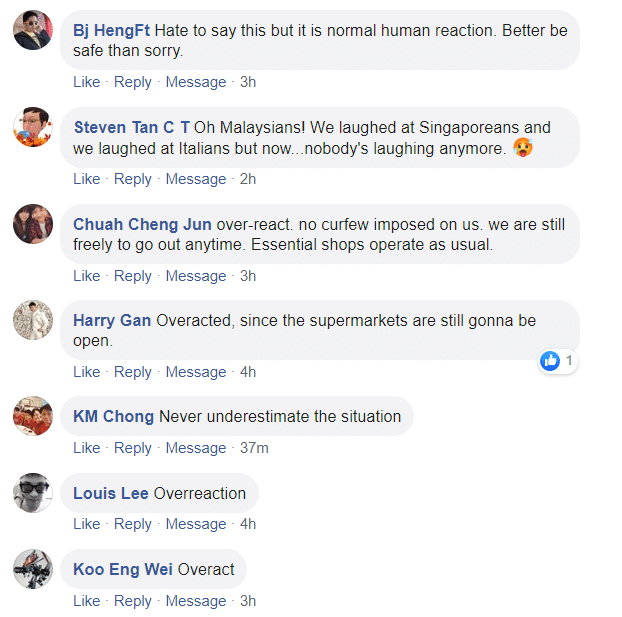 It's a varied reaction, but has a majority of people saying that panic buying is an overreaction. 
Here's the evidence of people panic buying. But to me, it isn't necessary considering things are still going on as normal. In fact, gathering in large groups and panic buying is the exact thing the government is looking to avoid. Think about it, what are you gonna do with those 15 rolls of kitchen towels you bought, or the copious amounts of soap you're hoarding, or canned goods?
What are you going to do with them after the movement control ends? Keep in mind, you probably just bought out the store, and left nothing for others.
While I understand that such a reaction is primal, it's an instinct that we as a nation, have to control. Many people on the internet have shared a similar sentiment towards 'panic buying', but people are still following their own survival instincts, thinking 'it's me against the world'. It's not.
We're all experiencing the same as you, and everyone needs these necessities. Buying out a store of toilet paper, tissue rolls, food, vegetables, canned goods and more, hurt everybody. There are people who may be less-abled, elderly, kids, and other families who need the same things, but can't get them as a result of shelves being cleared from induced panic. This could result in even deaths/illnesses/problems from people who can't get what they need.
Let's at the very least, keep our civility and humanity in these trying times as we navigate towards the end of the coronavirus.