I got the opportunity to test out the EZVIZ C1C security camera and when I first received the box, I wasn't expecting much at first simply because of the size of the camera and how light it is but don't let the size fool you. It packs a strong punch.
So I brought the camera home and I was very impressed by it so for this review I'm going to break it down to the design, image quality, usability, storage and I'll give you my overall thoughts in the end. Let's get started.
Design
I actually quite like the design as it reminds me a little bit of Eve from Wall-E, maybe it's not the same for you but that's how it was for me. The design is simple, it's cute and the camera has 110°/130° Wide-Angle Lens and you can rotate it to the direction you preferred it facing.
The EZVIZ C1C is very light so you can actually bring this thing along when you're travelling and place it somewhere in your hotel room if you're worried about people breaking in and stealing your stuff. Chances are not likely but it's always good to be safe than sorry.
It is worth noting that you do need to keep it plugged in at all times like any other security cameras and I'm sure you're worried about it being small and light, it might easily fall over if someone  or something accidentally knocks it off which is why the camera comes with the metal piece for you to to keep it in place.
Usability
Like any security camera nowadays, the EZVIZ C1C comes with an app which will not take you long to set up. The interface is very user friendly in my opinion. It won't take you long to figure out how to navigate. By installing the app, you're able to see whatever appears on camera live from your phone and you can even record and screen capture.
Make sure you are in close range to set up the camera and if you're outside, do not put the camera on sleep mode unless you're not going to check what's currently happening because you cannot Wake the camera unless you are in close range with it.
Image and Video Quality 
The number 1 thing that I was most impressed was the image quality on this thing. Honestly, for a camera this size, that's a good quality video right there, especially the infrared Night Vision that can capture up to 12 metres.
The Ultra HD video quality of the EZVIZ C1C security camera.

What do you guys think? pic.twitter.com/WNHGryDwGs

— LiveAtPC.com (@liveatpcdotcom) October 9, 2020
You can either purchase the 1080P or 720P variant of the EZVIZ C1C camera but either way, you get a clear view in FULL HD or Ultra HD of whatever could be lurking in your house or your office.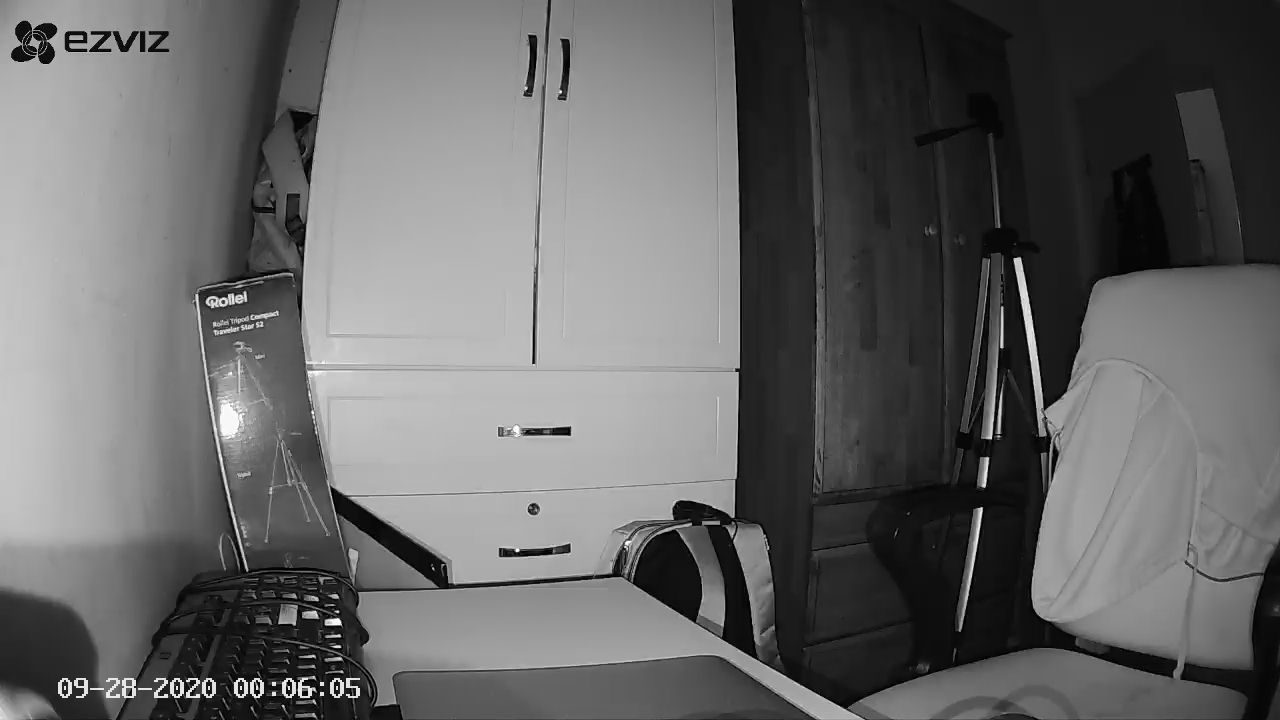 I'll be honest, the infrared Night Vision actually scares me by how clear image quality is that I was so afraid something might pop up on screen. But that's probably just me watching too much horror movies.
Storage
If you want to record the footage or images from the EZVIZ C1C, you have the option to save it on your phone, SD card or you can subscribe to the camera's CloudPlay on the app if you need a little extra storage. So basically you get pretty options on where you want to save the camera files.
Final Thoughts
For the prices of RM 129.90 for the 1080P and RM 95.00 for the 720P, I'd say those are pretty good prices for what you're getting. Everything from design, image and video quality, performance, easy installation, app navigation and storage, you don't need to look far for a good quality security camera.
After using the EZVIZ C1C, it made me realise that you don't need to spend hundreds or thousands to install a good quality security camera. Just this small, compact one is enough. Like the title says, big things comes in small packages.