The BenQ ZOWIE XL2546 is one of the most popular eSport monitors out there for professional gamers. It is a great gaming monitor with a refresh rate of 240Hz & DyAc Technology (Dynamic Accuracy) that focuses on performance that has won over a lot of competitive players around the world.
But now the time has come for it to get an upgrade in the form of the XL2546K which offers not only a completely new design but as well as some awesome new features. 
The BenQ ZOWIE XL2546K is the new flagship model in the 24.5-inch ZOWIE line-up and the new standard in the field of FPS esports professionals. The monitor offers 240Hz refresh rate, proprietary DyAc+ Technology, and the newly released "Fast Liquid Crystal" panel technology.
Other than the mentioned features, it also comes with Black eQualizer & Color Vibrance as well as S-Switch controller. These are all the popular features from BenQ ZOWIE solely to make you indulged in your gaming experience.
DyAc™ /DyAc+ ™ is a technology designed by ZOWIE to reduce motion blur seen in LCD technology. It reduces vigorous screen shaking in-game and can help improve recoil control in CS:GO. How? In CS:GO, 80% of all shots require some level of recoil control but DyAC™ / DyAC+™ makes vigorous in-game actions such as spraying less of a blur. Both DyAc and DyAc+ provide spray control with only differences on the panel specifications.
The XL2546K 240Hz esports gaming monitor new base is designed to occupy less space while preserving the same stability and further enhances adjustment flexibility, as well as players' comfort and convenience, enabling them to focus on their in-game performance.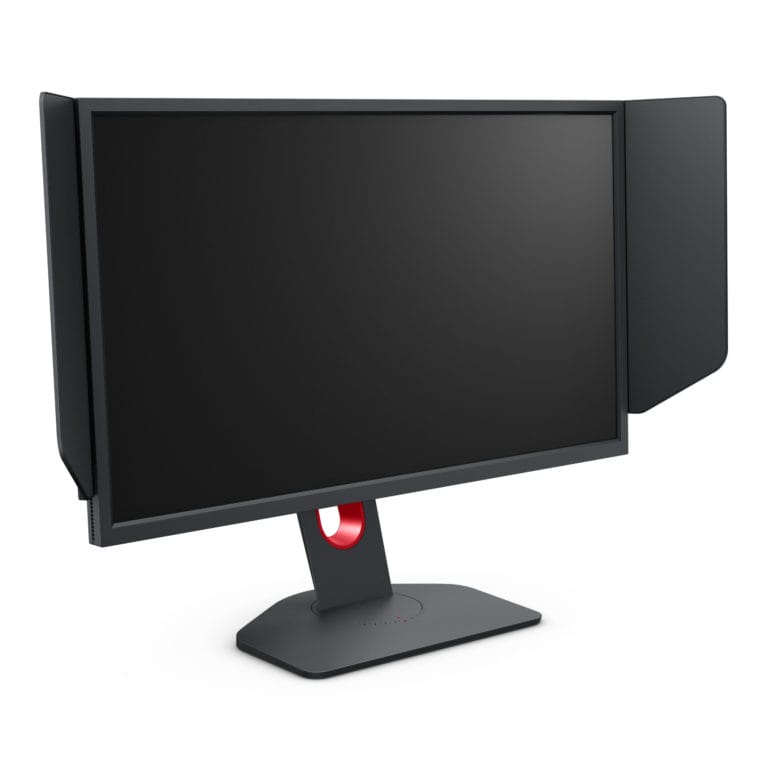 Stability is maintained by shifting back some of the base material further. Players are able to set up quickly and conveniently with height adjustment & free tilt, resulting in a more comfortable playing environment.
On all sides, the bezels are single-stage with a reasonably slender bezel. For extra durability, this design is favoured here, as this is a monitor designed to be transported to and from events. Adjustable privacy wings on either side of the screen include a detachable 'Shield'. The shield is designed to let players more focus on their screen, reducing the distraction by the environment.
The OSD (On Screen Display) controls have been moved to the back of the monitor. The alternative wired S-Switch controller is also included. While many manufacturers are focusing more towards IPS and VA panels nowadays, BenQ ZOWIE are taking their own path and standing their ground by favouring highly response TN panels.
BenQ is completed with the touch of IPS, VA, and TN which is also known as ZOWIE. This might make you wonder why ZOWIE still sticks with TN? This is because TN provides the faster response for PC FPS games which is exactly what PFS players need. It is all about SPEED and WIN the game, not about the IPS nice colour or nice resolution.
The new BenQ ZOWIE XL2546K monitor offers more than just better design. Another feature that makes this gaming monitor fit for competitive games is its 0.5-millisecond grey-to-grey (GtG) response time. This makes the monitor truly worth investing when a lot of action is happening on screen especially if you play these games; CS GO, Valorant, PubG and COD as well as Overwatch.
When it comes to the all-important specs, the max screen resolution is 1920 x 1080 pixels and the refresh rate is 240 Hz, giving you a fluid visual experience. BenQ's visual demo in Valorant should be able to show you exactly how the XL2546K's DyAc+ will help in fast-paced games.
If you're wondering why does ZOWIE still stick with FULL HD? It's because most of the FPS professional players are still using FULL HD setting or HD setting during their gameplay.
The change to the interface and S-Switch is not only for cosmetic reasons as it also provides you the ability to customise which FPS settings that you would want to access quickly via a quick menu, then allows you to access them with just one-touch. Setting up before games or during rounds is now far more convenient.
Lightning-fast 240 Hz high refresh rate performance? Check. Dynamic accuracy plus technology makes vigorous in-game actions? Check. Increased height adjustment range and free tilt design to provide more flexibility? Check. A 3-year warranty? Check. Honestly, what more could you want?
For more information about the product, check it on their website and to purchase, kindly check on the Lazada BenQ official store.