Here, have a Haswell-E for your PC Master Race.
By Din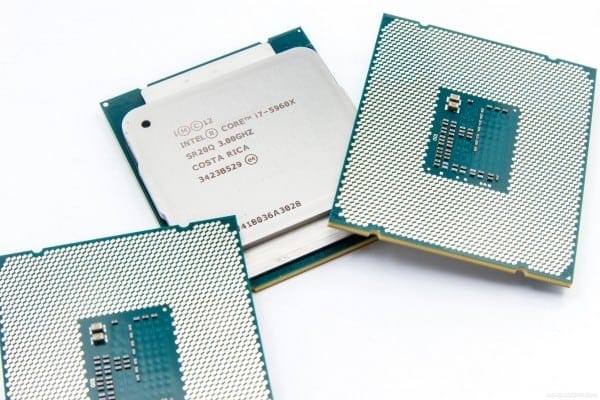 With the recent release and update for the Intel Haswell processor, many enthusiast for the high-end PC market, especially those who own the LGA 2011 system, feel the chipmaker should introduce something similar for them as well. Well, it looks like they have gotten their wish as the Intel Haswell-E has finally appeared – specifically made for the super power-users who demand nothing but the very best.
Formula E
It's easy to just say that this is an LGA2011 version of the Haswell processor and be done with it. However, the truth is more complex than that. The Haswell-E introduces many new things that a direct CPU upgrade would not normally feature. Indeed, it's a whole new ecosystem – with new technologies, chipset concept, peripheral supports, and main socket, being introduced. While it's still officially using the LGA2011 socket design, it does has enough improvements to qualify for a rename – LGA2011 v3. This has resulted in having the new Extreme CPU not being able to work with the predecessor chipset. So now I can properly come out and say: all hail the long awaited X99 Wellsburg! While it took three long years for Intel to create a new platform that showcases Intel's innovative engineering and design, it is indeed a true testament to Intel's drive in wanting to get the best performance ever out of its CPUs.
All's Well
One of the different changes that you will find with the Haswell-E is support for DDR4 RAM. It honestly feels like it had just been yesterday that DDR3 rolled out. Of course, it's a change that is, for many, a long time coming. The base clock for DDR4 is 2133Hz with support for two DIMMs per channel. Wait, what? Here, let me do the math for you: the Haswell-E can support up to 64GB of DDR4 RAM!! Eye-popping is an understatement! Also, the X99 chipset supports up to 10 high-speed SATA 3 drives. While 10 is the bare minimum, I won't be surprised if third-party manufacturer tweaks managed to include more since these vendors love to offer above what is necessary.
Slow and Steady
You might think the Haswell-E is just a re-badged and retro-fitted Haswell Devil's Canyon. Wrong, wrong, wrong! In essence, this Extreme Intel CPU is a different processor altogether and only shares the same name as its more devilish namesake. How is it not similar? For one, the clockspeed is lower. The Intel i7-5960X pushes at a paltry 3.0GHz for stock settings – a far cry from the blazing 4.0GHz of the i7-4790K. Even the Turbo Boost rating of up to 3.5GHz is still lower than the 4790K. However, what it lacks in speed, it makes up in number of physical cores. Suffice to say, this slowpoke has a lot of cores. Let me repeat myself:  A LOT. Considering that the i7-4960X has only eight, the new i7-5960X has 16. YES. SIXTEEN!! Read that again and weep…16 PHYSICAL CORES! How is that possible I'll never know but this pint-sized monster can handle multi-threading like there is no tomorrow.
Crossing Lanes
If there is one confusing thing about the Haswell-E is that you now can choose between using 40- or 28-lanes, depending on the processor that you buy. While the high-end i7-5960X has 40-lanes, the entry level i7-5820K only sports 28. Depending on the processor that you get, you can only use certain functions that the paired motherboard would support. The full 40, for example, is finally able to provide for a multi-GPU system. This is only available when you have a motherboard that has an add-on chipset. Thus, you can now use a 16/x8 dual GPU, x8/x8/x8 triple GPU, or x8/x8/x8/x8 quad GPU setup. The idea used here is applicable for both SLi and Crossfire modes. This is the real reason behind X99 motherboard manufacturers coming out with products that specify if their offerings support either 28- or 40-lanes. So be very careful when you choose your E-type 2011-v3 processor.
More Power
I half-expected the lower clockspeed to mean having to experience a lower TDP. Upon testing the Haswell-E, I found out that this is not the case as Intel maxed the TDP of this CPU to 140w. While it's a miniscule 10W bump, the slight jump means that you will be facing some extra heating issues when any overclocking (OC) work is carried out. Ah, the best bits – the processor fared well enough during the OC test. Using Asus's X99-A automatic overclocking setting, along with a NeptonXL liquid cooler that Cooler Master had been kind enough to supply, I had been able to get up to 3.5GHz. However, on manual OC – basically the boost speed of the processor, I got measurements on all the three hotel nodes). By manually setting the OC, which allowed me to push for higher clockspeeds, I managed to reach 4.0GHz easily. Keep in mind that I still had not finished finding the OC sweetspot at the time of writing this article so there is a lot more potential to be found. I mean, why not go for broke when I have on-hand a highly capable cooling system and just as hardy power supply (thanks Seesonic!).
Winning the Race
For all intents and purposes, the new Haswell-E seems to be an all-rounder processor. Lots of cores, superb multi-threading performance, and full of innate processing potential. I am truly surprised to see how low the clockspeed had been set for initially but after testing it first hand, I realised it never really had been about that in the first place. It's about everything else that ties in to produce the best gaming performance that is thoroughly enticing for any hardcore gamer or modder.
Dimensions (W x H): 52.5 x 45mm
CPU Type: Intel Core i7-5960X
Socket: LGA2011-v3
Number of Cores: 8
Number of Threads: 16
Clockspeed: 3GHz (Standard), 3.5GHz (Max Turbo)
Intel Smart Cache: 20MB
Instruction Set: 64-bit
Lithography: 22mm
Max TDP: 140W
Memory Type: DDR4-1333/1600/2133
Max Memory Channels: 4
Max Memory Bandwidth: 68GB/s
PCI Express: 3.0
PC Mark 8 Results
Home: 4575 (5012 OC)
Creative: 4342 (4828 OC)
Work: 4201 (4442 OC)
Value: 9/10
Features: 9.2/10
Performance: 10/10
Design: 9/10
Usability: 9/10
Verdict: Warp speed on a wafer!
Total 9.4/10