Montblanc is known for its luxuries collection of writing instruments, leather products and premium watches, the craftsmanship of some of its goods are legendary and are usually made using fine quality materials. So, when news broke out that luxury brand will be releasing headphones for the first time under its portfolio, the top segment of the population stood up in anticipation.
Not letting anyone down, the Montblanc MB 01 wireless headphones appeared as on of the best crafted pair of cans anyone had ever seen. As it stands, the premium range are mostly from either high-end audio makers or gaming accessory makers, no fashion or luxury brand has delved into audio products and have come out successfully. Montblanc kept to its motto in using high grade aluminium, fine leather lining for the ear cups and silicon to give those on the move an elevated experience and keep their music uninterrupted.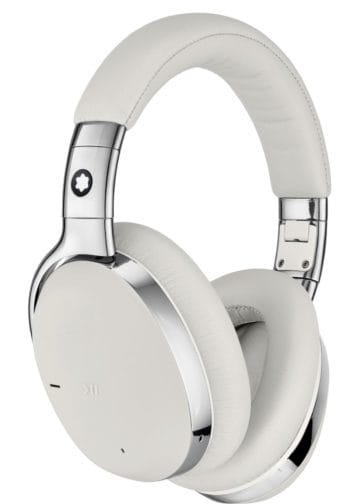 The premium audio hardware offers users over 20 hours of battery life and comes with active noise cancellation but with an added panache. Being a new kid on the block did not compromise on technology, the Montblanc MB 01 is equipped with Bluetooth 5.0, a proximity sensor and aptX technology and comes with the sensitive 40 mm neodymium dynamic drivers that is able to deliver a signature sound that is unique.
Three colour variants to match each suit or jacket means you will be not out of style while using them, the Black, Gray (the whitesh above) and Brown are all designed with the customers look in mind. Just like Loius Vuitton with hip-hop fashion, high street brands are developing new markets by catering to younger audience and the headphones will be appealing to a wider market. To get the angles, sound quality and balance right, Montblanc partnered with sound expert Alex Rosson who makes high end headphones in Los Angeles to make the MB 01 look as radical as they are.
Monthblacn Malaysia will be having them on retail come May with a price tag of RM2650 a pair, customers are welcomed to make pre-orders online.