Ask any aspiring filmmaker on the equipment they need, and they will tell you the importance of a good camera and lens for high-quality images, microphones for clear audio, lights, and reflectors for controlled lighting, and battery pack(s) to last through hours of shooting.
In recent years, the gimbal has made its way to the list to give filmmakers the independence of steady handheld shooting and the ability to explore various shoot angles. For those using smartphones to create their cinematic masterpiece, gimbals are the ultimate filmmaking accessory and can support even the most amateur of filmmakers
What is a gimbal?
A gimbal is essentially a pivoted support that allows an object to rotate and swivel on a single, or more commonly in videography, three-axis while eliminating unwanted motion. A 3-axis gimbal stabilizes the camera's tilt (up and down movement), pan (side to side movement), and roll (back and forth movement). It uses gyroscopes and sensors to tell the difference between accidental jolts and deliberate movements and the result is a smooth video. Simply put, a gimbal keeps the camera steady regardless of how shaky the hands are.
The beauty about smartphone technology today is it is compacted with advanced features to enable us the ability and convenience to capture and record stunning shots. On the vivo X60 series, a built- in gimbal is one such feature. An upgrade from its predecessor, this newly launched flagship from vivo boasts an upgraded Gimbal Stabilization 2.0 system to make filmmaking a breeze, all with a single tap of a button.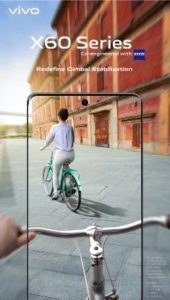 Here's a look into the X60 Pro's in-built Gimbal Stabilization 2.0:
1. It is all in the engineering system of the vivo X60 Pro.
The vivo X60 Pro comes with a Gimbal Camera System and it is a specially-shaped magnetic frame which allows for a Gimbal System to be engineered into a smartphone device. In the intersecting structure with the dual ball bearings, two pairs of balls cooperate with a cross stand to allow the gimbal to achieve flexible "two-axis rotations" on the X axis and Y axis with the Gimbal using mechanical movement compensation to ensure three-dimensional stabilization. Additionally, the Gimbal Camera System's anti-shake angle reaches a maximum ±3°, or 300 percent  that of a traditional Optical Image Stabilizer.
2. The vivo X60 Pro gets an upgrade from its sibling, the X50 Pro.
The revolutionary vivo X50 Pro earned its rightful title as the world's first smartphone with a Gimbal camera system. Now with an improved Gimbal Stabilization 2.0, users are in for a treat and can put their photography and videography skills to the test, ensuring zero blur each time. In addition, the main camera of the X60 Pro is equipped with a larger aperture, now extending to f/1.48 and enabling the shooting of extreme sports and night scenes, which tends to be otherwise grainy.
3. The VIS 5-Axis Video Stabilization enables motion videography.
Whether it is a car chase scene, the footage of a leaping rabbit, or the filming of a fast-paced first dance at a wedding, the vivo X60 has got it covered. This is all thanks to the VIS 5-Axis Video Stabilization feature whereby in motion scenarios, this technology can bring more stability while paving the way for a clearer and smoother videography experience. Putting this feature to the test, vivo Malaysia partnered with Golden Horse Award-winning director Chong Keat Aun to shoot a short film using the X60 Pro. This feature was especially helpful for the crew to shoot the various motorbike- riding scenes. Check out the inspiring "Behind The Scenes" footage here.
4. Pixel Shift Ultra HD Imaging feature is part of the deal.
Here's a bonus for folks who want a bang for their buck when it comes to revolutionary smartphones which aims to redefine the photography experience. While the Gimbal Stabilization 2.0 enables motion photography with ease, the Pixel Shift Ultra HD Imaging system works in tandem to push for perfection and clarity in each pixel. That way, as you capture architecture, landscapes, and everything else around you, clarity becomes a part of the deal.
In an age where content is king, photography and videography has never been more at its peak; and with the undisputed capabilities of today's smartphone, just about anyone can be part of a global community of creators.
Test out the remarkable qualities of the vivo X60 series at vivo concept stores and authorised dealers. To try your hand at filmmaking, join vivo Malaysia's Visual Creator campaign and showcase your work among featured filmmakers. More information can be found here.
For more information on the new vivo X60 series, visit www.vivo.com/my/
or check out vivo Malaysia's Facebook and Instagram.