After massive team participation from students nationwide in 2020, U Mobile has returned with the much anticipated Mobile Legends Campus Championship, marking the 3rd season of this popular e-sports event.  The tournament is set to kick off over a period of 7 months from May 2021 to November 2021. U Mobile's Mobile Legends Campus Championship (UMMLCC), launched in 2019 for its Season, has been garnering followers and fans with its biggest campus tournament in the country, drawing more than 277 teams from over 100 universities, and hitting record highs of 1 million fans on online viewership for its Season 2 Championship.  This year, the Season 3 will be expanded further in the categories especially for the High School segment, with tournament prize pool worth more than RM60,000 and 32,520 diamonds to be won!
The tournament has two categories, whereby, at the state level, each champion will take home RM1,350 in cash and 600 in-game diamonds while runner-up bank RM650 in cash and 420 in-game diamonds.  At the national level, with the MLCC Season 3 Champion set to pocket RM10,000 and 5,520 in-game diamonds. Second and third place take home RM7,000 with 4,320 in-game diamonds and RM5,000 with 3,120 in-game diamonds, respectively.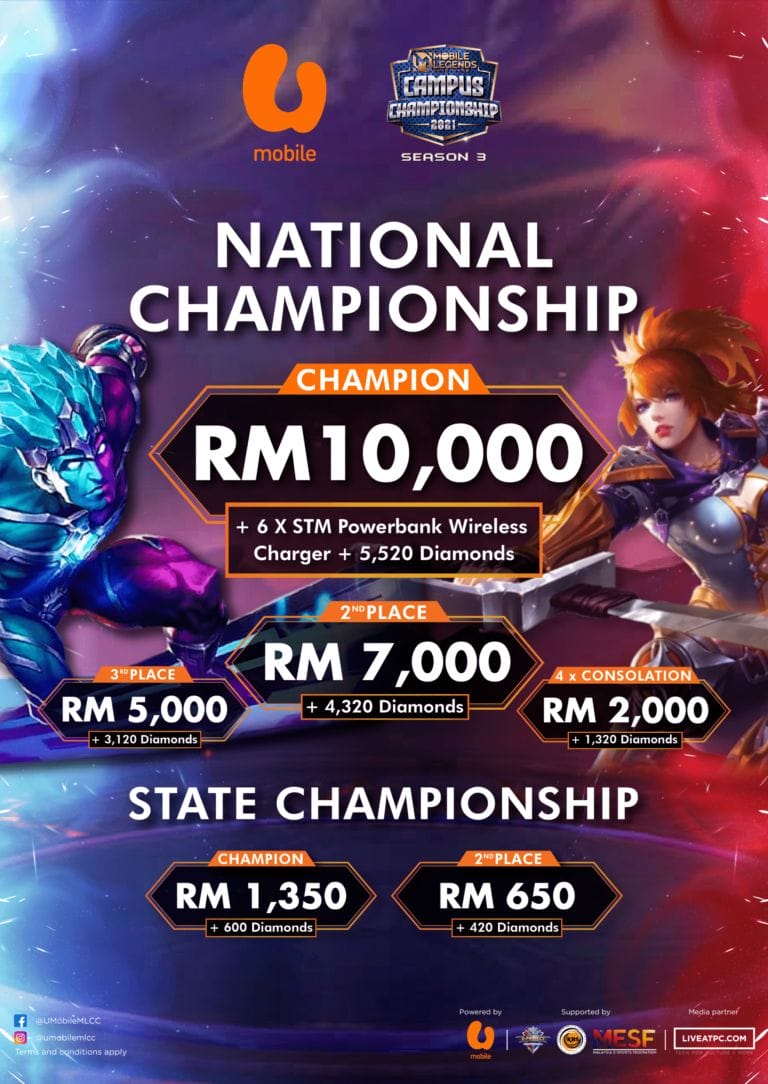 Following the amazing support for the pilot tournament of High School Competition in Season 2, U Mobile has added more opportunities for students aged 13-17 to join in Season 3 with the tournament to run across Malaysia, with all five zones included in Sabah & Sarawak. High schooler fans can look forward to participate and battle it out against each other for the prospect of winning total prize pool of RM2,800 and 2,560 in-game diamonds.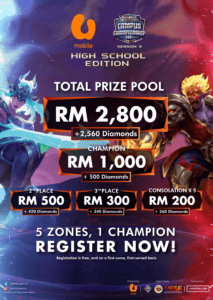 The tournament will start its league with Central, followed by Southern, Northern,  East Coast and East Malaysia.
Spicing the tournament up further will be the side activities, constantly seeking to provide for the fans, U Mobile will be launching for the first time the MLCC eSports Masterclass for interested students who aspire to become a top Caster in the country or choose to turn Streaming Live Games as a source of income, these Masterclass will be coached by the industry 'Best' from the likes of MPL Season 7 Casters.
The e-Sports Masterclass provides an enriching workshops for the students, whereby, the 1st workshop, eSports Cast Like A Pro Masterclass, will have Ikuto as the hosts, for students to hone their interest in becoming a Shoutcaster as their career path. The 2nd workshop, eSports Stream & Earn Masterclass, hosted by Karakuri, will guide students on how they can earn an extra income through online streaming. This is definitely in line with digital learning in the light of Covid-19 pandemic.
As a gratitude to the support rendered by varsities, U Mobile introduce "Best Supporting University 2021 Award" and "Best Supportive Personnel" for 1 varsity from each zone with the loudest cheer in backing their teams, with total prize pool of RM15,000 cash prize and shopping vouchers.
Without a doubt Season 3 will be the tournament to watch for in 2021 with teams battling not only for pride, but also the honour in winning the National Championship flag for their University. Registration is currently open for teams from all states to join. Slots are limited for each state.
Details of the tournament can be found on the official U Mobile MLCC  Facebook page or students can head on to u.com.my/mlccs3 for more information. Campus and high school student can register their slots now at https://tinyurl.com/UMMLCCS3CAMPUS  and  https://tinyurl.com/UMMLCCS3HIGHSCHOOL respectively.
About U Mobile MLCC
U Mobile's Mobile Legends Campus Championship started in 2019 with the objective of promoting eSports in Campus and to University students, promoting healthy activity while giving a possibility for amateur gamers to gain additional experience to improve their game performance. Season 1 was organised physically at the university halls with teams competing in front of live crowd. However, due to Covid-19, Season 2 was a full online event which saw a tremendous increase in participation from all over the country.
This event is sanctioned by Ministry of Youth & Sports Malaysia, Malaysia Esports Federation, Montoon and with media support from LiveatPC.com
For further details
Call: Akid Azman
Tel: 012-913 2429