What a kick-off, as U Mobile's Mobile Legends Campus Championship Season 3 blasted to a roaring start with overwhelming response for Central Zone (Selangor and Wilayah Persekutuan) and Southern Zone (Negeri Sembilan, Melaka and Johor) with all available slots for teams snapped up within days of registration! The highly anticipated UMMLCC Season 3 is attributed to the two successful seasons of tournament that has been held since in 2019, an event created especially for university students to hone and further develop their skills and interest in the eSports arena.
To date a whopping 177 teams from 75 universities have already confirmed participation with registration still ongoing for 9 more States, and 4 High School zones. If the overflowing response for Central and Southern Zone is to be the benchmark for the season, then fans can look forward for an amazing tournament for the rest of the year.
This Season, the realigned tournament started by categorizing states under zones with Campus & High School teams in Central being the first to play, followed by Southern, Northern, East Coast and East Malaysia.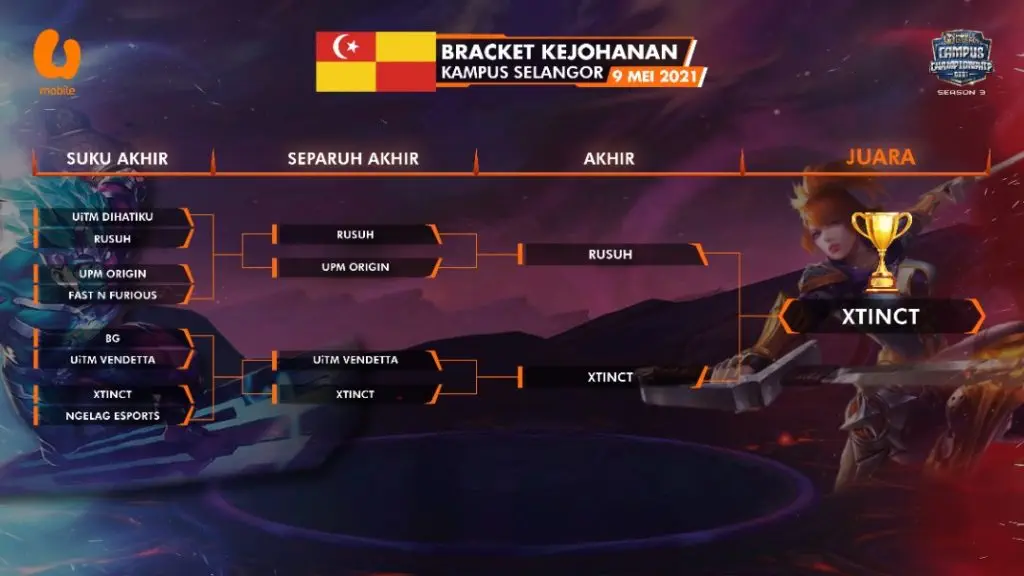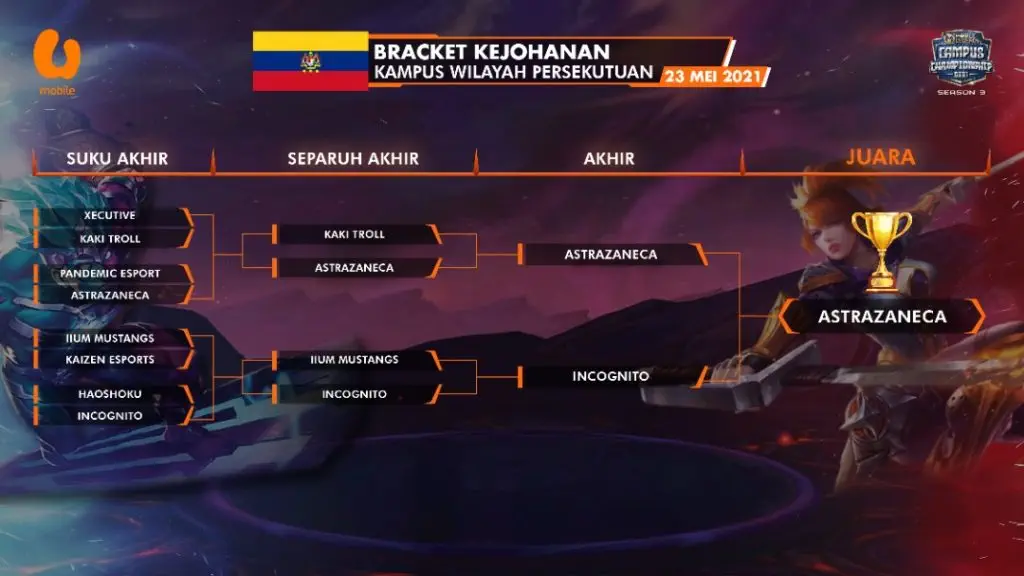 After concluding an action packed Central and Southern tournament, U Mobile would like to congratulate Central Zone winners, Selangor Champion, team XTINCT from University Kebangsaan Malaysia, and Wilayah Persekutuan Champion, team ASTRAZANECA from UiTM Kampus Selayang, all walk away with RM1,350 and 600 diamonds each, while second place are team RUSUH from Politeknik Sultan Idris Shah Selangor and team INCOGNITO from University Teknologi Malaysia KL will receive RM650 plus 450 diamonds, respectively.
For Southern Zone, a huge shoutout for the winning teams from Negeri Sembilan, Melaka and Johor. State Champion from Negeri Sembilan, team TFK LIMIT from UiTM Rembau and second place is team Skadoosh from Politeknik Port Dickson. State Champion from Melaka, team UTEM H from Universiti Teknikal Malaysia Melaka and UTEM A from the same university. Meanwhile, Johor Champion goes to Don't Forget Joki from University Tun Hussein Onn Malaysia and second place PIS Pride X AG Tech from Politeknik Ibrahim Sultan.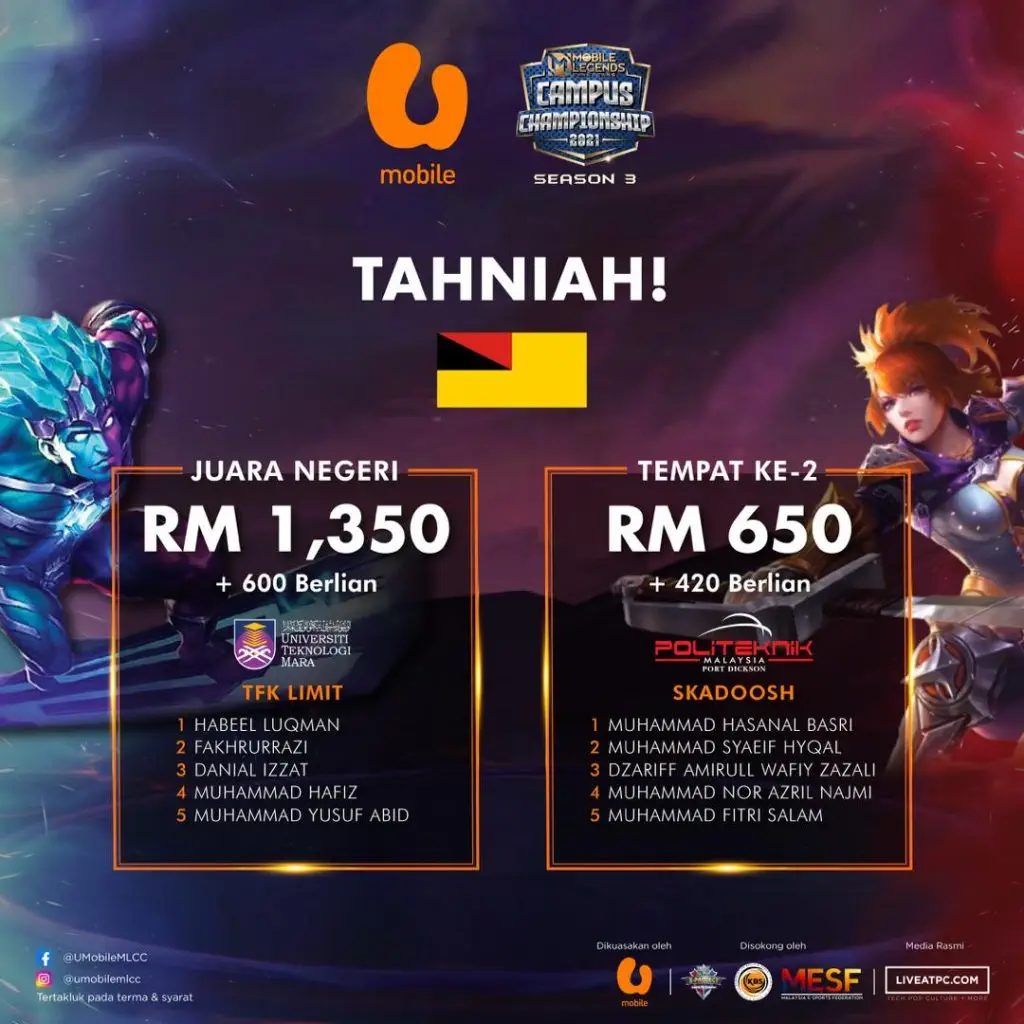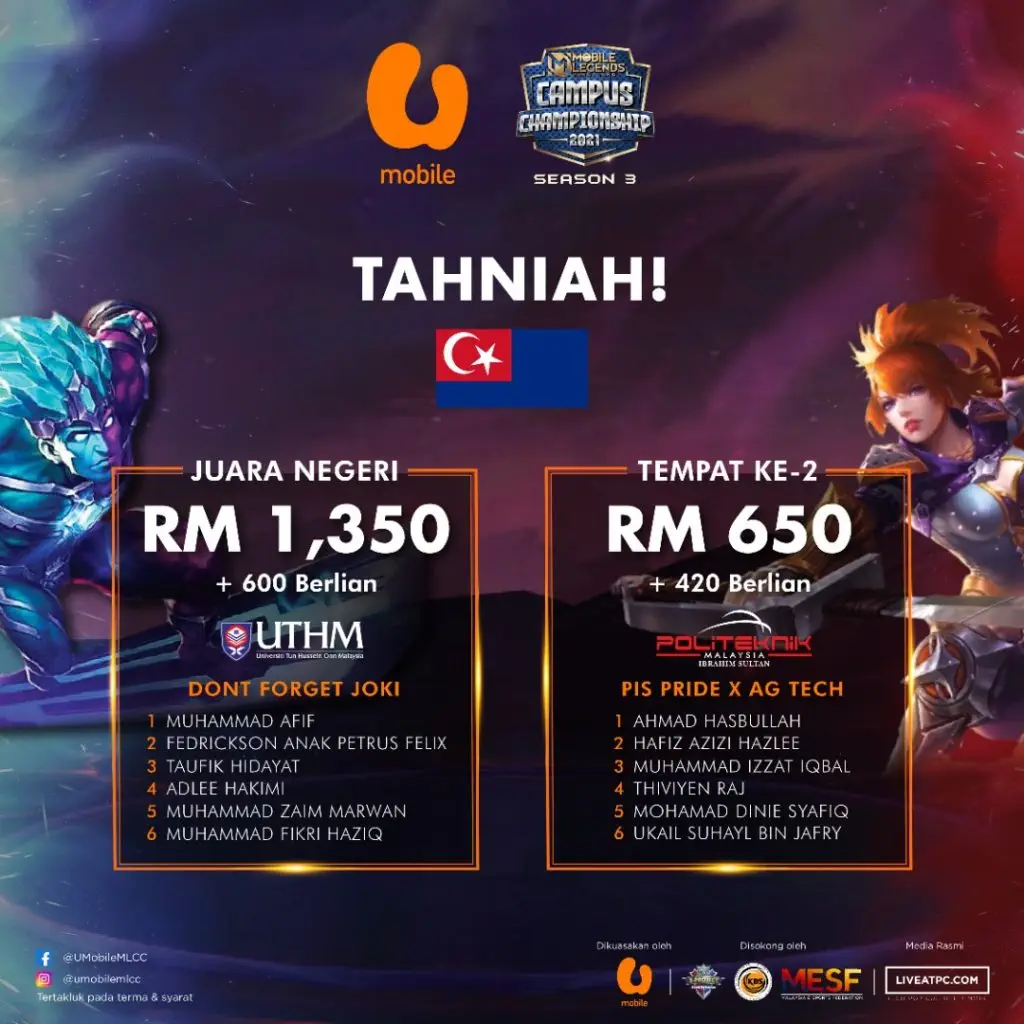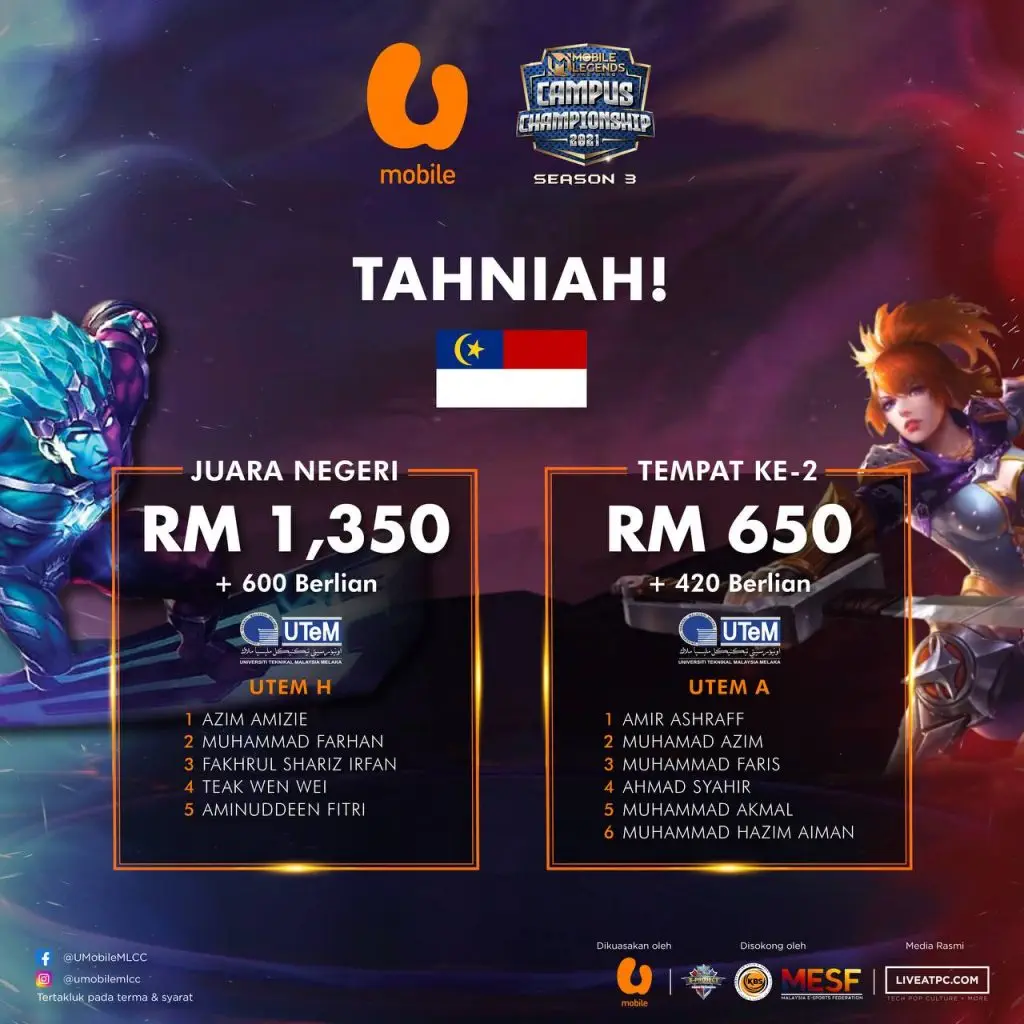 All teams fought hard throughout the competition, after 58 hours of battling, prompting both of UMMLCC casters, Ikuto and Adeen, commented "these teams rightfully deserved to be crowned champions". All State Champions have secured a place for the National Championship whereas all teams from second placed will compete once again via the Wildcard tournament, a second chance to be at the National Championship.
Introducing U Mobile University Awards 2021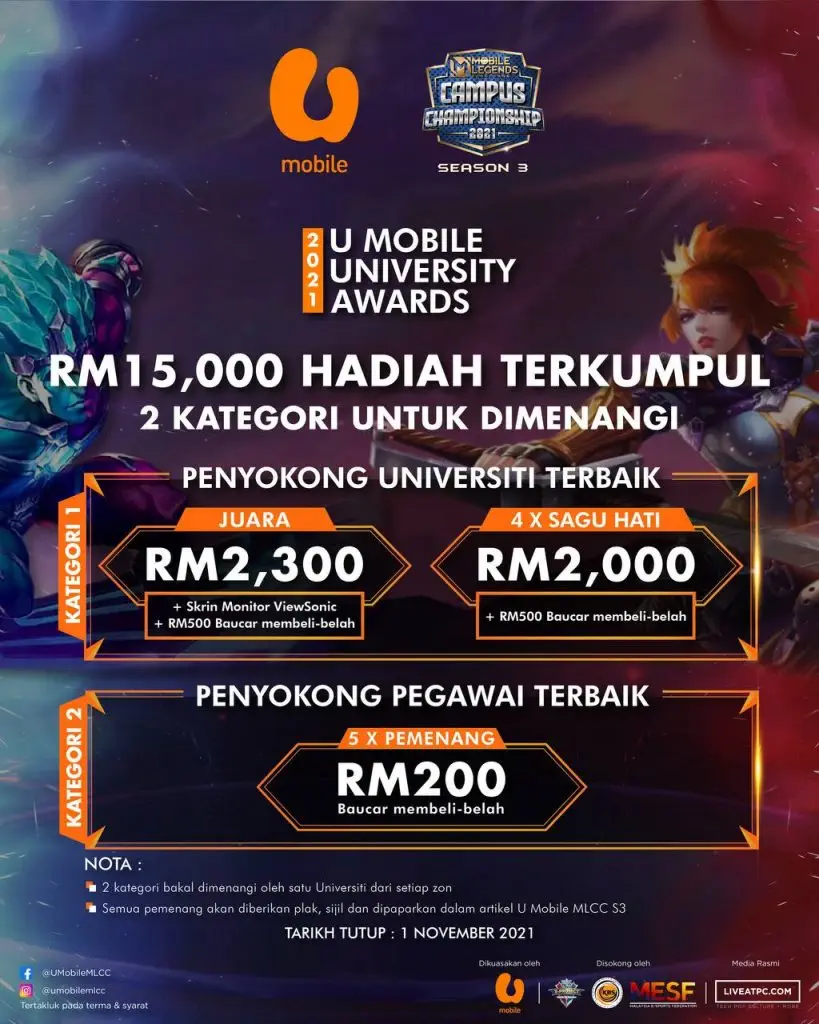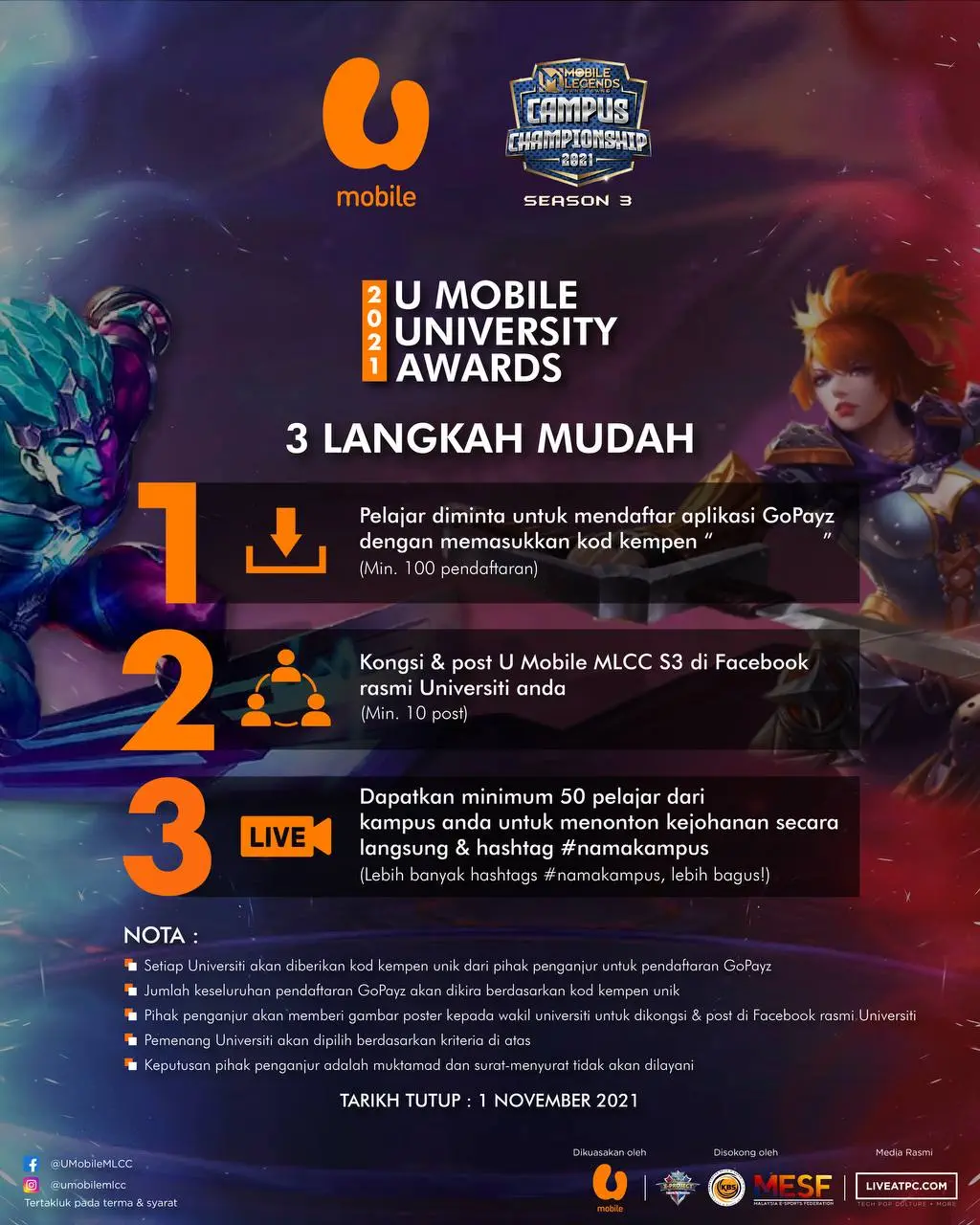 In conjunction with the UMMLCC Season 3, U Mobile has launched a unique program for the first time 'The U Mobile University Awards 2021', whereby, the University staffs and lecturers for the respective participating teams can take part in the effort to bring the campus community together just by supporting this event.
U Mobile, the main organiser for UMMLCC, is very supportive of this initiative. "This program is designed to pay tribute by rewarding University and the hard-working personnel in the campus who assisted in promoting this tournament and gives encouragement to their students as they battled to win the tournament on behalf of the University. We hope the Universities are as excited as we are in aiming for the UUA awards which is meant to reward campuses in supporting their students and the campaign", said Mimi Wong, Senior Manager of Segment Marketing. The program will be judged from May until November 2021.
There will be 2 categories under this program, i.e., Best Supporting University and Best Supporting Personnel. One university from each zone will be winning the following categories.
Category 1 – Best Supporting University (5 Winners)
1 X Grand Winner: RM2,300 Cash Prize, RM500 Shopping Vouchers & 1 X Viewsonic Monitor worth RM1,200
4 X Winner: RM2,000 Cash Prize & RM500 Shopping Vouchers
Category 2 – Best Supportive Personnel
5 X Winner: RM200 Shopping Vouchers
As part of judging criteria, the participating universities will have to meet the following 3 easy steps:
Share and post UMMLCC Season 3 campaign posters via University's social media to reach out to the students
To encourage students to sign up the e-wallet app 'GoPayz' where each participating university will be given a unique campaign code as tracking process as part of moving towards digital lifestyle
Encourage students to supports your favourite teams by watching the livestream match and hashtag #yourcampusname
The highest number of GoPayz app downloads and the largest number of supporters from the campus to watch any livestream match, will stand a bigger chance to win the coveted award.
A total prize pool worth of RM15,000 in cash prize which include shopping vouchers will be given to the winners of the participating Universities. All the winners will be rewarding with certificate of appreciation & a plaque. Prizes will be awarded based on Zone level for Central, Southern, Northern, East Coast and East Malaysia with 1 winner per zone.
(For interested Universities, kindly visit U Mobile MLCC Facebook or contact 012-913 2429 for more information)
In conjunction with the program, we will also offer students an opportunity to take their eSport enthusiasm to the next level in our eSports Masterclass workshops. These classes will be conducted for FREE by our resident celebrity casters like Ikuto and Karakuri, fans are advised to register soon as slots are very limited. (Registration form) A special reward will be given to U Mobile participants who have successfully registered for the slot.
Now that the early part of the tournament is already underway with a trunk load of excitement, the anticipation is palpitating as UMMLCC Season 3 heads to Northern followed by East Coast and East Malaysia next.
To find out, stay connected with the latest updates and catch the tournament Livestreams at U Mobile MLCC Facebook Page.