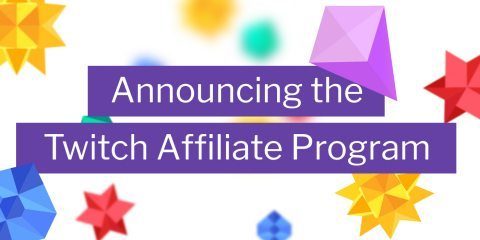 Twitch introduced its new Affiliate Program for creators worldwide.  The Affiliate Program invites non-partnered qualifying creators to earn revenue through on-platform tools previously only available to Twitch partnered creators.
At launch this month, Twitch will invite creators to join the program who fit the criteria, based on time spent streaming, viewership, and followers. The first monetization tool available to Affiliates is Cheering with Bits, with additional tools to follow in the coming months.
Cheering is a fun, interactive way for viewers to support creators and celebrate the moments they love with the community by using animated emotes called Bits directly in chat. The program has seen success in its current phase with over 1 billion Bits used to Cheer since launch.
"Twitch is built upon looking to our content creators with both large and small communities to learn how we can best serve their needs," said Ethan Evans, SVP of Commerce and Developer Success, Twitch. "With our upcoming Affiliate Program, we will be able to open up a means of support from the community to a whole new class of creators numbering in the tens of thousands."
Twitch will further develop both its Affiliate and Partner programs. Affiliates will eventually have access to revenue programs such as Subscriptions, Game Commerce, and Advertising. Whereas with Partners, Twitch said that specific features are under development, designed for nurturing the larger communities they manage. Partners will also get a new Verified Chat Badge on the same day the Affiliate Program launches.