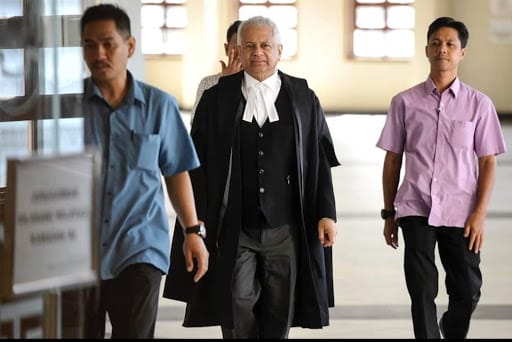 In an unexpected turn of events, former Attorney General, Tommy Thomas has re-entered the political foray today but only to rebut some allegedly disingenuous statements made by the current Finance Minister, Tengku Zafrul in an interview with the Edge, published on 3rd August 2020.
"Regrettably, I have to set the record straight, and correct the misleading statements made by the Finance Minister, Tengku Zafrul."
The former attorney general was dumbfounded by the federal government's decision to settle what was a "very strong" criminal case against United States Investment bank Goldman Sachs. The settlement guaranteed US$2.5 billion return to Malaysia in compensation.
In a letter published on The Edge Markets website, Thomas contended that a conviction of the individual directors associated with the Bank would have resulted in the same amount being repaid to Malaysia in the form of penalties, at the very least.
Thomas charged the Goldman Sachs companies in December 2018, and followed it up with charges against 17 of their Directors in the next year, trying the executives jointly in the criminal case.
He saw two practical advantages in this. First, intuitively, criminal charges ensure greater bargaining power for Malaysia. Secondly, the same court can order compensation or damages to reflect the full and complete losses suffered by Malaysia, arising out of the 3 bonds Goldman schemed together.
Thomas reiterated that ANY litigation lawyer would advise that the leverage that his client would have is to start a trial with maximum negative publicity against the adverse party. This advantage is lost now because of the rushed and premature deal reached by the present administration.
The former Attorney General also very simply tells us what should have happened and that is a criminal trial against Goldman Sachs and its directors.
The former author ended his statement with more clarifications to the Finance Minister's misleading remarks.
Firstly, Pakatan Harapan may have got an offer for settlement of US$1.75 billion BUT they were never going to accept it with the knowledge that Malaysia's total loss was USD9.6 billion all things accounted for.
Secondly, Thomas made the point that Malaysia would have received the sum of US$1.4 billion from the US Department of Justice, in any event, independent of the settlement with Goldman. The good relationship between the Department of Justice and Malaysia provided for this.
As one prominent Twitter user put it aptly –  Why are we benchmarking our settlement based on what Goldman Sachs offered previously, instead of the $7.5 billion that we asked for? Uncle owes you RM100,000 but you agree to settle at RM10,000 because uncle's previous offer was RM5,000.
Now imagine you are a sovereign state, emerging economy and the uncle is an American bank so widely known for its corrupt and evil practices, its known as a "great vampire squid" by some. 
Malaysia is nothing but another investment for them and in the end this corrupt organisation comes out to profit from the arrangement. It is depressing. And what is worse? Goldman Sachs is never held accountable for their actions(see Housing Crash/ Financial Crisis of 08/09) because why?
They are too big to fail and the government decides it would be more of a liability to the economy to allow them to go bust so will continue funneling tax payer money into its insidious operations. At least taking them to court in this instance could have instilled some fear and deterrence but I guess that's not happening. 
In effect, the funds stolen from our small little country is just another source of income for the executives at Goldman to buy their 66th beach/summer house. #JustFacts.