Telegram Rolls Out New Features with Major 4.0 Update
Telegram just had a major update and there were many major features updates that came with the release.
Telescope and video messages
You can now send video message, by tapping on the mic icon to switch to camera mode. Then it's just tap and hold to record a video message, then release to send. You can also swipe up to lock the camera in recording mode. Video messages are automatically downloaded and autoplayed by default (you can change this in Settings).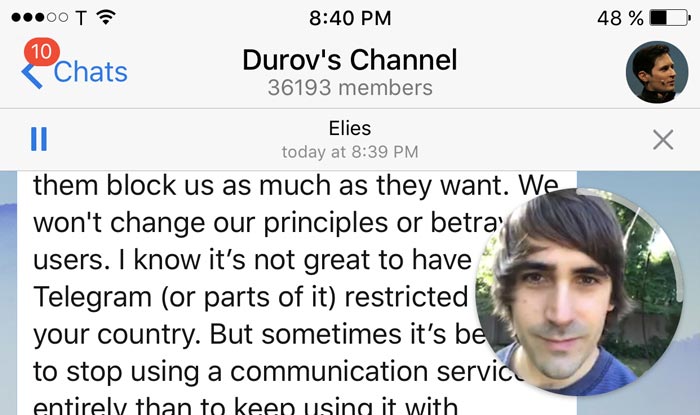 While watching a video message, you can freely browse your other chats – the video will pop up in a corner and continue playing. You can move it around the screen and pause it from anywhere in Telegram.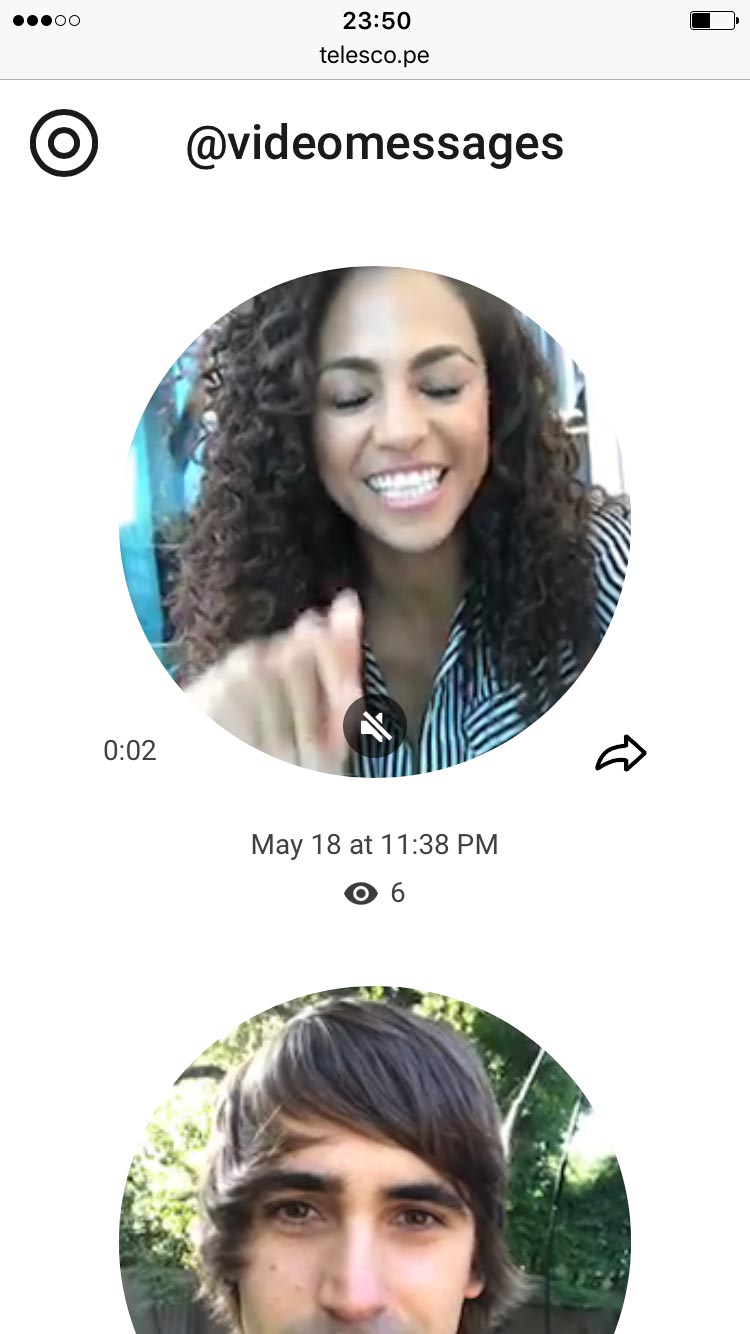 Telegram also launched a dedicated video hosting platform for those who use videos to communicate with their audiences. With Telescope, public video messages can be shared beyond the Telegram ecosystem. Telescope hosts autoplayed round videos of up to 1 minute in duration – the same format we use for Telegram video messages. Users don't need a Telegram account to view them.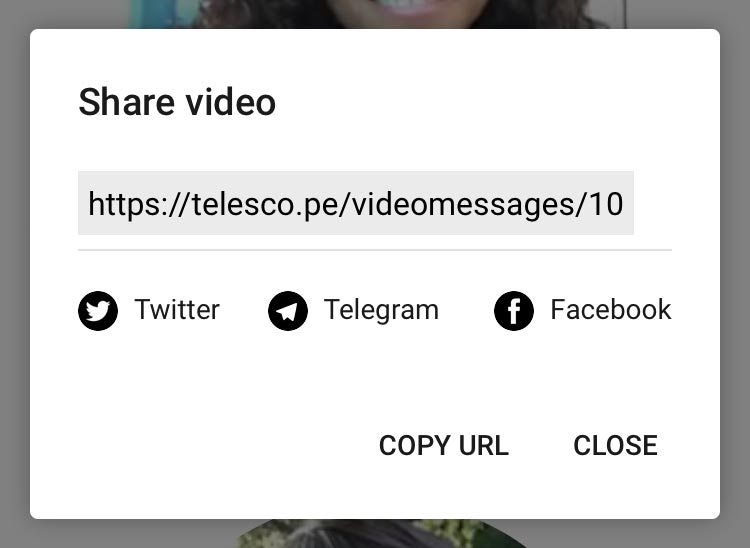 Every public channel on Telegram now has a telesco.pe URL, such as telesco.pe/channel_name, where all of its video messages are available to the world wide web. Whenever you post a video message to a public channel, it will also be uploaded to Telesco.pe and have a public URL there.
Payments for Bots
Taking a page from chat apps like LINE and WeChat, Telegram launched bot payments – so you can order goods or services from bots that offer them. bots may now add a Pay button to their messages. When you tap Pay, you'll be asked to fill in your credit card and shipping information and confirm the payment. If your account is protected by 2-Step Verification, you can save your card for future purchases. Bot Payments also support Apple Pay.
You can try that out with the demo @ShopBot or the @TelegramDonate bot if you want to test a real payment with actual money.
Most of the payments are handled by Stripe, but Telegram Bot Payments is available worldwide. When accepting a payment from a user, the bot developer can choose between all available payment providers, selecting the one already used by the buyer or the one with the lowest commission.
Over the next few days, payments will become available to developers in India via RazorPay, in Nigeria, Kenya, Ghana, South Africa, and Uganda via FlutterWave, and in over 190 other countries via PaymentWall. Yandex.Money and Qiwi for Russia and Payme for Uzbekistan will be joining a little later.
Telegram only acts as a middle person between the paying user, the bot developer, and their chosen payment system. Telegram doesn't process the payments, don't store and can't access any sensitive data. Telegram doesn't take any commission from payments and don't profit from these transactions. It also means Telegram can't handle any payment complaints or cashback – that still falls under bot developers, payment providers, and banks that participated in the exchange.
Telegram wrote that they "do what every sheriff has to do with strangers passing through their turf: shoot the bad bots and award the good ones with a badge."
Instant View Platform
Telegram also adds in Instant View, where you can enjoy articles from any website without needing to open in a new browser. Instant View pages support text, images, videos, and any other media. It works if the source website isn't optimized for mobile devices.
Instant View pages are lightweight and cached on Telegram servers, so they load instantly on pretty much any connection. Webmasters don't need to change anything on their sites for Instant Views to work.
To generate Instant View pages, our parser bot uses templates — sets of rules that tell the bot where to find useful content and what to ignore on a particular domain or URL. The Instant View Platform will allow anyone to create their own templates for websites. This platform is completely open.
To lure more users, Telegram is also launching a crowdsourcing competition for template makers, with an attractive price of $200,000. Contest details here.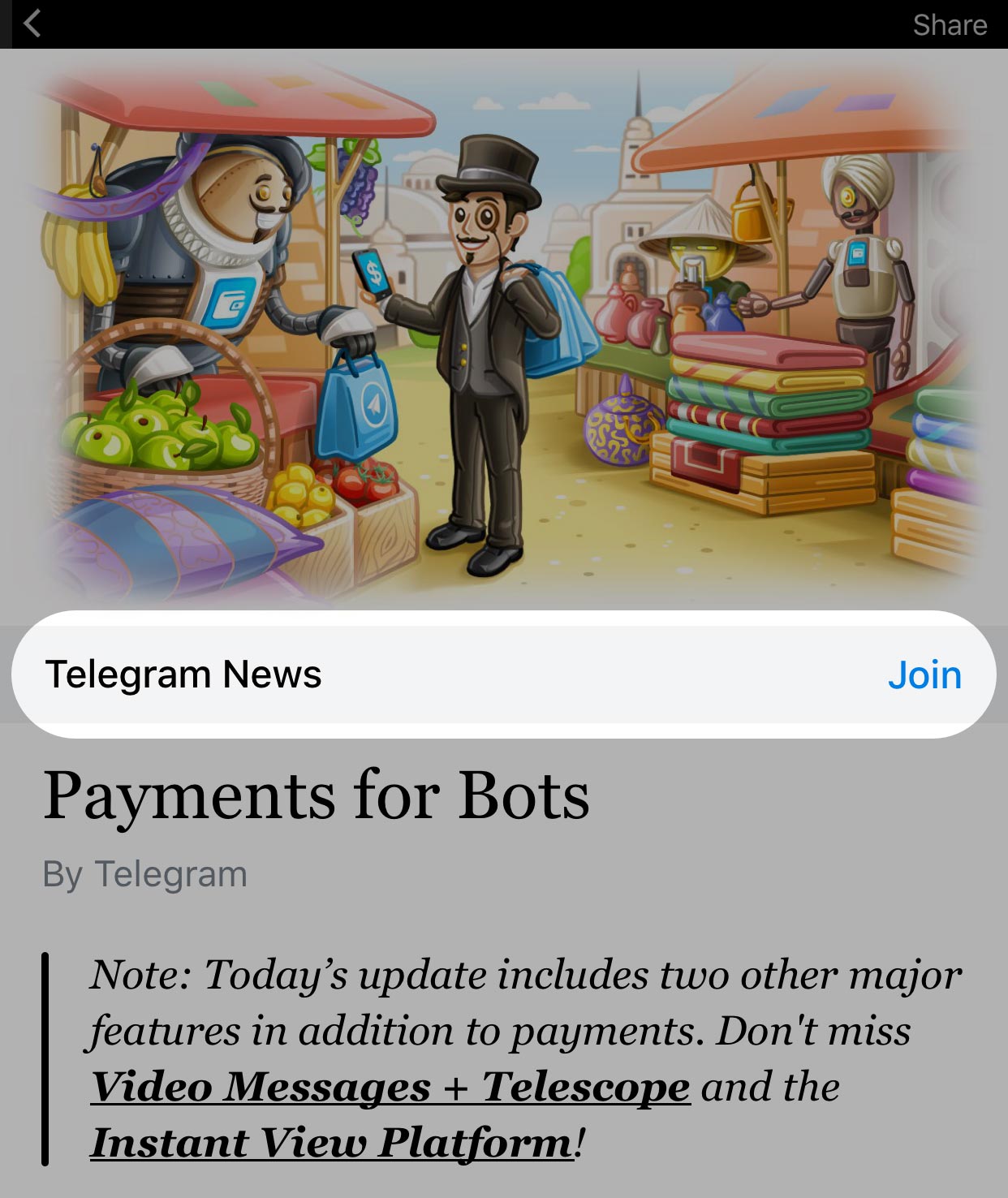 You can now view your articles in dark, gray, or sepia-toned environments, as well as adjust the font type and size. The Auto-Night Theme setting will automatically show dark pages when it's late. Long tap on the paragraph to select it for quickly copying or sharing it with your contacts.