Strength of a Raging Fire
Thin yet curvy, sleek yet stylish; the Acer Swift 7 is everything I've ever wanted and so much more (the same can be said about the women I've dated over the years). Lying at its core is the 7th Gen. Intel Core i5 processor, which performs admirably when put through our benchmark tests as well as day-by-day word processing, web browsing, video streaming and the sorts.
Force of a Great Typhoon
Although not the best when it comes to data storage, the Swift 7 does hold its own relatively well with a 256GB capacity on its SSD, which not only makes storage a lot easier but also faster as well. Guess you could say it truly lives up to its namesake. The Swift 7 also comes with 8GB of RAM that allowed me to get through the day of binge-watching Netflix while still being able to get my work done simultaneously.
Mysterious as the Dark Side of the Moon
Even if it isn't much of a mystery anymore, the 13.3" Full HD with IPS technology on the Swift 7 sure does know how to make everything look great. From older YouTube videos with 480p video quality to 4K, the Swift 7 does its job with much ease. The display is also protected by the Corning Gorilla Glass, making it that much more durable especially in the hands of a klutz like me (fun fact: I'm actually a goalkeeper for my football team; oh the irony).
Keeping It Light & Tight
Much like the girl I'm sort of currently seeing, the Swift 7 is definitely more than just arm candy. Weighing in at only 1.11kg (no she doesn't weigh that little) and only 0.39 inches when closed (she's not that flat too), the Swift 7 is perfect for the everyday on-the-go user who can work from just about anywhere and at any time. It's gold inner surface paired with an exterior matte black surface also strikes a fine balance between sexy and stunning (much like this girl as well).
Is it Worth It?
The Swift 7 faces pretty stiff competition from the likes of the HP Spectre and the ASUS Zenbook 3 in terms of its performance, design and general usability. Having tried and tested all three of these laptops in our lab, it's hard to determine which is the best among the three. Based on price alone, the Zenbook 3 wins hands down but in terms of performance, I would have to go with the Spectre. But, on a general day-to-day usage basis, the Swift 7 captured my heart (much like how she captured mine).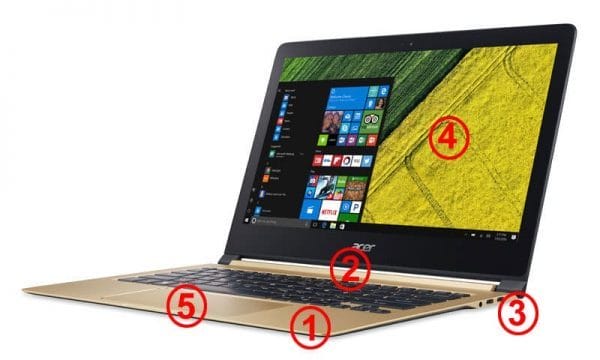 1 – Lasting a Lifetime
Yes, it is a bit of an exaggeration but in hindsight, a full 9 hours on a single charge is pretty impressive and that is what you can expect from the Swift 7.
2 – All Around You
Thanks to Dolby Audio Premium paired with Acer TrueHarmony, you can now catch everything that you watch and listen to from your Hi-Res music to even the movies you watch in clear and crisp virtual surround sound.
3 – Type-C is the only way to go
USB 3.1 Type-C ports are still relatively new in the market but Acer ensures that it's the only way to go. Data transfer was surprisingly swift and efficient, making it that much easier to transfer data across.
4 – Web Browsing Made Extremely Easy
Thanks to the 2×2 802.11ac Wi-Fi connection paired with MU-MIMO technology, the Swift 7 is can connect to the Internet easily and effortlessly with a much higher download rate than the regular 802.11n.
5 – Wider Than Usual
The touchpad on the Swift 7 is unusually wider than most laptops out there, giving you greater depth on its usability. Surprisingly, you do get a lot more done with a lot less swipes and movements now.
Specs
Price: RM4,999
Weight: 1.11kg
Processor: 7th Gen. Intel Core i5-7Y54 1.2GHz Processor
Memory: 8GB RAM
Storage: 256GB SSD
Operating System: Windows 10 Home
Display: 13.3" IPS LED backlit
Graphics: Intel HD Graphics 615
Connectivity: Bluetooth, Wi-Fi
Ports: Gen. 1 USB Type-C x 2
Benchmarks
PCMark 8 Professional Edition: 2357
3DMark Professional Edition: 3828
Score
Value                – 7
Performance – 8
Features          – 8
Design              – 10
Usability          – 9

Total                 – 8.4
Verdict: When it's all said and done, the Acer Swift 7 is an all-round great laptop to have, whether it's for work or play.