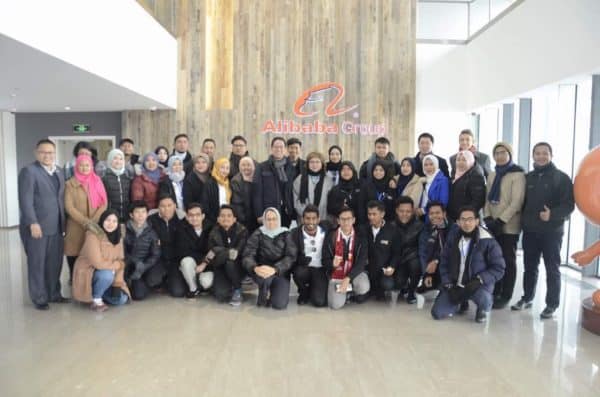 Alibaba' commitment to Malaysia runs deeper than just setting of office and online sites, the eCommerce giant has gone to the extent in creating a business school especially for students from local Universities who are keen to becoming the next entrepreneur in the booming eCommerce space.
Alibaba Business School's Youth E-commerce Program (YEP) is part of it the company's collaboration with Malaysia's Ministry of Higher Education to encourage and spread the spirit of entrepreneurship in Malaysia and throughout the region. In its inaugural inception, 30 students selected by the Ministry were sent for a eight day course to attend lectures and discussions at Alibaba's global headquarters in Hangzhou. The young budding entrepreneurs met with business unit leaders and visited sites, such as Hema supermarkets, to see innovative strategies like New Retail – the convergence of online and offline retail systems –in action.
Vice President of Alibaba Group, Brian Wong said "Our goal is to foster a generation of young entrepreneurs who can help bring new innovations and transform the e-commerce landscape in their home countries. It's a privilege to have the opportunity to work with the Malaysian Government in their efforts to nurture its next generation of entrepreneurs to be savvy in the digital business arena." 
Secretary General of Malaysia's Ministry of Higher Education, Yang Berbahagia Tan Sri Dr. Noorul Ainur Muhd. Nur who was part of the contingent called on students to be attentive of the current global economic movements and to gain as much experience about the entrepreneurial ecosystem in China, while raising bilateral business networks among young entrepreneurs from the two countries.
Beyond the YEP program, Alibaba recently concluded its Global E-Commerce Talent (GET) 'Train the Trainers' program, which was held in Universiti Utara Malaysia over the course of five days. Fifty educators from six universities participated in the program which aimed to enhance the understanding of the e-commerce industry with a target to equip more than five thousand Malaysian students with the competitive skills required in the global e-commerce industry.
In the future, the company will continue to roll out various training initiatives in Malaysia to support the growth of its e-commerce industry