The Myth 18L bag is from Australian brand STM and costs RM 399. Touted as the 'smarter bag' let's see how smart this bag really is. Today we'll be talking about if it's worth the money. But with a twist, it's from a commuters point of view. This bag looks like it's meant more for travelling and you just need something to carry a laptop or tablet. But if you're spending RM 399 for a bag just for travelling, you might need to reevaluate your spending habits. A backpack should be multi functional and can be used in basically any situation where you need a bag. I mean, at least that's what I think.
Stylish With A Minor Bump In Function
The bag feels very good when it's on your shoulders. It's light and you don't really feel it around. I tested the bag with a 15'6 inch laptop so i have somewhat of a different experience. The bag is meant to carry a 15" inch laptop so my laptop didn't really fit into the sleeve.  15″ inches and lower will get to take advantage of the laptop sleeve which protects it from bumps. So if your laptop doesn't fit in the sleeve, you'll have to put it in the center. This makes the bag feel cramped and also it might not close all the way. There's also no place to put a bottle, so you'll have to cram it into the bag. 
It looks sexy though. It feels really modern and pretty minimalistic. However, keep in mind a bag is not only for style, it needs to have functionality. And let me tell you, using this as a commuter getting on an LRT everyday, was a bit inconvenient. The opening is too small and narrow to take things out unless you open the whole zip. Which frankly, is a pain in the butt. Maybe a smaller zip would've made it easier, but I think having a big opening is the intent.
Sleeping Functionality; 
Something I seem to use a lot with my bag when I'm on the LRT, is sleeping. Clutching it as if it were my pillow at home. One thing I will say about the bag, is that it's comfy. If I'm lucky enough to get a seat, I'll put the bag infront of me and put my head in between the shoulder straps. The straps are sturdy and a little hard, but it will hold your head in place. Pretty useful if you ask me. Also holding the bag is pretty alright too, but in general, it might be a bit bulky in a packed train.
Additional Features To Add On To Style
The bag has an AR app that shows off the bag. You scan an QR code which redirects you to the app. The app will then scan the tag which will show off the different features of the bag. It's a pretty fancy feature, but you'll probably use it once and that's pretty much it. The other features of the bag include and airpod pocket which offers quick and easy access to wireless headphones. Also a place to keep ear buds tangle free. The pockets for things are useful, and I kept a bunch of items in them. There was also a dedicated power bank slot in the front pocket. You could put in a power bank in a zip in the bag, and in a hole in between would connect your phone and powerbank. This made it convenient to charge your phone and keep it in the bag and just check it easily.
If you're wondering, yes it is waterproof. I had the unfortunate luck of walking through the rain with it on. While I was drenched, the bag stayed relatively dry. The bag has Water repellent C6DWR coating applied to fabric so water tends to drip off. It also uses reverse coil zippers, which protect the teeth of the zippers and keeps moisture and grunge out. And to top it off, the inside is lined with fleece, and you could probably keep your sunglasses in there. But if you're a commuter, they might get crushed. So keep this in mind.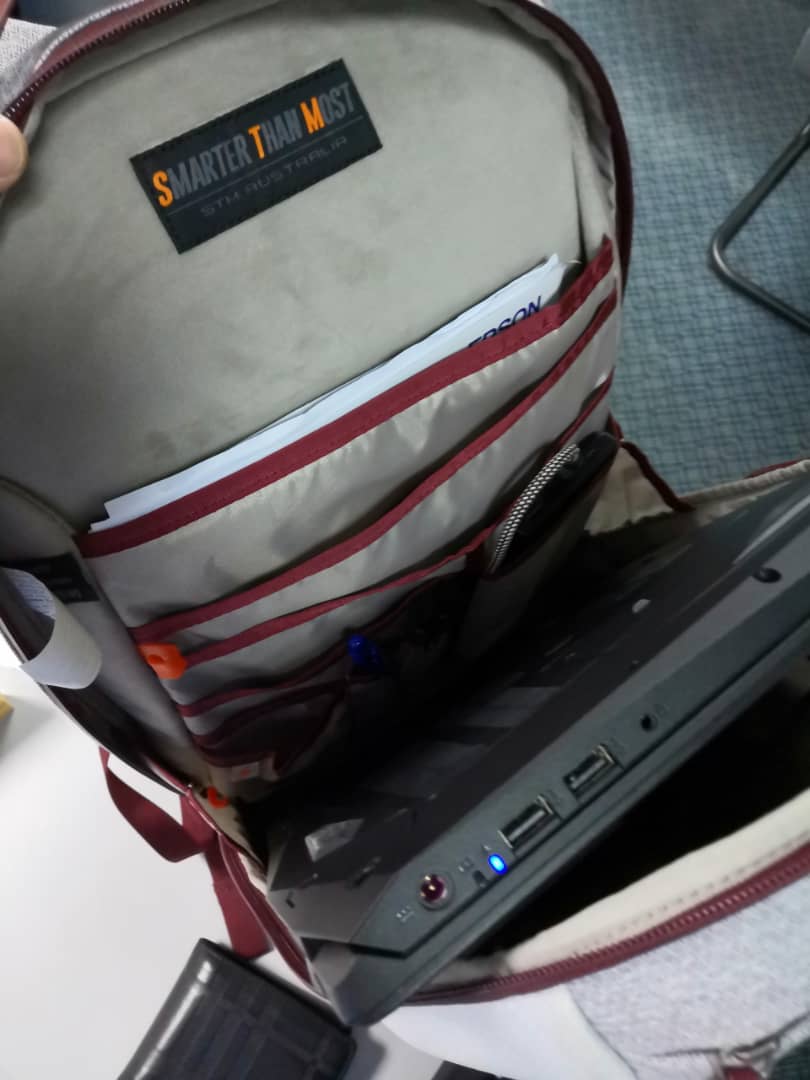 Final Verdict;
While I can appreciate what the bag tries to do, it doesn't do it just as well as you'd think. For RM 399, it's just not worth the money in my eyes. It's inconvenient to use if you're not adding in all those fancy features. But sometimes, a bag should be a good bag first, before anything else. For travelling, you might not carry as much so I'd say it'd be a good buy. But for everyday use and for someone who's on a budget, this wouldn't be the best purchase.