Type away with Cooler Master NovaTouch TKL
Byline: By Victor Yap 
Mechanical keyboards seem to be the flavour of the month for me as I already ran full-tilt with two last month. Now at number three, I must say this entry from Cooler Master is no less impressive. In fact, I daresay even moreso than what I have used thus far. Why? Read on!
Compact Like
The NovaTouch TKL is very similar, in terms of chassis, to the previous mechanical entry I received from Cooler Master – the Quick Fire Rapid-i. Small in size, it uses the tenkeyless concept that most of Cooler Master's smallish form factors sport. Thankfully it doesn't detract the overall performance of the NovaTouch TKL as it gave me enough room to carry out my typing work.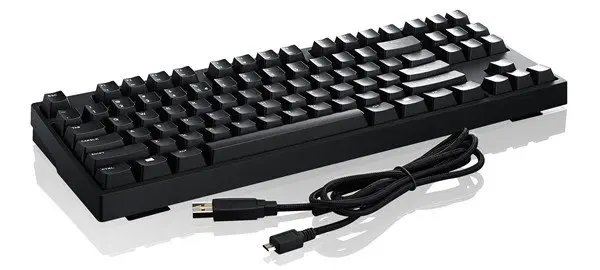 Easy Type
Using the NovaTouch TKL is pretty smooth and seamless. Key-presses are easy on the fingers and the tactile feedback is pretty responsive as the slightest touch had been enough to type out a string of words. Keyboard travel is great too as the keys are spaced out nicely and didn't require me to squash my arms together as I hashed out this story.
Soft Switch
You all know that the nice clickity-clack of the mechanical keys are due to the switches that are used below the key-caps. In the case of the NovaTouch TKL, that sound is present as well but not as loud or harsh. This is due to the Topre switches that Cooler Master incorporated into its NovaTouch Hybrid Switch design. Why hybrid? Well, while the keys are Topre, you can still use Cherry MX key-caps on them to create the customised layout you've always wanted. If it happens to be too noisy, Cooler Master also included a bundle of O-Ring sound dampeners to further reduce the key-cap sound and lower the bottoming-out impact. A quieter mechanical keyboard on hand? Anything to keep the sound down I suppose.
Dimensions (L x W x H): 359 x 138 x 39mm
Weight: 895g
Key Switch: Hybrid Capacitive Switch with Cherry MX Compatible Stem
Form Factor: Tenkeyless (TKL)
Key Rollover: NKRO (Windows Only)
Polling Rate: 1,000Hz/1ms
Interface: microUSB 2.0, Full-Speed
Windows Key Lock: Included
USB Cable: 1.8m Braided, 18k Gold Plated 
Value: 7/10
Features: 9/10
Performance: 10/10
Design: 10/10
Usability: 10/10
Verdict: This keyboard offers the best of both a clickable system and maximum customisation. Can I keep this?
Total Score 9.2/10