Shopee is preparing for a hike in searches on its eCommerce platform in anticipation for CNY.
Since the launch of the "Wang with Shopee" campaign on 15 January, the site has recorded a 32% increase in the volume of Malaysians searching for items on Shopee. The campaign offers discounts up to 90% and contest prizes worth more than RM1 million, allowing users to get more incentives while shopping for their Chinese New Year necessities.
"Shopping activity usually peaks during periods leading up to festive occasions, and Chinese New Year is no exception. This year, we noticed a huge spike in the number of online searches on Shopee leading up to Chinese New Year, which indicates an increasing trend of consumers opting to shop online for their festive purchases. This is a good sign, and is in line with the government's initiatives to drive forward e-commerce in Malaysia," said Ian Ho, Regional Managing Director of Shopee.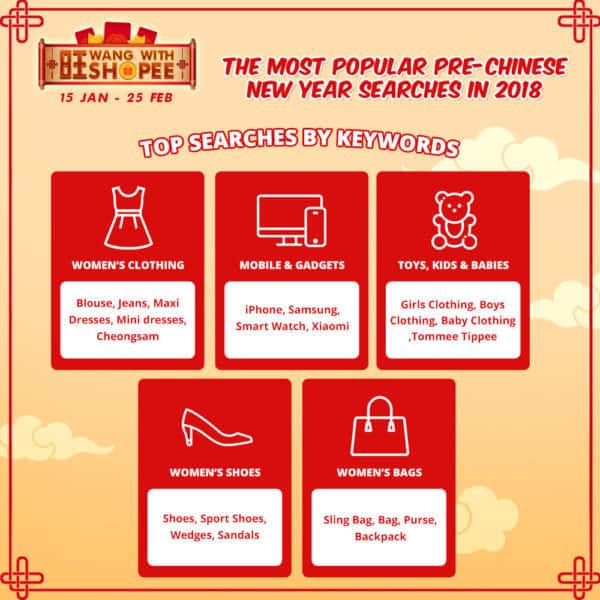 The most popular Chinese New Year category searches in 2018 by keywords:
Women's Clothing: Blouse, Jeans, Maxi Dress, Mini Dress, Cheongsam
Mobile & Gadgets: iPhone, Samsung, Smart Watch, Xiaomi
Toys, Kids & Babies: Girls Clothing, Boys Clothing, Baby Clothing, Tommee Tippee
Women's Shoes: Shoes, Sport Shoes, Wedges, Sandals
Women's Bags: Sling Bag, Bag, Purse, Backpack
The most popular purchases made by Malaysians this festive season:
Women's Shoes: Open-toe Heels
Toys, Kids & Babies: Baby Clothing Set
Home & Living: Tupperware Gift Set
Health & Beauty: Eye Makeup CNY Bundles
Groceries & Pets: Special Edition KitKat
The "Wang with Shopee" campaign is ongoing until 25 February. Hosting over 6 million products sold by more than 200,000 sellers on Shopee Malaysia, shoppers get a myriad of choices to fulfill their festive shopping needs. Additionally, users can play the Fortune Ang Pao Game to stand a chance to win Golden Tickets and a grand prize of RM8,888 in cash.
Shopee will be launching the Pay Day Campaign from 26 to 28 February, which will feature more deals across leading brands including the Shopee's Laptop Fair with popular brands such as Acer, ASUS, Dell and Lenovo.