Sharp invited us to check out their lineup of 8K TVs. They let us play around with it, check out different aspects of the display and all the features that Sharp has implemented in their 8K TV.
They themselves told us they didn't have 8K content on hand. This is the basis of what we'll be talking about in this review. Is there a need for it, when currently you can't even get content in 8K? Something to keep in mind is someone must've said the same thing about 4K TVs. It is slowly but surely becoming the norm, and it seems Sharp wants to get ahead of the trend, and be a major player in the 8K scene.
8K Display, More like Gr8(K) Display
The unit we got to test out was the 8T-C70AX1X, which is the 70″ model. It comes with a 7680 x 4320 resolution, HDR 10 support, and 120Hz Panel frequency. This means things will look really smooth in 120 refresh rate.
While 8K content isn't really widely available at the moment, this 8K unit is capable of up-scaling 2K and 4K content up to 8K. We checked out some 4K YouTube game-plays, and other content on the display, and it looks really good. And I mean really good. The 8K panel has 7680 x 4320 where as a 4K panel has 3840 x 2160 pixels. The up-converter is an 8K A1 REVELATION ENGINE.  This creates a crisp and colourful picture on the display. It has real 8K contrast, which creates 13 times brighter luminance. The upconverter actually captures the detail and rerenders it if 8K content is not available. At least, that's what I was told. But from what I experienced first hand, it was true. Even 4K or HDR content looked considerably better, because it was converted up and the details re rendered.
Something I found out that I found interesting was that you need 4 HDMI cables to run 8K video. So even if you managed to get your hands on some, you'll need to have those amount of HDMI cables ready. But don't fret, the 8T-C70AX1X has a whopping 9 HDMI ports.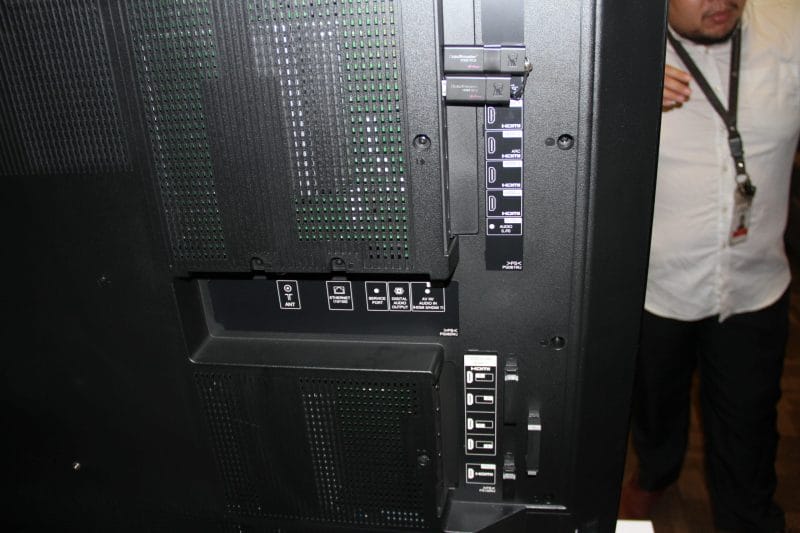 Safe to say, picture and video looks beautiful on this 8K display. Even lower resolution contents will benefit, so in this sense, it has a good value to add to the package.
Full Sounding And Excellent Subwoofer
The sound was amazing. The 8T-C70AX1X uses Dolby Audio technology, and something we noted while checking it out, was how loud it was. With the volume set to around 15, it was already enough to fill the room with sound. To do this, it integrates Eilex Prism technology to deliver powerful sound and increases the range of the sweet spot. Eilex utilizes an algorithm to calculate techniques to deliver powerful sound from the center of the screen. this allows users to hear the sound of the characters talking straight from their mouths, as well as hear each musical instrument if there's music playing on screen.
The 8T-C70AX1X also has a subwoofer in built, so that probably adds to the fullness of the sound emanating from it. The sound is thanks to the digital equalizer.
In Built Chromecast and Android TV Support
It has Chromecast built in, as well as Android TV ORIO which is a nice little feature added in. You don't have to connect anything external to access Netflix, YouTube, and all your other streaming and media sites. They also are able to connect your phone directly to the TV, and you can cast directly to it as well as set it as your Home/Hub machine. It will be able to recognize patterns, and other things you do with Google.
The 8T-C70AX1X also has a mic in the remote. This enables it to be controlled by Google Assistant, which is nice. It'll be able to do all the same things Google Assistant can do on your phone, like finding a YouTube Video, or looking for a movie on Google Play. It's all about the convenience of it all that makes it impressive. Because typing something out with a TV remote? Not a fun time.
You can even play games on your TV. Which I didn't think you would be able to, but you're able to download games from the Google Play Store, and use the TV remote as a controller. This isn't the best experience, but the fact that you're able to do it is nice. Maybe you've got kids/younger siblings and want to keep them occupied? Try it out. While at Sharp, we checked out 'Beach Buggy Racing', and the controls were pretty 'buggy' themselves. To be expected, and I won't bash it based on only that, but it's a nice feature that I think is worth mentioning.
Conclusion
There simply isn't enough 8K content out there to justifying buying the TV. The upscaled content from 4k still looks great but considering the RM 36,999 price point, as well as not having 8K content to enjoy it, might seem like a waste. But overall, I would recommend the TV based on all the features, display, and the sound. It is worth the money considering those aspects alone.