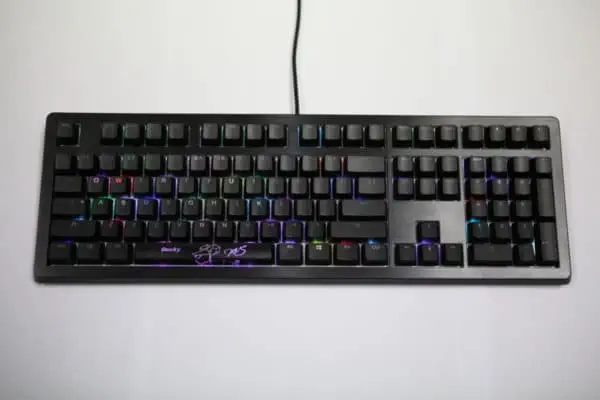 Mechanical keyboards can be found almost everywhere now due to its increase popularity among gamers. The satisfaction on clicking and clacking on them comes from the key switches, and in the case of the Ducky Shine 5, it features the ever-popular Cherry MX. This particular model comes with Brown Cherry switches, which is the quieter, non-clicky and tactile switch from the keyboard switch manufacturer.
The Shine 5 looks to be like a solid performer, with its sturdy built and sleek outlook. Let's see if everything clicks in to place.
Colours of the Rainbow
At first glance, the design is pretty much standard; nothing out of the box. On the top right hand corner, there are four function shortcut keys, namely for volume setting and to open up the calculator app. The Shine 5 isn't fancy looking, but there is hidden gem behind it waiting to be explored.
A main feature, which instantly captured my attention, is the RGB LED backlit keys on the Shine 5. The colours are customisable as the keyboard can be set to one of seven types of pre-set mode. The multicolour lighting can also be adjusted in terms for speed and sequence; you might also be able to have a rainbow disco party on your table. There are endless lighting combinations that I don't can't even begin to share. Just know this: if you're looking for a fancy LED mechanical keyboard, the Shine 5 should already be in your shopping cart.
Performance
It may be pretty, but really, how does it perform? The keyboard has 1000Hz USB polling rate, which I think gamers – both casual and pro – would be happy about. It also comes with full N-Key Rollover (NKRO)…a feature that can prevent an unfortunate "ghosting" problem during gaming.
The Shine 5 does allow you to set macro functions, but it has to be done manually. There are guides provided in the instruction manual on how users can set it. It should not pose too much of a problem if you're keen in doing it yourself. This is not for you if you need a quick and easy program to set the macro keys, especially since there is a lack of GUI like some other brands provide.
The DIP switch can be found as you flip the keyboard over. You can swap your function keys and set it to your liking. I do, however, feel that the cable management for the Shine 5 to be weak. The angled wiring system may seem like a good idea at first. It is actually quite awkward to plug or pull the cable (you'd need tiny delicate fingers I think).
Overall, an Outstanding Keyboard
The Shine 5 doesn't differ too much from its predecessor, the Shine 4. However, its excellent lighting makes up for it. If you're in the market for a quality all-in-one package, the Shine 5 is a good intermediate mechanical keyboard as it comes complete with flexible lighting settings and macro functions.
---
Value: 8/10
Features: 9/10
Performance: 9/10
Design: 7.5/10
Usability: 9/10
Total Score: 8.5/10
Verdict: Solid performer; one of the best LED lightning mechanical keyboard