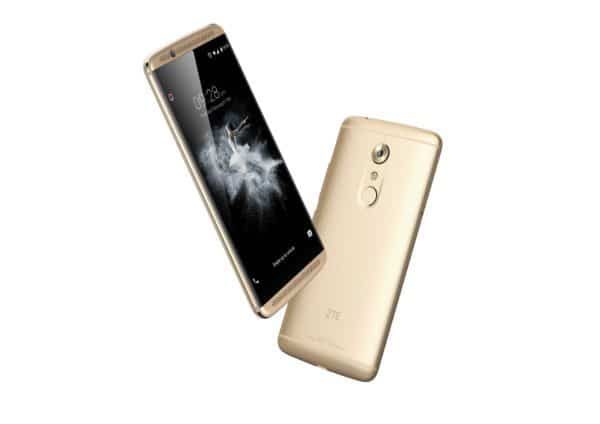 ZTE did not spare the money here. They called upon BMW Designworks to help bring this phone to life, and it certainly did. The high quality finish, sculpted back and front façade are pretty remarkable. The scalloped area for the fingerprint scanner means that your finger will reach the scanner each time and every time, even in the dark.
Filled with Technology
Whatever you want in a smartphone, it is inside here. A fast processor (Qualcomm Snapdragon 820), 4GBs RAM, 64GB of internal storage (which you can up with a microSD with another additional 128GB), 2K AMOLED screen, a fingerprint scanner, and a large 5.5-inch screen rocking a QHD (2560 x 1440 pixel) display. Multimedia powerhouse indeed.
Sounds like no other
To top it off, the ZTE has what few other smartphone has built-in – a dual Digital Analogue Converter (DAC) setup. Thanks to this two high fidelity chips, your music on either the front-facing stereo speakers, or through your headphones with the 3.5mm headphone jack, will sound beyond amazing. Plus, it has enough juice to drive audiophile-quality headphones.
20-megapixel on tap
At the back of the Axon 7 lies the 20-megapixel camera, which comes with a wealth of features to bring out the best in your photos. This includes a full automatic mode, dual image stabilization through OIS (optical) and EIS (electronic) for shake-free images and video, a fast f/1.8 lens for better low-light performance and also user-friendly camera app to take your photos.
Points:
#1 USB Type-C
For future-proofing, ZTE has given the Axon 7 USB Type-C connector. This is for both data and power, so you are well covered here.
#2 Multi-function soft keys
Change the front three-buttons to fit your needs – swap the functions, and even switch it off when you don't need to.
#3 Optimal battery performance
Expect a great battery performance, thanks to the large 3450mAh unit. Plus, charge up quicker with Quick Charge 3.0.
#4 Dual SIM support
Slip your main SIM card into one slot, and your secondary in the other – bring two lines wherever you go.
24-hour Experience:
1st Hour: Ooh, the box it came in looks pretty! Plus you get the full kit, plus extras. Thanks ZTE for the included case and USB Type-B to Type-C converter!
5th Hour: It is speeding along just fine – no lag or slowdown in any apps we threw at it. The Snapdragon 820 really shows its stuff
12th Hour: The camera on the ZTE is good, but struggling a bit in low light conditions
23rd Hour: Whole day battery is the bomb. If I need to top up the phone, I just use the included charger to add 30% more battery in about 15 minutes. Handy!
Byline: By Otter
---
Specs
Price: RM 1999
Dimensions: Approx. 151.7 x 75 x 7.9m
Weight: 175 grams
Processor: Qualcomm Snapdragon 820
RAM: 4GB
Internal Storage: 64GB
Memory Slot: SD card
Display:  5.5-inch AMOLED QHD display
Camera: 20-megapixel f/1.8 (rear), 5-megapixel f/2.2 (front)
Connectivity: WiFi, NFC, USB Type-C, Bluetooth 4.1
Battery: 3450mAh
Benchmarks:
PCMark: 6834
3DMark: Slingshot: 2566
Icestorm Unlimited: 29019
Antutu: 138270
Rating:
Value: 8
Features: 8
Performance: 8
Design: 8
Usability: 8
Verdict: Flagship specs, design and feel – but without the required sticker price. What's not to like about the ZTE Axon 7? You also won't believe the amazing sound quality.
Total Score: 8