Review by Din
Once upon a time, not so long ago, the Green Team reigned supreme as having the fastest GPU on the planet. However, that brief lull had soon been overshadowed by the oncoming onslaught of the Red Team, which swiftly took that title from under the former's nose. Unperturbed, the scientists on the Green Side dug down deep and concocted a brew that would bring the balance back to the previous status quo. That is how the GTX780 Ti had been born. Needless to say, it does not take long before other third party knights took notice and brewed their own version of the GTX780 Ti. One of them is the flaming Red Dragon branded MSI, which released its Twin Frozr Gaming GTX780 Ti OC recently.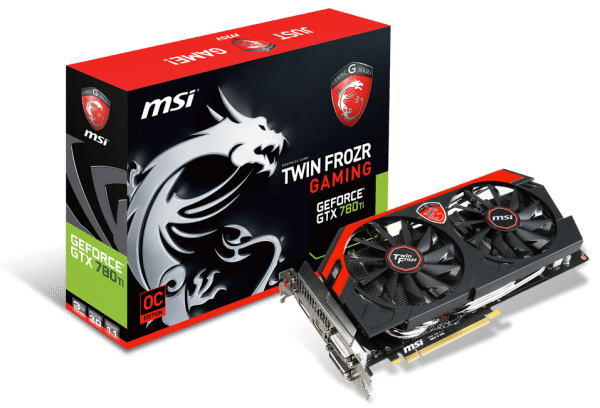 Deep Black
MSI's Gaming line is the company's answer to create a distinct product line that targets hardcore gamers as it produces high quality, superb performing gaming products. The box alone will make sure you'd be quick to notice it as it comes clad in a cool red and black colour scheme with the MSI Gaming Dragon emblem splashed on the front. It's a really large and hefty box that will surely make heads turn when they see you holding it. Inside, the inner package contains a user manual, driver installer as well as a 6- to 8-pin GPU power adapter. Located below the box is the card itself, safely protected inside a static free bag.
Double Dragon
The MSI Twin Frozr is said to be one of the best third party proprietary cooling systems in the market today. Personally, I am really glad that it chose to pair up such asvance cooling tech with the GTX780 Ti card. The dual fans, while large yet pretty thin, work just as hard as conventionals so that it can displace massive amounts of heat. To compensate for its bulk, it has to take about two slots for the rear backplate of the casing. For some people that consider space as a premium or use a small mini ATX casing, this GPU is truly a monstrous problem. However, if they overcome the size issue, these users would also quickly realise that there is some level of space for them to play with the somewhat spacious gap underneath the videocard. Such a design does not compromise its performance as this fast cooling platform still strives to well and truly keep operating temperatures as low as it can during all of my intense testing sessions.
Blood Red
The heatsink casing is coloured in a cool combination of black and red, MSI Gaming line's official thematic hues. Smacked dab in the middle of it, in between the two fans, is th brand's Dragon emblem. This combination turned the notch of coolness (pun intended) to a record-breaking 11. Of course, we would have been happier if the Dragon emblem is placed at the side instead, which is where the card is facing you since you can't see it once it is docked into the PCI x16 slot. The weight, size, and overall design act as solemn signs of a promise that the product will perform. This is something that many have come to expect from MSI since it entered the high performance gaming realm. Right now though, I'd preferred a backplate that would give the car a bit more feel of toughness to it.
Holy Cerberus
The outputs at the rear of the card are based off NVIDIA's I/O port offerings, namely two DVI connectors – one which is dual link; an HDMI connector and a DisplayPort. Want to take your gaming to a whole new level? Then consider combining the DVI/HDMI connectors to create a triple surround display or setup a SLI array as this card also supports triple SLI mode. That is if you have the money to afford another tw. If you did, well – in theory – then you'd be able to play any game on the planet with the highest possible graphic settings and resolution!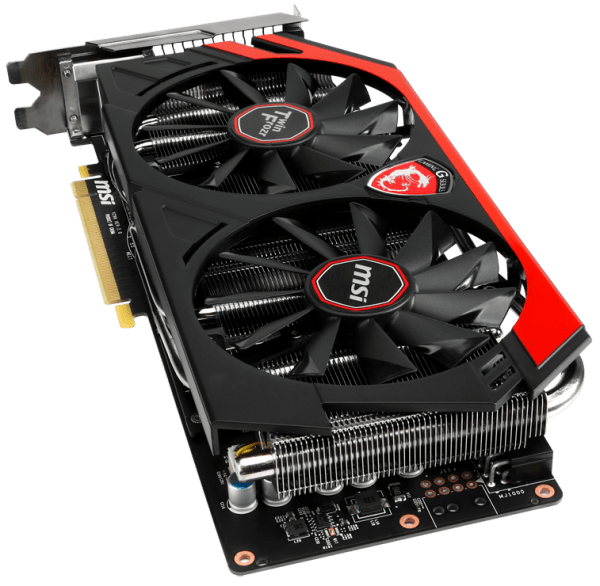 Dragon Slayer
Since the card also has an 'OC' monicker at the back of its name, there is the brand promise to its users that MSI had adjusted the GPU clock to give some extra oomph for gamers. Based on our readings, MSI has boosted the Twin Frozr GTX780 Ti OC's clock to a massive 1020Mhz – a fair boost of 144Mhz over the base clock that NVIDIA originally set. In layman terms, this is like putting a turbo in an already turbocharged Ferrari. Still not satisfied? Then you can use the MSI Afterburner software to ramps it up even further. If you feel the Afterburner app is too advanced for you, then there is also the bundled Gaming App software that is designed specifically for easy overclocking. This GPU accepts one 8-pin and one 6-pin power connector, ensuring that enough power is delivered no matter how far you push it. Add a 3GB GDDR5 in there and Skyrim certainly wishes it featured this dragon in the game instead.
Fire Breather
I'll come out and say it straight, this is one awesome card. Also, it is certainly one of the very best that I had the pleasure of reviewing. Already powerful on it's own but once paired with Afterburner and GPU Boost 2.0, it became a mutated monster that is capable of destroying anything that stands in its way. As it is, during the testing of Titanfall Beta, it effortlessly churned out 100++ FPS on Ultra setting! Even the massive size for Battlefield 4's Second Assault map can be gazed upon with ease while on the highest quality display mode. All that and more without having the GPU even breaking a sweat. When benchmarked with the 3Dmark Firestrike Extreme, it managed to stake a legit claim as one of the highest score ratings I ever managed to achieve. Combined with NVIDIA's own Shadowplay, you can also record and stream games as you hack down enemies. Note: the recording can be done without any compromise to visual performance. If you are looking for an awesome GPU that has an amazing processing prowess to boot, well this is certainly the card for you.
Chipset: NVIDIA GTX780Ti
Graphics Processing Clusters: 5
Streaming Multiprocessors: 15
CUDA Cores (single precision): 2880
CUDA Cores (double precision): 960
Memory Size: 3GB GDDR5
Base Clock: 1020MHz
Boost Clock: 1085 MHz
Memory Clock: 7000MHz GDDR5
Total Video Memory: 3072MB GDDR5
Memory Interface: 384-bit
Total Memory Bandwidth: 336 GB/s
L2 Cache Size: 1536K
Expansion: 2 x Dual Link DVI, 1 x HDMI, 1 x DisplayPort
Value: 9/10
Features: 9/10
Performance: 10/10
Make: 10/10
Usability: 9/10
3Dmark Firestrike Extreme: 11,502 (Performance), 5002 (Extreme)
Total Score: 9.4 /10
Verdict: The best GPU that I had come across in a very long time.