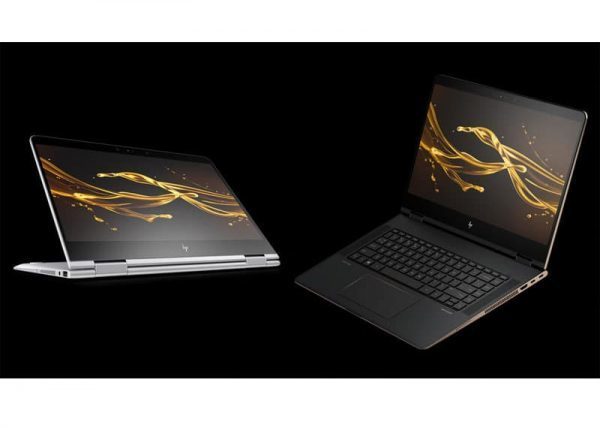 Easy on the Eyes

Although not as sleek nor as sexy as the HP Spectre 13, the Spectre x360 is still in its own class of style, class and sex appeal. The gold accents around the edges of the laptop give it a very subtle yet appealing look, turning heads wherever you go. The black aluminium finish is clean and crisp as the Spectre x360 means business and wants to be taken seriously.
Running the Latest Hardware

What makes the Spectre x360 great is the hardware put into it. Running on the 7th Gen. Intel-Core i7 processor, the Spectre x360 was great for daily usage, whether it was for work or play. Although I don't recommend playing games on it, it's exceptionally great for movies and music. The 8GB of RAM also makes it run a lot smoother while the 256GB of PCIe M.2 SSD makes starting up the laptop as well as its programs a lot faster.

Flexibility is Key

Much like the Lenovo Yoga tablet, the Spectre x360 comes with 360-degree hinges – hence, the name – which allows you to flip the monitor on its back to use it in Tablet mode. You can also flip it backwards into Tent mode or just keep it at its generic Laptop mode for work but my favourite would be Media mode. Flip the display 180-degrees to the back and you can still continue doing work but without overworking the cooling fan at the bottom.
Bit of an Annoyance

I'm not a fan of keeping it in Laptop mode as the fan does tend to heat up after a short while, making it that much harder to work on-the-go, especially if there isn't a flat surface nearby and you have to rely on your thighs. This makes it a lot more uncomfortable as not only is there heat dissipating, but the fan gets louder the longer you keep it in Laptop mode.
Perfect for Movie Night

Standing at 13.3-inches tall, the FHD display screen of the Spectre x360 makes everything look better; from colours to moving pictures and even normal social media browsing. The colours are vibrant and crisp while making it easy on your eyes, reducing eye strain if you're using for long hours.

Highlights
1 – All Glass Everything
The trackpad is extra wide and is also made of glass, making it that easier and swifter to use.
2 – Speed is Everything
The Spectre x360 comes with two USB Type-C ports, which allows for faster charging and even transfer speeds with read and write speeds off the charts.
3 – Banging like a Drum
To make movies and music sound even better, the speakers on the Spectre x360 are tuned by none other than the people over at Bang & Olufsen to give a rich and detailed sound.
4 – Light as a Feather
Weighing at only 1.2kg, the Spectre x360 will feel great in your hands or even in your bagpack as you will barely notice it's there.
5 – Use it Anyway You Want
You can also use the Spectre x360 with a stylus pen, making it that much easier to present your work when set up in Tent or Tablet mode.

Specs

Price: RM5,999
Dimensions (WxHxD): 325.12 x 15.24 x 218.44mm
Weight: 1.295kg
Display: 13.3" FHD (Full HD)
Memory: 8GB RAM
Storage: 256GB PCIe M.2 SSD
Graphics: Intel HD Integrated Graphics 620
Processor: 7th Gen. Intel-Core i7-7500 2.70GHz
Operating System: Windows 10 Home
Connectivity: Bluetooth, IEEE 802.11ac
Ports: 2x USB 3.1 Type-C, 1x USB 3.1 Type-A, 1x HDMI, 1x Mini DisplayPort, 1x Card Reader
Benchmark Scores

3DMark Professional Edition Cloud Gate – 6,478
PCMark 8 Professional Edition Home – 3,537
Scores

Value – 8
Performance – 10
Features – 9
Design – 10
Usability – 9
Total – 9.2
Verdict: Priced at RM5,999, the HP Spectre x360 is a pricey laptop with multiple features and purposes, making it a worthwhile purchase, especially if you're constantly working on-the-go.
Byline: Teh Wi-Liam