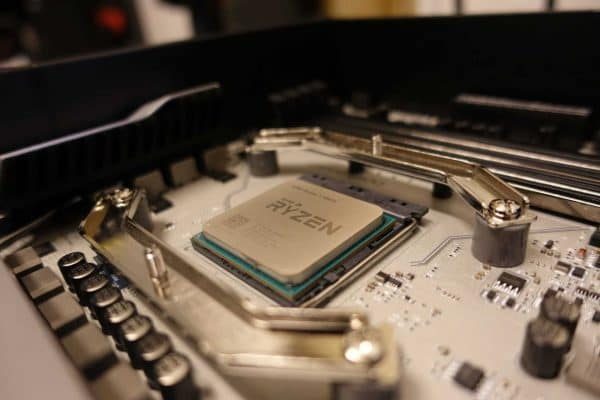 More Cores Than You Can Ever Want
The Ryzen 1800X features 8 cores, and now with AMD, they have what they call Simultaneous Multi-Threading (SMT) – basically you can have two logical cores for the price of one physical core – so you get 16 running threads with each processor. This is great for applications that thrives on multi-thread processing.
Save on power
If you are looking for a power saving processor – this may not be the ultimate choice. However AMD has managed to make this processor a bit more power friendly – it sports a 95-watt TDP, making it one of the more power efficient high performance processor around.
Zen your Performance
Thanks to the new Zen architecture on the Ryzen chips, performance levels are up. We managed to get really good scores in our test benchmarks – and these are raw performance numbers. We will have to wait and see when software companies will fully optimize their software but the chip is showing some promises down the road.
Better than expected
The chip has a default clockspeed of 3.6GHz, and a boost of up to 4.1GHz. The new chip delivers more than 52% improvement in delivering more Instructions per Clock (IPC), which exceeded their previous generation as well as their forecasted target (they aimed an increase of only 40% when compared to the last generation).
Unlock everything
Out of the box, all Ryzen processors are unlocked and can be overclocked. Yes, all of the chips from now on will be overclockable by the end users. Apart from that, AMD also features a new collection of technologies baked into the Zen architecture itself called SenseMI (Sense+M+I, not SenseMe)
AM4 socket
The new AM4 socket may look familiar, but it is a new version than the last generation
Multithreading Power
Zen supports proper multithreading, so applications and games will run faster and smoother
Wallet friendly
The closest competitor to this chip is about two times the price – so this is value for money
Specs
Price: RM 2599
Processor: AMD Ryzen 1800X
Speed: 3.6Ghz
Socket: AM4
TDP: 95W
Cache: 20MB L2+L3
Graphics: None
Benchmark Score
PCMark – Work (Accelerated) : 5350
                    Creative (Accelerated) : 8474
Cinebench – Multicore : 1614
                         Single Core : 156
Geekbench – Multicore : 20986
                        Singlecore : 4338

Score
V – 9
P – 9
F – 8
D – 8
U – 9
Total – 8.6 (GOLD)
Verdict: You are getting a lot more than what you are paying with the new Ryzen CPUs.