Razer, the leading lifestyle brand for gamers, today revealed a multi-monitor laptop computer concept that sets a new standard for immersive entertainment and multipurpose portable computing.
Dubbed "Project Valerie," the system is the world's first portable laptop with three built-in monitors. Each 17.3-inch 4K IGZO display is equipped with NVIDIA G-SYNC™ technology that is capable of producing the smoothest possible framerates and expansive 180 degree NVIDIA Surround View gaming. Creative professionals can look forward to 100 percent Adobe RGB colour accuracy and the greatest amount of screen real estate ever assembled in a single computer.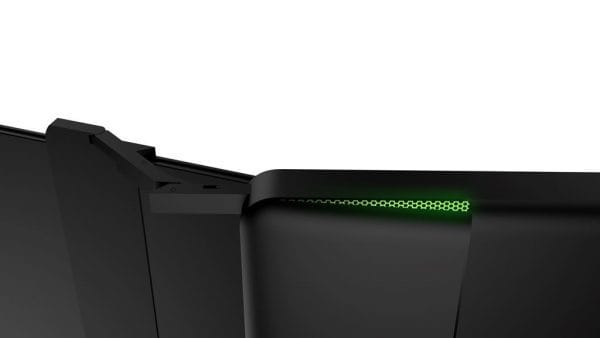 Project Valerie uses an automatic deployment mechanism designed by Razer. Each display mechanically slides out of the side of the main screen and adjusts into place, making it easy for users to deploy. With integrated multi-monitor support, users will no longer have to deal with the cable clutter from traditional desktop setups. The result is a clean gaming and working environment that's just as easy to maintain.
Project Valerie adds to the professional capabilities of the new 17-inch Razer Blade Pro. The system was conceived with enthusiasts and power users in mind who want multitasking capabilities and desktop performance on the go. Packed with more screens than previously possible in a notebook, Razer's Project Valerie is capable of handling virtually any PC task, anytime, anywhere.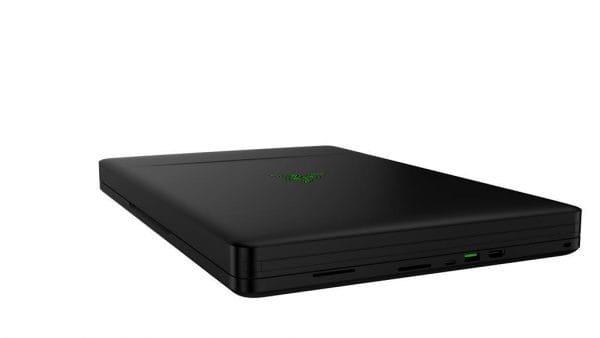 The proposed system retains the iconic Razer design, while at the same time accommodating triple-monitors. A unibody CNC aluminium chassis measures just 1.5-inches thick and weighs less than 12 pounds. An included compact AC adapter is much smaller than similarly powered systems, furthering complementing Project Valerie's mobility.
Project Valerie retains the remarkable thermal management system for which Razer's line of laptops is known. A custom-designed fan and dynamic heat exchangers pair with a vapour chamber to maximise heat dissipation.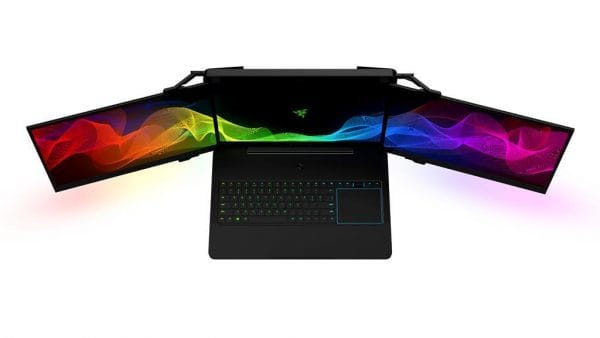 Project Valerie is the second Razer notebook to utilise Razer's Ultra-Low-Profile Mechanical switches. Each switch features a true actuation and reset point. Key presses are registered with 65 grammes of force, mimicking the feel of full-size mechanical keyboards. The keyboard, trackpad, extended monitors are also Powered by Razer Chroma™, which unlocks a virtually endless array of dazzling lighting effects that can be customised by the user or synced to in-game events.
Similar to Razer's newest systems, Project Valerie equipped with NVIDIA GeForce GTX 1080 exceeds the minimum hardware requirements of HTC Vive™ and Oculus Rift, making it one of the most immersive, mobile VR-ready devices for enthusiasts and developers.