Benchmarking software company Futuremark, and OptoFidelity, a company running robot-assisted testing and quality assurance, today revealed a VR latency testing platform for manufacturers and other VR industry participants.
In VR, low latency is essential, as it could mean motion sickness and nausea for certain players due to poor performance which affects the quality of the VR experience. The system combines Futuremark's expertise in benchmarking software with OptoFidelity's expertise in robotics, measurement technology, automation, and hardware.
The VR latency testing platform offers end-to-end testing of VR equipment. It measures key VR performance indicators such as motion-to-photon latency, pixel persistence, and frame jitter. The platform works with PCs and mobile devices and can be applied to both virtual reality (VR) and augmented reality (AR) systems.
The platform pairs VRMark with OptoFidelity's VR Multimeter HMD solution. One of the key test cases measures motion-to-photon latency in a 3D rendering scenario. The test exerts full control over the VR pipeline to quantify the impact of CPU and GPU performance for VR applications. The benchmark analyses each frame to reveal the sources of latency, showing time spent in the 3D engine, the VR API, and the GPU. With detailed reporting, you can study late frames and the effects of timewarp. Configurable settings help you evaluate latency under different CPU and GPU load conditions. You can also measure audio to video synchronization and motion-to-audio-latency.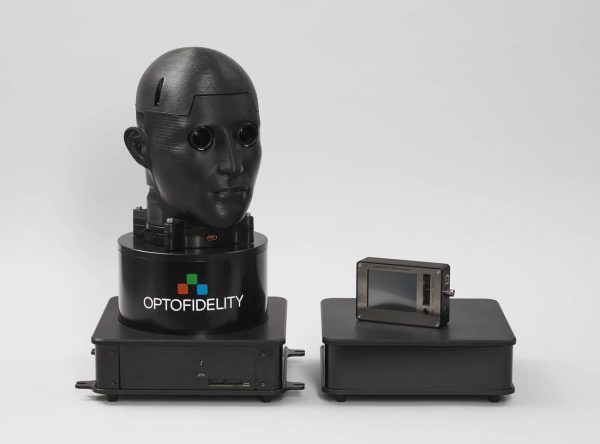 The solution offers two hardware designs, one for full HMD testing, and another for mobile device VR testing. With additional modules, the platform can also test AR solutions. The platform hardware features high-accuracy mechanics that allow precise motion control and a high level of repeatability in testing. Test sequences can be fully automated for continuous integration testing.
Below is the list of measurements of key VR performance indicators used by the platform
Motion-to-photon latency
Pixel persistence
Frame Jerkiness and jitter
Dropped and duplicated frames
Left versus right eye frame delay
Audio/Video synchronization
Motion-to-Audio Latency
Frame time breakdown identifying key pipeline events
Study late frames and the effects of timewarp
Evaluate latency under different load conditions